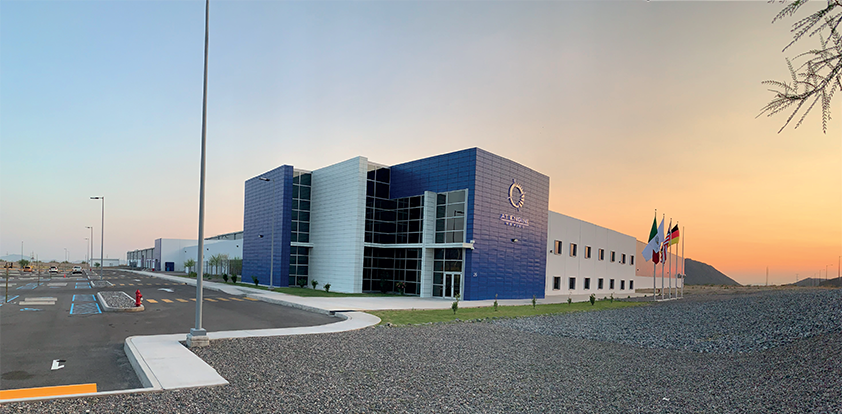 From parts to partnership
Since 1970, Aerotech Peissenberg has been at the cutting edge of industrial manufacturing; today, the company gears up its operations in order to take on new markets
As an industry leader in manufacturing and machining, Aerotech Peissenberg (Aerotech) has a reputation for quality, consistency and efficiency. The company has a close working culture, and a team of skilled laborers with generational experience in the field. Now coming off one of its most difficult years in 2021, the company is gearing up for growth in its European sites and also its most recent facility in Mexico, as it branches out, and offers its expertise to an array of new markets.
As Managing Director and Chief Commercial Officer, Gabriel Oehme has worked over the last year to bring new opportunities to Aerotech Peissenberg. "Aerotech approached me because they were looking for someone with a diverse skillset that could bring new growth to the company.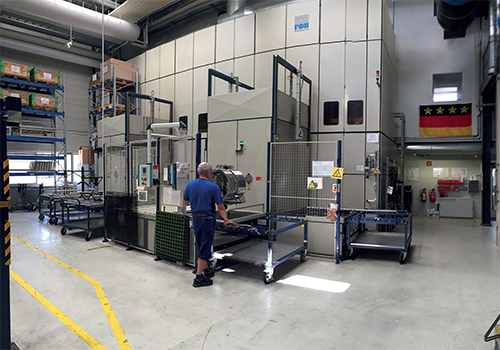 I have experience in sales, contracts, after-sales, program management and purchasing, which is pretty broad – I think Aerotech appreciated that. The company was in the middle of reshaping its operations, and I stepped in as MD in order to take over programs, purchasing and commercial management. That was the deal, and it's been a really exciting journey so far," he reveals.
Gabriel's work builds on Aerotech's long history of dedication and innovation. The company's original site has been in operation since the 1970's, as Gabriel details: "Originally the Aerotech site was owned by MTU, a large Munich-based engine company. It was used in the 70's for manufacturing purposes, before being carved out and sold off privately in the late 90's. In 2011 the company was taken over by two major German companies, MT Aerospace and OHB, predominantly in the space business but also with an aerospace footprint. They took over and from there the site production diversified and gained new clients, such as Rolls Royce.
"Aerotech worked predominantly for Rolls Royce as one of their single largest suppliers of engine parts. At the time, this was really driving growth. From there, the company further developed its range of competencies in the manufacturing of class one rotating engine parts like compressor and turbine discs, complex casings, cones and rotating rings, and up to 1.250 mm in diameter. Certainly the most critical part on the engine are the rotating parts, and we do build those throughout the entire engine from the cold section to the hot section, including also the special processes and technologies as required for different engines, both civil and military. We also leverage our aerospace knowledge to grow our share in the industrial gas turbine market, where often aero-derivative engines are used. It will allow Aerotech to diversify its business and increase its resilience for the future"
Value chain management
Working in the world of manufacturing for so many decades has allowed Aerotech to develop a wealth of internal knowledge, as well as a quality-assured system for part production. As Gabriel explains, the manufacturing process begins with black forgings: "Our forgings are usually made out of aerospace grade nickel alloys, or titanium, which is quite sturdy material. It is fairly difficult to machine, but we of course have plenty of experience working with tough materials. The forging goes through some different steps, including milling, turning, and broaching. Those are the main machining processes we undertake, but the part goes also through some surface treatments, such as plasma coating and high velocity oxygen fuel coating (HVOF), and non-destructive testing through acid etching. Very few special processes are subcontracted, like shot peening and OEM specific surface treatments. We rely on very few partners with long-term contracts. All parts basically finish by a full visual and CMM inspection. That is Aerotech's full, mostly in-house process, from the black forging down to the finished part, ready for installation.
"We are managing the whole value chain, from the raw materials to a finished part ready to be integrated with the client's product. We also have an aeronautical laboratory, which is quite unique as it is multiple OEM certified. This means we can do OEM level quality inspection and verification in-house. Sometimes, if there is a specific question on a part, you will have to send it to the lab of whichever company uses it, but we are able to run those analytics here. We can answer questions and solve problems on Rolls Royce, MTU and GE parts, which gives us the capability of being a one-stop-shop."
New facility
Providing comprehensive support through the design and manufacturing process is one of the ways that Aerotech stands out. "I think that mastering the full value chain has definitely aided the company's growth in recent years. We are a mechanical shop, yes, but we also have all these different supporting functions," Gabriel asserts.
"We have a particularly extensive knowledge of, and capacity for, manufacturing engineering. We are running a full 3D design and modelling process, and we are also working with the same systems used by the OEM's themselves. That means we can create 3D mock-ups of their parts, and use those models to create unique milling and machining strategies. Our processes are able to connect directly with how the OEM's develop their products, which is a real benefit when working together.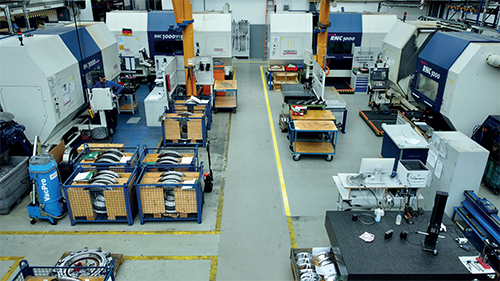 "We are also building within our own capabilities; we are currently working on a prototype speed shop, where we have a set of highly-skilled individuals working building test rig parts and industrial sales parts. This way, we are able to support clients even in their early stages. We have an opportunity to be influential when it comes to our part production and machining strategies, but also to look at optimizing our process, making things as robust and efficient as possible. As a result, we are able to give client's feedback on their own part optimization. We also have a lot of experience working with these specific parts, something which means we can offer more efficient strategy, higher cost efficiency, and shorter lead times," he elaborates.
As Aerotech has grown over recent years, its footprint has also expanded. As we mentioned earlier, the company is in the process of ramping up a brand new facility in Mexico. Gabriel gave some more insight into this: "The Mexico site is a joint venture and it was built following a contract award by GE Aviation; it's a dedicated site for LEAP engine parts, which is the most modern short hall engine from CFM International (joint company of Safran and GE Aviation). This is a site, which was founded in 2016 as a joint venture with the Mexican company Grupo Punto Alto, and we currently hold 51 percent. We are bringing to the table all the parts manufacturing knowledge, and the Mexican partner, is providing some of the larger infrastructure elements. It's a 20 year contract with GE Aviation, and we are producing six part numbers in two variants, because there is an Airbus and a Boeing version, and our goal is to step up production to 1200 sets per annum."
This new facility will be a strategic asset, working under the same corporate structure as Aerotech's European facilities. "Our facility in Mexico is a special, purpose-built site, so it is set up with some of the most cutting-edge technology, based on a GE blueprint. We are basically taking GE technology to the site, but we are also adding some improvements to the facility and plant.
"If you look at our sites in the Czech Republic and Peissenberg, we are currently growing the Czech site quite significantly, because it has been our focus point for a long time. It's our near shore location, just four hours away from the Bavarian headquarter, and we are taking advantage of the availability of skilled labor at very competitive conditions. It has been growing organically in recent months, we've gone from approximately 60,000 hours last year to about 100,000 hours this year – our aim is to reach 130,000 by the end of 2023. In two years, we basically double the hours, which is a bit of a challenge, but certainly one I believe Aerotech is capable of rising to," Gabriel states.
Agility and flexibility
The Peissenberg facility is fundamental to Aerotech's operation, and its resilience, both structurally and in terms of personnel, helped the company survive the outbreak of Covid-19. The Peissenberg facility hosts all the central functions of the group like Manufacturing Engineering, Quality Assurance, Programme Management and Strategic Sourcing. "Our Peissenberg site was hit quite heavily by Covid-19. Our workload dropped to less than 50 percent, at that time the question was certainly 'what can we do?'" confides Gabriel.
"There were discussions of a restructuring, but with a business of 400 people this took a lot of consideration. People often have two generations of their family working on our facilities, which makes them extremely loyal to the company. We are the biggest employer in the region, so it was really a question of how do we protect that knowledge, which has been grown over 40 years, and passed down across generations? Ultimately, we made use of the furlough schemes and some early retirement plans, working closely with the labor union.
"The company definitely benefitted from this strategy; we prioritized the protection of our skilled labor force, and took some hits on the cost side. We were well financed, so the company was stable in that regard, and we made it out the other side. We also had some assistance from the German government, who offered loan schemes throughout the pandemic," he goes on.
It is clear that a familial and mutually respectful working culture helped fortify Aerotech, as its people banded together and supported the company through unprecedented times.
"Our company culture played a huge role in keeping us strong during Covid-19. Having worked in other international companies, and seen the sacrifices people have made here to support the business, it's quite extraordinary. The pandemic is something that nobody has experienced before. In other industries, people have jumped ship in the face of adversity, but here people have stayed and worked through it. Our people believe in Aerotech and the innovative future of aeronautics. There is so much potential for growth in our industry, so to protect and prepare the future of the company, we used the time to completely reshape the factory footprint.
"We took the crisis as an opportunity to restructure the factory from running fewer programs with high volumes to being very agile and flexible to accommodate a more diverse parts and client portfolio. We have now a more technology-oriented factory layout with lean production management, and these new principles allow us to produce a more diverse product portfolio, also called low volume high mix," Gabriel affirms.
Today, Aerotech continues to go from strength to strength; the company is gearing up for one of its most exciting years yet in 2022, as Gabriel concludes: "We are on a good track this year, with predicted revenue increases of up to 50 percent. The market is definitely picking up speed, as we saw in the second half of 2021, so we are now set up to absorb that volume as it continues to grow. We are in a good position to set up operations, all the machinery has been installed, and our skilled labor force is prepared, so things are certainly looking optimistic."
Aerotech Peissenberg
www.aerotech-peissenberg.de/
Services: Industrial part manufacturer