Many manufacturers seek out new capabilities to give their companies an added dimension, but few can claim to have literally added another dimension to their operations the way Afinia 3D has. By shifting its focus from traditional printing services to the new wave of 3-D printing and scanning equipment, Afinia 3D has placed itself at the forefront of one of the manufacturing sector's most interesting and most promising markets.
As Vice President of Operations John Westrum says, Afinia 3D has been able to gain a major foothold in the industry by partnering with the best technology providers and understanding the market for 3-D printers better than others. As the company prepares for the RAPID Expo, Westrum says the company expects the future to bring it even greater success.
Around the same time Afinia 3D was opening its doors, the market for 3-D printing equipment for hobbyists was beginning to gain steam. Afinia 3D found a supplier based in China that specialized in desktop 3-D printers, and soon after Afinia 3D formed a partnership with this company to bring its technology to the U.S. market. Last year, the company started a relationship with Shining 3D, a leading 3D scanner manufacturer in Hangzhou, China, to bring its 3-D scanning equipment to the United States, and Westrum says this technology will be what Afinia 3D displays at this year's RAPID Expo.
Strong Technology
One of the most important elements of Afinia 3D's success has been its technology, for obvious reasons. The company's desktop 3-D printing equipment has been recognized for its ease of use, providing consumers with an "out of box" printing experience that means they can get started using their 3-D printers almost immediately and without a steep learning curve.
Westrum says this is due in large part to the technological strengths of Afinia 3D's partners. "We've got a great strength in that we don't do it alone," he says. "We partner with a company like Shining 3D, which is in China but doesn't have a support reach or sales reach into the United States."
Providing aftermarket support is another area in which Afinia 3D stands apart from the rest of the 3-D printing market. Although 3-D printing has become increasingly popular among hobbyists, many consumers need some help navigating the new technology. However, many manufacturers in the 3-D printing space don't offer the level of technical support consumers need. "A lot of 3-D printer companies out there, if you want to get technical support you either have to go to a forum and find out what people are saying or submit an email ticket and wait for someone to get back to you and you never actually talk to anyone," Westrum says.
Afinia 3D, on the other hand, runs a dedicated call center where customers can get an immediate response to their inquiries during normal business hours, and the company also provides parts for its equipment. Westrum says the company's technical and aftersales support is one of the key reasons why Afinia 3D has jumped out in front of the 3-D printing equipment market.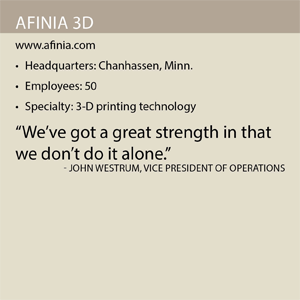 Laying the Foundation
Another important element of Afinia 3D's success to date has been its understanding of the market and its primary customer base. The hype surrounding 3-D printing has been hard to ignore over the last few years, but Westrum says outside of a dedicated base of hobbyists, the technology hasn't really found its place in American homes the way the personal computer did a generation ago.
Although many 3-D printer manufacturers have focused their efforts on convincing the average consumer about the technology, Westrum says Afinia 3D has concentrated on a market where the technology makes more sense. "Our biggest customer base by far is the education space," Westrum says.
Thanks to an increased emphasis on engineering training in American schools encouraged by President Obama, schools are looking to 3-D printing as part of a larger focus on engineering and science. Westrum says Afinia 3D's printers are found in approximately 5,000 schools nationwide thanks to the company's partnerships in the education sector.
"We've generated relationships with organization like Project Lead the Way, which teaches engineering education to schools," he says. "That realization's now coming into place that this has its place, not necessarily in the home, but it's something that's for the schools and the engineers and the prosumers who know how to use this equipment."
However, by concentrating its efforts on the education sector, Afinia 3D also is helping to establish a broader market for 3-D printing equipment in the future. The biggest barrier to getting 3-D printers into homes is the learning curve for CAD software used to design pieces to be printed, but by the time students learning those programs now graduate, they will have the knowledge that will make it easy for them to use 3-D printers to complete projects around their homes. "The 3-D printer itself is just a hammer, it's just a tool," Westrum says. "The CAD software is where all the work is at."
The company's presentation of new 3-D scanning technology at RAPID Expo will be the first step toward making 3-D printing more common, as the ability to scan an item in three dimensions rather than relying entirely on complicated CAD software should lower the technological barrier to adopting the technology.
From there, Westrum says, the next step will be refining the technology to make it more affordable. Once that happens, the predicted 3-D printing revolution will be in full swing, and it will be in large part because of the work Afinia 3D is doing right now. "It's going to be systems that are less expensive, which we've already been moving into here with a scanner that a year ago would have cost you $15,000 now costs $5,000," Westrum says.