A blast of inventiveness
Operating from three continents, Airdri is always developing new technologies that will keep its hand dryers and elevator door detection and speech systems ahead of the competition
Even if you have a proven track record of creative thinking, it is likely that you will find it difficult to figure out what the connection between hand dryers and elevator doors might be. The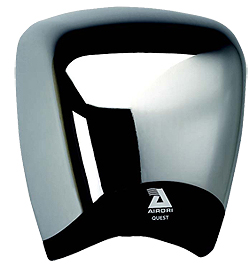 answer is provided by The Airdri Group, an Oxford based, British company that encompasses two businesses that specialise in the design and manufacture of innovative hand dryers, and elevator door detection and speech annunciator systems. "It's the infra-red technology that unites these two seemingly strange bedfellows," explains Steve Whittall, Airdri Group Operations Director.
"Door-detection units detect any obstruction between the doors, such as a body or wheelchair, and prevent the doors from closing. This non-contact detection method utilises the same technology as that used in our hand dryers which are activated when hands are placed under them," Steve explains.
But how did the two businesses come together? Airdri has been in existence for over 40 years. It was founded in 1974 by electrical and mechanical engineers Peter Philipps and Peter Allen, who identified a gap in the hand drying market for highly reliable, energy efficient hand dryers.
Back in 1983 they realised that the market was changing and to stay ahead of the game, Airdri would need to look for new technologies. At that time, automated sensor technology was already being used extensively in the elevator industry so the appointment of someone from the elevator sector not only provided a vital step change for Airdri's hand dryer development, but also resulted in Airdri diversifying into an entirely new market.
"In 1983, Formula Systems was formed and 20 years later Airdri opened Formula Systems North America in Chicago, USA, where the company is now firmly established as an authority in the design and manufacture of elevator door detection and annunciator systems," Steve continues. He adds that the business has recently redesigned a number of existing products to ensure compliance with the EN81-20 European standard for lift design and manufacture, introduced in order to bring considerable accessibility and safety benefits for both passengers and service engineers.
The Group's highly successful strides into the elevator industry does not mean that Airdri has strayed from its core business in any way. January 2018 saw the launch of Airdri's first jet hand dryer. The new Airdri Quantum not only excels in speed but also demonstrates compelling green credentials. The Quantum has a power consumption of only 200 watts making it the lowest energy consumption hand dryer in the market. At a time when customers are prioritising sustainability, this unrivalled attribute will ensure that Airdri once again raises the bar in innovative hand dryer development. The new Quantum and the Airdri Quazar are both GreenSpec certified models. It's worth mentioning that the new Quantum's life expectancy approaches 10,000 drying hours too. That's nearly ten times longer than other popular jet dryer brands!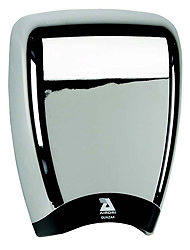 Although all of Airdri's products proudly carry the label 'British designed', in 2016 The Group invested heavily in setting up two production facilities in China. "We had been manufacturing in China for some time by then however, driven by the ambition to have total control of our engineering, product development, quality and supply chain, we took the decision to establish our own facilities," Steve explains. "Today we have two fully operational production lines and employ over 35 personnel in our 30,000 sq ft facility in Guangzhou. From here we manufacture over 35,000 hand dryers each year.
"At the same time, we entered into a joint venture with Formula Systems Technology (FOT) based in Yuyao which provides the facility for the production of our elevator safety edges and speech units, producing over 140,000 safety edges annually."
In April this year, Tony Wall was appointed CEO to The Airdri Group. Tony has ambitious plans for the future development of the company that include not only innovative new product development, but also the establishment of a robust business development strategy that will enable the company to continue to grow. The company is poised to make some significant additions to its hand dryer and elevator product portfolios over the next two years, with the development of new technologies underpinned by a cohesive quality and continuous improvement programme across its three global operations.
Airdri
Products: Hand dryers; elevator door detection systems; elevator annunciators