Brightly-coloured future
AkzoNobel continues to develop its one-of-a-kind manufacturing unit in Ashington, while seeing strong growth in sales for a number of its ranges
Roughly a year ago, we reported on AkzoNobel revelling in the opening of its new Ashington manufacturing site, and now Manufacturing Today Europe is back in touch with the decorative paint and coatings company to find out how the first year of production has gone. Discussing this and other latest highlights are Alistair McAuley, Managing Director of AkzoNobel's
Decorative Paints business in the UK and Ireland; Jeff Hope, who is Head of Manufacturing at Ashington; and Ashington IT Stack Manager, Richard Henderson.
"Our main focus was on driving improvements to our processes to increase the capacity of the plant and ensure that AkzoNobel, our shareholders, and our customers receive maximum return on investment from the Ashington unit," Jeff begins. "Admittedly, the site is still relatively new and there is still scope for development, but we have been tracking litres AkzoNobelfilled each shift and records keep being broken, which is a physical evidence that our productivity is constantly increasing and that is exactly what you want in manufacturing."
"It is the first facility of its kind and, as such, our engineers have encountered certain initial challenges, as we had to modify and improve many of the systems quite extensively. The Ashington site has brought under one roof all of the innovations in paint making that we are piloting in other AkzoNobel manufacturing facilities across the world, which is the reason why it is such a unique unit," Richard adds.
The new site operates a fully-integrated IT stack, which allows all of the manufacturing technologies to be managed by one central control system, and AkzoNobel spent a significant amount of time programming and perfecting the automated systems that are now in operation across the entire facility. Richard details: "Everything on the site is initiated automatically without operator intervention – from the ordering of raw materials to the shipping of finished products. Essentially, what we have here is a process-controlled, recipe-driven plant that is highly connected throughout the organisation through four layers of IT stack. This means that our customers in central planning are directly connected to our manufacturing processes via different automated systems."
Inevitably, the presence of an ultramodern software that enables full automation has brought a number of benefits for AkzoNobel. Richard mentions some of them: "Because there is almost no operator intervention required, the plant provides a safer working environment and better working conditions. The automation also increases productivity, as the systems are taught decisions via algorithms, which removes the 'thinking and reacting time' of manual intervention, as well as reduces sources of error that can create waste, because it allows the process to be highly repeatable. Last but not least, our technology allows high-precision dosing accuracy to a tiny 0.7ml, thus enabling us to always manufacture products that meet or exceed the exact needs of our customers."
Agility is perhaps the keyword that most accurately defines the contribution the new Ashington plant has made to AkzoNobel's operations. Since it was opened, the company has been able to react even more quickly to customer demands, shorten lead times, and generally reduce the 'production wheel' from three months to just two weeks. "Furthermore, we have also managed to standardise our processes to a detailed level and there are controls in place to ensure that changes are managed and implemented effectively. We also have an Asset Care team on-site dedicated to maintaining the 48,000 items on our asset register. Due to the high levels of automation, there are low levels of attrition, but we still support the system with a preventive maintenance schedule that is implemented at the most optimum times when it would have the least impact on production," Richard continues.
Despite its already enviable technological advancement, AkzoNobel still considers its new site 'a work in progress' and realises that there is still a lot of work that needs to be done to achieve its goal of turning the unit into "a well-known, reliable, high-performing manufacturing facility that delivers consistent, quality service through the execution of best practice processes that drive continual operational and asset improvement," as Jeff puts it. He adds: "The company has recently won contracts with big suppliers, which means that the demand for our paint is going to increase imminently. Therefore, our immediate plans for the Ashington unit is to implement a third production shift. In the long term, we aspire to start running the facility 24/7, thus creating additional jobs for the local community in the county of Northumberland, where we are based."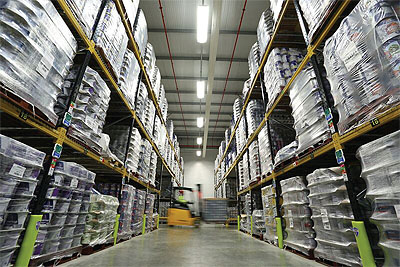 Having opened up on the topic, Jeff goes on to establish that AkzoNobel has recruited its employees at Ashington on a cultural fit, and that it has had to overcome the skills gap challenge both by seeking support from external learning and putting in place internal processes and creating its own learning environment. "We had to be more effective about how we integrated learning between education institutions and the real working environment. We set expectations upon the experts that brought in the technology that they should train those that needed to learn. It is true that we have not had the luxury of decades of experience, because the plant is brand-new, but what we have demonstrated through training everyone to fulfil their role is that, regardless of age and experience, it is entirely possible to achieve your goal if you have an open mind," Jeff praises the commitment of his team.
Last year, he revealed the company's ambition to train 10,000 decorators via its Dulux Academies scheme, and Alistair now picks up on this point: "We are certainly on track with our target, having already trained 4250 decorators. Our course prospectus continues to grow and new courses are added based on customer feedback, ensuring we meet the changing needs of the decorating industry. We are also really pleased that in May, our Academy was granted Construction Industry Training Board Approved Training Organisation (ATO) status, meaning that it was recognised as a quality training provider that meets industry-approved standards."
Discussing AkzoNobel's trading activities in recent times, he highlights the significant growth experienced by the Dulux Trade Diamond paint. "It offers appliers and specifiers a true durable all-rounder, protecting against scrubs, scuffs, and stains for finished jobs that look good for longer. We have recently extended the Diamond range with the launch of Diamond Satinwood, offering our clients solutions for a wider range of surfaces. Moreover, the fact that these paints are water-based ensures we continue our mission to transition the category over more sustainable decorative solutions."
It has been a year of heightened activity for AkzoNobel, in which the company has laid the foundations of arranging its Ashington facility in a way that will enable it to expand its capacity and continue to supply its clients with paints of even higher quality. Watch this space for future milestones!
AkzoNobel
Products: Paints and coatings products