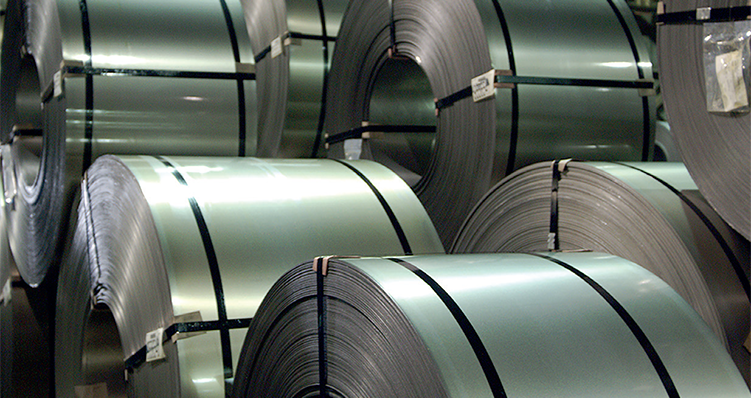 A zeal for steel
Committed to continuing its rich 120-year steelmaking tradition, Algoma Steel is an expanding, community-focused manufacturer with its sights set on becoming Canada's leading producer of green steel
As the world begins to bounce back from the restrictions and struggles brought on by the Covid-19 pandemic, Algoma Steel is entering into a new age of its long and storied history. In December 2018, the company emerged from credit protection with new ownership under a professional board of directors and a CDN$300 million investment commitment in the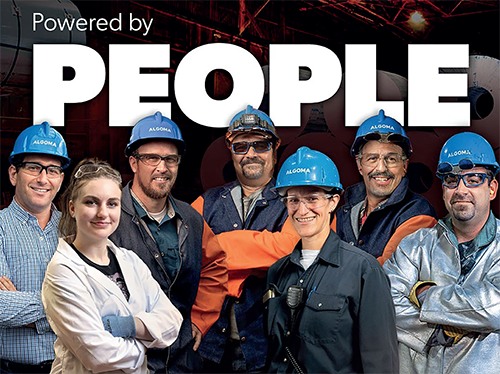 modernization of its Sault Ste. Marie facilities.
Thanks to this multi-million-dollar capital injection, Algoma was able to start work on three new projects in 2020. The first of these projects saw the company upgrade its flagship direct strip production complex, increasing capacity from 2.1 million tons to 2.4 million tons. Secondly, Algoma commissioned its second Ladle Metallurgy Facility, adding an extra 100,000 tons of capacity. Finally, the funding will allow for the modernization of the organization's plate mill, a project that is well underway and will be completed in late 2022.
"The improvements and upgrades we are making will undoubtedly benefit the business on a few different levels," explains CEO Michael McQuade. "There will obviously be an increase in product volume, which we can use to service more of the Canadian market, as well as further enhancements in quality."
Michael adds; "We're a significant producer of hot and cold rolled sheet, but we see steel plate as an important product for us going forward, particularly with the infrastructure spend we are seeing and the broader stimulus spending expected in Canada and the United States.
"When it comes to heavy construction and mining equipment, there are strict abrasion resistance requirements for steel that we can deliver on. We also see a really strong market in bridges and other government-sanctioned infrastructure. In short, we'll be participating in a very important segment of an animated growth market for the foreseeable future."
Despite being engrossed in this complex in-house overhaul to help unlock the future potential of the business, Algoma has refused to slow down its wider activities in 2021. In July for example, the Government of Canada endorsed the company's Transformation Plan for Green Steel, committing up to CDN$420 million towards Algoma's efforts to become Canada's leading producer of green steel. As part of this plan, Algoma proposes to transition from its current blast furnace fed-process to electric arc furnace steelmaking, in a move that could cut its emissions by around 70 percent.
"As a fully-integrated steel manufacturer, we are part of a carbon-intensive industry," Michael acknowledges. "Algoma and the Canadian Steel Producers Association are committed to the aspirational goal of achieving Net Zero by 2050, but we recognize that the technology to get us there doesn't exist at scale, so we need to work very closely with the government, and with academia, to explore the options."
Algoma plans to use proven electric steel manufacturing as a feasible and significantly less carbon-intensive method for making its products. The organization will now collaborate with both federal and provincial governments to make that potential a reality.
"Electric steelmaking processes are right in line with Canadian government regulations to reduce carbon emissions, and in our case, the carbon reduction potential they will offer us represents about 11 percent of what the federal government has committed to for 2030 and 100 percent of what Ontario has targeted in the same program," Michael says.
"In Ontario, coal-fired power plants have been decommissioned, so we are becoming a very green province. We will be able to use this clean electricity in our production process and, with steel being the most recycled product on the globe, we could end up being one of the greenest of the green."
Confidence to invest
The self-belief at Algoma, and in turn, the confidence to invest in the business, spawns from the people that make the company great – its customers, its suppliers, and its workforce. A diverse and loyal client base, some of which has been with the company for more than 20 years, has stuck by Algoma through the difficulties of the Covid-19 pandemic, while long-standing vendor relationships have never been stronger. Most of all, the company's employees remain the heartbeat of Algoma, as they have done since 1901.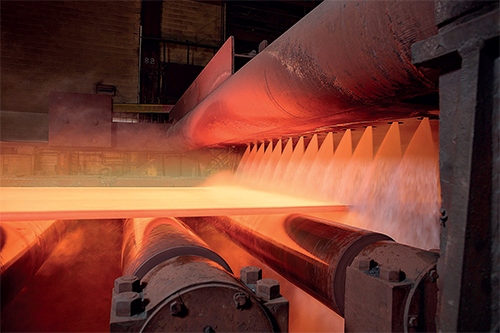 "There's a big northern pride element in our workforce, I think," Michael states. "Our people are proud of the company, the industry, and of the whole Algoma region – so much so that we have many second, third, and even fourth generation employees. People recognize the importance of Algoma Steel, but also relish good paying jobs and that's why we are one of the main drivers behind the economic engine of this region."
Enduring relationships
As a key player in the establishment of core industries in Sault Ste. Marie and the Algoma region in the early 1900s, Algoma Steel has always enjoyed a deep, intrinsic connection with the people of Northern Ontario. This enduring relationship is reflected in the sheer volume of local community projects and charitable schemes in which the company takes part.
"A founding member of the United Way here in Sault Ste. Marie, we've been running campaigns for over a century and we're probably about a fifth of overall money raised for a whole host of causes and agencies across our community," Michael declares. "That includes the backing of poverty reduction programs, removing barriers to work, and making sure that people have the support they need to make the most of their lives.
"As the largest employer in the region, our partnership with academic institutions is very important, not only for ongoing professional development for our employees but also for the next generation of steelmakers that we're looking to recruit," Michael continues. "We have a very robust apprenticeship program, a graduate engineer trainee program and we also have scholarships in place at Sault College, Algoma University, and the Northern Ontario School of Medicine. It's very important that we work with regional post-secondary institutions because jobs within the steel sector are evolving, process automation and electronics are taking over from manual tasks, so we need to prepare the steelworker of tomorrow for the future."
Community-focused
In 2020, Algoma became an active participant in the Algoma Vaccination Support Council, promoting vaccination in the local area and providing meals and moral support for vaccination clinic personnel working long hours. With the pandemic now, hopefully, in the rearview mirror, Michael knows that the business will remain community-focused as it continues to grow and expand.
"We are in the process of completing a merger with Legato Merger Corp that will provide us with an estimated USD 300 million in equity capital and see Algoma return to being a publicly traded entity," Michael reveals. "In the longer term, around three-to-five years from now, we want to be well on our way to the conversion from carbon-intensive steel manufacturing to an electric arc method offering a significant reduction in emissions. The future will see us becoming a more sustainable steelmaker, with a far improved environmental footprint, which in my opinion, will position Algoma to become a greener, more successful manufacturer for generations to come."
Algoma Steel
www.algoma.com
Products: Steel manufacturer