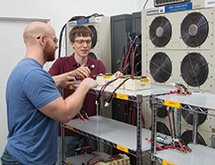 Recognized as a leader in several thermal management technologies for batteries, AllCell Technologies creates lithium-ion batteries with high performance and high cycle life. The company was established in 2001 by former Illinois Institute of Technology (IIT) professor and now CEO Said Al-Hallaj.
At IIT, Al-Hallaj worked on a program combining fuel cells and safety to optimize the design of lithium-ion batteries. He discovered a proprietary material that absorbs and disperses heat to keep batteries functioning at a safe temperature, preventing thermal runaway while also managing the cells' temperatures. Al-Hallaj decided to license this technology while also founding his own company.
Al-Hallaj had to leave his job at IIT in 2008 and run the company full time because it was having trouble raising capital and competing in the electric vehicle market, which is the market many of its competitors were focused on. Therefore, it changed the business model and instead focused on light electrical vehicles (LEV), such as bikes, scooters and four-wheelers, and stationary applications for residential, commercial and smart-grid applications.
"As a small company, we'd been working on research and development projects," he says. "I realized we couldn't keep up with our competitors that way. So, that was a good call on our part that luckily was right. At the time, we had to go against the common sense of the industry, which wasn't easy."
AllCell has learned that one size does not fit all, a key fundamental of its industry. But customers are becoming more educated about the products in the battery world. Therefore, everything is produced with the highest quality. "Our suppliers across the board are quality-conscious," Al-Hallaj says. "We make sure we work together, to get it to where we all hope it will be. It's a continuous process but we learn something new every day."
Managing inventory is another struggle. Assembling the battery is all about perfect timing and coordinating with suppliers and customers, so the company needs to ensure it doesn't under-stock or overstock.
"You have to work with suppliers to make sure they understand the complexity of what you're doing with the timely delivery," Al-Hallaj says. "We're going through massive growing pains and trying to adopt best practices. We're not fully automated just yet, so we have to be careful of what we pick and implement."
All About the People
A key to figuring its processes out is AllCell's human element. "We've managed to come up with new methods and ways to assemble batteries and ensure safety and quality control in the process itself, not just with highly trained staff but in battery performance and safety," Al-Hallaj says.
AllCell's workers have decades of experience in the automobile and other manufacturing industries and adapted their knowledge to the battery-manufacturing industry. Training is constant and Al-Hallaj feels lucky that the company is close to so many top engineering and manufacturing schools in Chicago.
"We reach out to some of the state and city programs and trade shows, and we talk to people," he says. "Unfortunately for us, there's no textbook how to get things done. We're learning on the go and it's fascinating. Our strength is that customers come to us, we quickly adapt and customize solutions."
AllCell focuses on small- to medium-sized customers, so it doesn't have to implement these methods for a high-volume environment. And with team assembly, AllCell lowers its capex, while maintaining quality and performance.
The company started with only seven people, but now employs 45 diligent, knowledgeable workers. "It's incredible," Al-Hallaj says. "I could not feel better about the quality of people we have here.
AllCell is eager to share its insights with the battery world and participates in three to four expos a year. It will usually have a booth or participate in panels to discuss the latest lithium-ion technology. "Since we're based in Chicago, there are so many expos here that we can attend and meet people without taking a big hit on the budget, so we take advantage of that," Al-Hallaj says. This year, AllCell will be attending the Battery/Critical Power Expo in Novi, Mich.
Al-Hallaj warns that this industry is not for the timid. "It's crazy!" he says. "It can take a decade to get a product in the market and another decade to grow and establish yourselves. You have to be patient. This is not the right place for a quick hit-and-run."