Air force
Bolstered by multi-million-dollar investment into its equipment and production facilities, Allied Air Enterprises is a heating and cooling manufacturer outpacing the competition
Partner-of-choice for a growing number of independent distributors and HVAC contractors, Allied Air Enterprises, and its complete portfolio of heating and cooling products, are proving increasingly popular across the United States. A division of Lennox International, the company is built on the collective strength of seven brands: Armstrong Air™, AirEase®, Concord®, Ducane™, Allied™, Allied Commercial™ and Magic-Pak®. In leveraging the power of these brands, Allied Air aims to be the industry's ultimate source for heating and cooling', redefining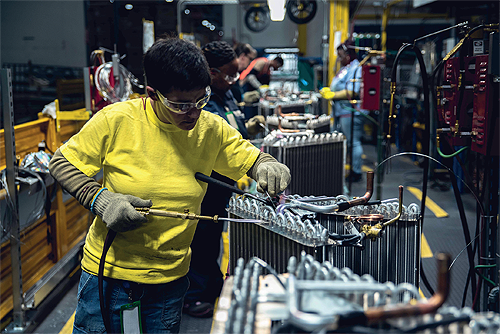 ease-of-business through its unparalleled service and offering.
"The quality and reliability of the products we make at Allied Air is world class," declares Plant Operations Director Craig Fairley. "We have great trust with our customers, we are very competitive on price, and our lead times are far superior to the market average. Our ability to provide that ideal mix that customers are looking for in their solutions really sets us apart."
In no way significantly impacted by the Covid-19 pandemic in 2020, Allied Air enjoyed gross sales 44 per cent higher than it had previously forecast. The stronger than expected showing allowed the company to reinvest over $35 million in its Orangeburg County, South Carolina, facility in December 2020.
"If you look at the Orangeburg campus, it currently has a main facility, which is about 800,000 square feet of manufacturing space, alongside another building with around 120,000 square feet of space," Craig says. "Thanks to our latest investment, we are now adding a 400,000 square foot extension onto that second building, which we will use for distribution and manufacturing."
Soon to be home to more than 1.3 million square feet of production space, Orangeburg is a key location in Allied Air's network of US facilities, which also includes factories in Iowa, Mississippi, Arkansas, and Mexico. Supplying broad lines of residential and commercial products, each site builds to the same leading quality standards and provides redundancy and specialization to keep goods flowing.
Before its products reach the manufacturing stage, Allied Air carries out comprehensive research and development activities. Inside testing and design labs, the company's engineers use cutting-edge technology to develop and test new ideas quickly and effectively. With engineering, product management, and development technicians all in close proximity, the firm's products move quickly from concept to reality. Craig describes the process in more detail:
"Our marketing and sales teams work closely with our customer base to identify client needs before developing products," Craig explains. "Some of those products are designed for specific regions or customers, and some are designed in line with federal regulations surrounding emissions and the like.
"Once a solution is proposed, it goes to our design engineering team in Columbia, South Carolina, which decides whether we need a small or large base product, and how it will fit within the market. After several design illustrations, we build a mock simulation of the product before taking it to a pre-pilot run to see what things need changing and if we can enhance manufacturability and performance. Ultimately, following five or six pilot runs, the product is added to the manufacturing schedule, joining our regular run of real-life solutions released to market."
Drawing on its vast collection of brands, Allied Air's capabilities range from the supply of compact residential applications to the delivery of large commercial projects. Among the company's most popular products are its Magic-Pak® All-In-One HVAC Systems, which provide a convenience and simplicity in design unmatched across the sector.
Similar bestsellers include Armstrong Air™-branded air handlers and air conditioning units, which can be paired with the Comfort Sync® A3 Thermostat – an innovative system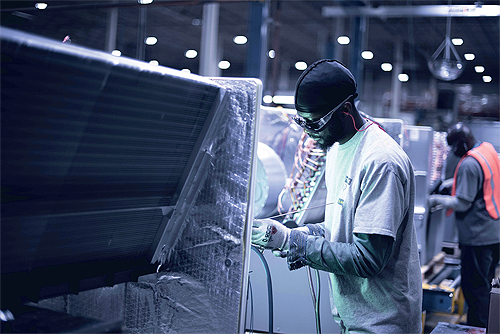 management tool that offers unprecedented control to customers, as well as exceptional energy savings.
Finally, with ratings of up to 16 SEER, Allied™ – another Allied Air brand – provides reliable, energy-saving heat pumps. Thoughtfully designed to improve heat transfer and operating efficiency, the heat pumps also contain Omniguard Total Corrosion Protection Technology, which helps to extend the life of the units by safeguarding against leaks and corrosive elements.
To support the steady flow of new products, Allied Air has recently invested over $20 million in new, state-of-the-art equipment, including a 1500-ton press, air proofing technology, and advancements in validation and testing to ensure the firm sells only the most reliable products in its field. "We have a number of new launches coming up in 2021, including a $5 million project with Magic-Pak®," Craig reveals. "Later in the year, we may potentially make more investments into our cooling lines, air conditioning and heat pumps, and we are already looking at another $8 million of funding in early 2022."
Built on a culture of integrity, excellence and respect, Allied Air's success in recent years has not solely been the result of its products and services, but also the company's high-performing employees and suppliers, and the tight-knit community for which they are responsible. Living proof of how effective good people can be, Allied Air has always valued its workforce as its greatest asset – a sentiment Craig believes is stronger than ever in 2021.
"When we say our people are our greatest asset, we aren't just making a feel-good statement," he stresses. "We've based our entire business on hiring talented, dedicated professionals and giving them the resources they need to thrive. The right people can elevate the attitude, ideas, craftsmanship and commitment of any facility, and we're proud to say our employees do so every day. We believe they help us create products that are better for homeowners, and better for the professional dealers who install them every day.
"Internally, we have formed a great family environment, which means we take care of our employees as if they were our own flesh and blood. People are paramount to what we do and they are always our main focus. I know this first-hand, thanks to the welcome I received when I started with the organization just over a year ago. Even on my very first day at Allied Air, I was made to feel like I'd been here for 20 years. It's a great place to work."
Allied Air's commitment to its people is borne out by the firm's dedication to creating a safe, healthy working environment. In the last two years, only two injuries have been recorded at Allied Air's Orangeburg site, and a culture of rewarding employees for their performance and safe working practices continues to bear fruit.
Though Allied Air admits that it expects a lot from its workforce, the business also vows to support the growth and development of every one of its team members, allowing them to fulfil their potential. From extensive virtual programs housed in the company's LII learning Center, to an educational reimbursement initiative, Allied Air offers considerable in-house professional development, as well as a rewards package 39designed to attract and retain employees.
"It's an environment built on principles of collaboration, mutual success, and transparency, with the goal of growing our business through the success of our customers and people," Craig reports. "We are passionate about fostering a diverse and inclusive environment and we have a broad range of internship positions and permanent roles within all areas of the business.
"There is a lot of opportunity for growth at Allied Air," Craig continues. "We have a support structure in place for career development and you can pretty much go in any direction you want within the organization, with the full backing of the business."
Like most businesses around the world, Allied Air faced the myriad challenges of the Covid-19 pandemic in 2020, but rather than strain the company's bond with its people, the adversity of the pandemic only made the firm's family culture stronger. After installing the necessary protocols and performing well throughout the crisis, Allied Air is now, in 2021, a point of distribution for the Covid vaccine.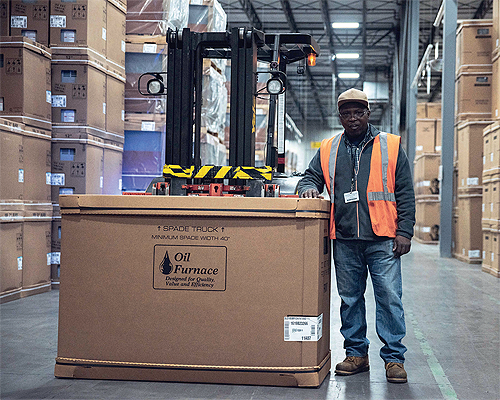 "Our Orangeburg plant has partnered with a local pharmacy that came and gave us Covid vaccinations," Craig affirms. "Hosting the vaccination process has been a great chance for us to provide a life-saving service for our employees, their friends and their families. It's been a fantastic opportunity to reach out, not just to our people, but to the wider community as a whole."
As Allied Air continues to establish itself in communities across North America, the company soon hopes to realize its goal of achieving $640 million in turnover. The milestone would be the next step in what Craig sees as the company's long-term mission – transforming Allied Air into a $1 billion organization.
"By doubling our current $500 million position within the next three to five years, we will be able to add another 400 or 500 jobs in the Orangeburg County area, which would be outstanding for us," Craig states. "There are, of course, a lot of cost reduction and productivity actions that need to be performed before we can meet that objective, so we will be looking at our net margins and conversion costs to ensure we can achieve our goals as soon as possible."
With its distinctive equipment brands, designed to cover every type of customer, and supported by a range of custom and turnkey marketing programs, Allied Air is growing at a rapid pace. As a result, more and more customers across the United States are experiencing what the firm calls 'The Allied Air Advantage' – unrivalled service, quality, and tailored innovation.
"It's been an amazing year," Craig says in summary. "I've only been at Allied Air for roughly 12 months now, but we've experienced some huge milestones and enjoyed a record year of profitability, even with the difficulties of Covid-19.
"On the growth front, our Orangeburg development will bring an additional 100 jobs to this area, which is great news for the local community. I think, when you look at the places we serve, you can see we have very aggressive diversity and expansion goals. We want to be represented in more places across the US, and we want more people to access, and enjoy, our great products."
In North America, 70 million heating and cooling units were designed and installed by companies like Allied Air between 1989 and 1998, 100 million units between 1999 and 2009, and 95 million units in the last ten years. The significance of these figures lies in what they tell us about the market today – namely, the fact that many of these heating and cooling products are now between ten and 30 years old, meaning the install base in the sector is ripe for replacement. With its thoughtful approach to business and decades of industry experience, Allied Air is more than ready to take advantage of the opportunities the next decade will present.
Allied Air Enterprises
Products: Heating and cooling equipment manufacturer
www.alliedair.com