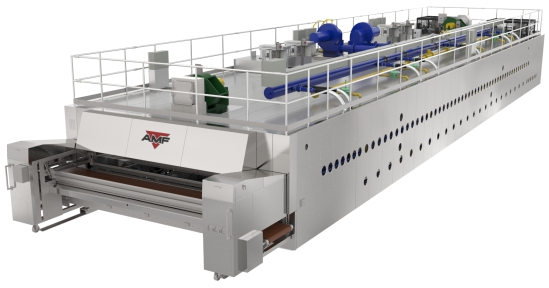 AMF Canada was created in 1945 as general machine shop. Beginning in the 1960s, it refurbished bakery equipment up until the mid-1980s when the company started creating its own equipment, starting by developing the Dough Mixers.
Today, AMF Canada prides itself on being a global leader in manufacturing high-speed, automated bakery equipment for industrial bakeries that mainly produce bread and buns. This includes equipment for dough mixing, dividing, make-up, proofing, baking, cooling, packaging, basket/case loading, and product distribution.
AMF has developed a global presence with offices and manufacturing facilities in the United States, Canada, Central and South America, Europe, the Middle East and Asia. AMF Canada is a manufacturing branch of AMF Bakery Systems, which is headquartered in Richmond, Va., and owned by Markel Food Group.
Working Together
AMF prides itself on offering the best equipment to add value to its customers' production lines at optimal costs. This year, the Canada-based company will celebrate its 73-year anniversary. Executive Product Manager Bobby Martin attributes the company's success to its people.
"For generations, the people have been an asset to this company," Martin says. "They have been and they always will be the greatest resources because everything that we do is engineered, managed, welded, machined, assembled and serviced by our people. It's all about us, which is why we have a very great culture of taking care of our people. That is also why our employees remain with us for a long time. We even have people retiring after being with us for up to 50 years.
"We have a good balance of experienced and new talents, and make sure they can spend time together," he continues. "We want them to exchange information and engage with each other sharing precious specialized knowledge. The energy of the new talent and the focus of the experienced talent create a momentum for what we do."
Its suppliers have also played a critical role in its success. AMF buys high-quality parts from its vendors and works closely with them to gauge new technologies. "We're always trying to find the best value for each dollar that we spend," Martin explains, noting that every dollar that AMF spends is done so through the expertise of its suppliers.
Just as with its teammates, AMF has longstanding supplier relationships, as well. "We have premium suppliers and are very happy with them," he says. "We recently celebrated 35 years of collaboration with Intralox, and have a very strong relationship with them as our conveyor belt solution supplier. Without the quality of the Intralox components we couldn't offer as many solutions as we do in our conveying systems."
In addition, SEW Eurodrive and Weg are longtime suppliers that AMF has worked with for decades. "We pride ourselves on our longstanding relationships, and don't like to change them," Martin says. "We want to build partnerships with our key suppliers which extend beyond the supplier/customer relationship. Our strong relationships are how we can win in the market."
Innovation On Purpose
AMF is known for its innovative, high-performance approach to thermal solutions. In September 2017, the United States Patent Office awarded the company a new patent for its Guardian Oven Chain Management System.
The oven chain is recognized as the most critical part in a high-speed bread or bun bakery because a chain failure can result in a severe loss in both repair costs and production downtime. AMF's latest innovation allows bakery operators to easily determine thermal expansion of the chain, the power required to drive the chain, variations in chain tracking, tensioning pressure and distance, and hydraulic chain tensioning. Those factors have a huge impact in predictive maintenance, affecting productivity and downtime.
"It monitors several important conditions of the oven chain to extend the life of it while greatly reducing lubrication costs for traveling tray, tunnel and continuous ovens," Martin explains. "The guardian system can be easily applied to continuous final proofers, product coolers or other bakery equipment with long lengths of chain.
"We are very pleased and happy about this product because the oven is the heart of the bakery," he adds. "In our industry, we have to produce every day in order to hit the market with fresh product."
Recently, AMF created a new bread pan cleaner that will roll out this year. "We are investing in our research and development every year," Martin says. "The people who work on that team listen to our customers to find solutions for their real problems. Our goal is to create timely solutions to meet our customers' needs."
AMF's innovation stems from technology as well. Through its website, customers can access AMF Method™. The platform provides real-time information to its customers about training on purchased equipment for maintenance, sanitation and operations.
"Right now, AMF Method™ is about 15 percent complete with our equipment information," Martin explains. "We release new equipment training material every two to three months, and will have information uploaded about them as they roll out. In about a few years, we will cover all of the equipment we supply."
He adds that the biggest challenge in the bakery industry is labor, which is why AMF decided to introduce the AMF Method™ platform. "We are a solution provider, " Martin explains. "So if a customer lives through a growth, they can access these training tools and information to quickly improve their operations with well trained additional resources."
Overall, innovation is very important for AMF. "At our company, everyone has a voice and listens to each other," Martin says, noting that the company also listens to its customers.
"We have learned a lot from them and our experience in the industry," Martin says. "For us, it has always been a constant, continuous learning curve. We know that although we may be high in knowledge, there is always something new to learn. This is why we always put ourselves in the shoes of our customers so we're thinking about what we can do to improve their production line."
Looking Ahead
Martin has been with AMF for 15 years. He says that he is most proud of his team. "We have a lot of great, strong, smart people," he says. "Without them we cannot support the business."
Looking ahead, AMF has its eye on producing sanitary equipment. "We realize the baking industry doesn't need to be as sanitary as the meat industry, for example, but there are great things that we can apply in the baking industry," Martin explains. "Our engineers have received training from a formal sanitation expert and their task is to find ways to reduce the quantity of parts to provide better access for maintenance and cleaning.
"We are working to come up with a better equipment design using the sanitary principles and not adding costs," he concludes. "We [have been] heavily involved in that for about three or four years, and believe that the future involves sanitary equipment."