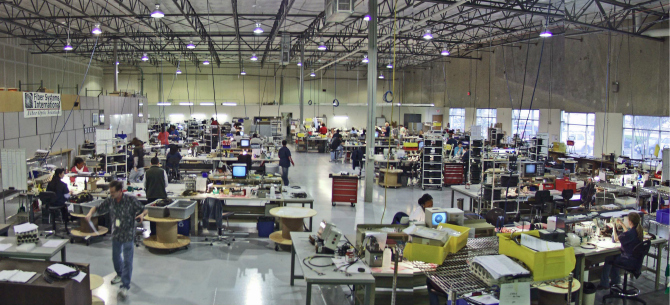 Amphenol Fiber Systems International
When Fiber Systems International wanted to phase in lean manufacturing philosophies a decade ago the company tapped into the resources of local colleges. A quarter-million-dollar grant from the state of Texas allowed the maker of fiber-optic components and equipment to utilize lean manufacturing programs from Collin College, the University of Texas at Arlington and the Texas Manufacturing Assistance Center (TMAC).
"Certainly that training and hands-on involvement of nearly every employee in specific areas was involved in this," Vice President of Product Development Bill Reid says of the company's transition to lean practices. "It strengthens our existing process to work with the community and universities and manufacturing centers."
In adhering to lean manufacturing philosophies, Fiber Systems uses metrics to set goals, utilizes process optimization and follows 5S and Six Sigma methodologies. To manage stock, the company employs inventory control systems and conducts systematic reviews of inventory levels by product. Material flow analyses help to optimize material flow during production. Fiber Systems' efforts to become a leaner and more productive company began in 2003 and continue today. "We started this never-ending journey then," Reid explains.
The results have been overwhelming. The Texas-based company reduced its lead times and cut development cycles. Components that once took two months to manufacture can now take only days, depending on the product. "We've gone from 70 percent on-time delivery to over 99 percent on-time delivery," Reid says of the impact.
Leader in Harsh Environments
Fiber Systems is a full-service fiber-optics company that has specialized in products for harsh environment situations since it was founded in 1993. The company was originally focused on supplying components for a handful of military products and soon became a certified Department of Defense supplier.
In the late 1990s, Fiber Systems developed TFOCA-II®, which eventually became the standard technical fiber-optic connector for the U.S. Army. Reid says TFOCA-II® put the company on the map and remains a flagship product today.
By 2000, Fiber Systems had begun developing internal machining capabilities to complement its assembly lines. The investment improved lead times and quality by giving the company the ability to fabricate most parts in house. That allowed Fiber Systems to expand its product lines to the broadcast and geophysical market, including the mining and oil and gas industries.
The company's growth began attracting attention from the major players in the fiber-optics industry. Amphenol, a global manufacturer of electronic and fiber-optic connectors, purchased Fiber Systems in 2005, renaming it Amphenol Fiber Systems International.
Amphenol is one of the largest interconnect companies in the world. The buyout opened Fiber Systems to all of the larger company's resources and shared knowledge. "It brought a lot of these things that we can use to further our product lines," Reid explains. Although Fiber Systems' sole location is in Allen, Texas, it suddenly had access to Amphenol's worldwide facilities and sales networks.
Fiber Systems was able to tap into Amphenol's entire manufacturing and sales network and find other Amphenol entities it could share parts and capabilities with. For example, Fiber Systems does not have an internal plating shop, but through an Amphenol sister company was able to secure its plating needs.
From its plant in Allen, Amphenol Fiber Systems manufactures custom and off-the-shelf components, cable assemblies and active devices for fiber-optic systems. The company provides tools and training to support customers before and after a sale. Historically, Fiber Systems' largest business segment is the military market, but it also supplies products to the aerospace, energy, medical, underground and disaster recovery markets. Its list of customers includes defense contractors such as Lockheed Martin and Fiber Systems products can be found on military hardware such as the Aegis Combat System.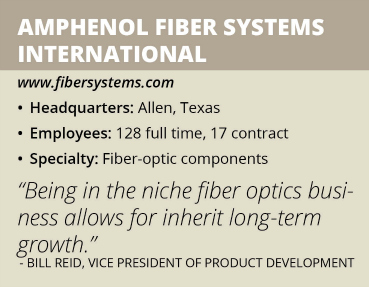 Although the military industry has traditionally been Fiber System's primary focus, the oil and gas market has surpassed it in some years. Both areas, however, are subject to cyclical economics. The U.S. defense budget and project funding change every year based on need and political pressure, while investment in the energy industry rises and falls with the price of oil. "That is certainly a challenge when you've got fluctuating budgets out there in the industry," Reid says.
To offset for those fluctuations, Fiber Systems is looking to diversify its product lineup and customer base. It helps that many wired systems are moving toward fiber optics. Fiber-optic systems offer seemingly limitless data bandwidth that is immune to electrical interference. Growing data needs are making fiber optics more common in harsh environments, such as on jets and in military communications.
"Being in the niche fiber business allows for inherit long-term growth," Reid explains. The company is expanding its presence in the aerospace market and diversifying internationally. Fiber Systems now has a salesperson based in the United Kingdom and its sister companies in Europe are further providing a means of entry into the region. "That's been a strategic initiative in how to penetrate the market," Reid says.
In addition to expanding its own market, Fiber Systems wants to grow externally by considering acquisition investment opportunities as they arise. In some cases, Fiber Systems invests in other companies directly to share resources and form mutually beneficial partnerships.
Superb Performance
Catering to the aerospace and military markets requires more than the right product; it must be reliably built to precise specifications. Fiber Systems is capable of manufacturing components to within less than a micron of design specifications. "We have superb product performance," Reid says. "We have an excellent customer satisfaction record, best in industry lead times, greater than 99 percent in customer delivery." The company is certified in ISO 9001:2008, AS9100, Mining, Safety & Health Administration (MSHA) and ATEX, a standard for explosion resistance.
"Really to us, quality is meeting requirements," Reid says. "You've got performance, delivery cost and value and our customers have requirements along all of those lines." He adds that customer satisfaction reports affirm that Fiber System is meeting if not exceeding expectations. "It shows itself in repeat orders and reliance on us to provide value to them [customers]."
The company participates in a number of industry working groups  to keep abreast of the latest industry trends and advancements. These organizations include the Society of Automotive Engineers, Naval Sea Systems Command (NAVSEA), Naval Air Systems Command (NAVAIR) and the Institute of Electrical and Electronics Engineers. Fiber Systems is involved with trade events both domestically and internationally and Fiber Systems' representatives often speak at universities and conferences.
As Fiber Systems learns more about the needs of its customers it continues to invest in equipment capable of meeting those requirements. One of the company's  recent additions is an optical electronics lab. "That has allowed us to go into designing and manufacturing media converters and transceivers," Reid says.
The media converters can change an electrical signal to light and vice versa, allowing a fiber-optic line to carry data that can reproduce an image or sound. That is beneficial because fiber optics do not limit the kind of protocols that can be used.
Military and aerospace industries can be  slow to adopt new technology. Every product that enters the market must go through safety testing and meet industry requirements. "Those don't happen overnight," Reid says.
To speed up the process, Fiber Systems builds on past products or reuses previously approved components developed by its sister companies. "We'll marry components and make a new product," Reid explains. Likewise, Fiber Systems supplies design information and products to other Amphenol entities that they can reuse in their own products.
More than 90 other Amphenol business units can contribute to Fiber System's products to supplement production. "We're familiar with most all of them on a first-name basis," Reid says.
The company will continue to expand its product lines and plans to add manufacturing staff and salaried workers. The collaboration within Amphenol is expanding Fiber Systems' influence within the larger company as well. Fiber Systems is undertaking a project to help oversee manufacturing at other Amphenol facilities by providing input on material flow, MRP systems and the lean process.
Thanks to the coordination between Amphenol's network of companies, Reid says Fiber Systems can grow its business without the need to open additional locations. "We could remain in this facility and double if not triple from where we are today," he adds.