Listen, learn and lead
AR Metallizing NV is a world leader in the production of metallized boards, papers and films used in the consumer packaged goods (CPG) sector. Its core focus is labelling and flexible packaging
As Bart Devos, CEO, explained, alongside these items the company also develops complex specialty products, including metallized textiles and substrates for the automotive, sports gear and equipment, medical and construction sectors.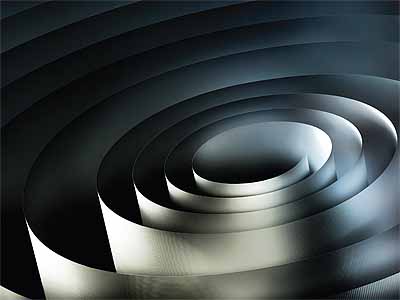 "For instance, the company provided the UV reflecting textiles for the Bangkok Airport roof construction," he highlighted. In fact AR Metallizing's range is very extensive. The core focus is labelling and flexible packaging, which are supplied to an array of clients including printers, laminators and converters as well as the top tier brands in the food and beverage, entertainment, media and advertising sectors. The product portfolio also includes a range of envelopes and gift-wrap solutions. ,
"Our range is actually quite vast," added Bart. "We work closely with clients to help them develop solutions, and so for example, we've been working with a chain of quick serve restaurants to replace their existing non-environmentally friendly packaging with a greener solution."
"We also help our clients in the designing of their labels and packaging," noted Jacky Vanden Ecker, Operations Director. "We have an in-house creative services department with a marketing design specialist who helps new customers and existing label and packaging customers to design specifically on metallized paper because design is always different on these materials."
"We have the reputation in the market to be innovators," Bart continued. "A great illustration of this is the new metallized paperboard for folding boxes, called SilberBoard, that we recently released."
The market has responded very positively to this new product, hailing it as the first real revolution in the packaging industry for decades. What makes it so remarkable is that it enables premium brands to get rid of plastics, yet offers consumers glossy, great looking packaging. It also meets environmental requirements from consumers, state regulatory authorities and – at the same time – satisfies industry needs from premium brands in the CPG markets.
"SilberBoard is the result of years of stakeholder's involvement, extensive R&D and financial investments," added Bart. "Consumers and authorities favour environmentally friendly packaging, yet consumers' buying behaviour shows that packaging needs to look great, reflect brand values and remain functional. With our SilberBoard we can offer them an environmentally friendly alternative for their existing plastic packaging."
In addition to the release and positive reception of SilberBoard, two other recent achievements have even further accelerated the company's success. In 2015 AR Metallizing became a full subsidiary of the Japanese multinational Nissha. The multinational is listed on the Tokyo stock exchange and is highly regarded for its technological leadership. Nissha's roots date back to 1929.
Further to this development, AR Metallizing acquired Brazilian-based Malaga Produtos Metalizados, the number one player in the Latin American region. This brought the total number of the organisation's manufacturing facilities around the world to four (Belgium, Italy, the US and Brazil), and cemented its position as a trusted global supplier with a local presence.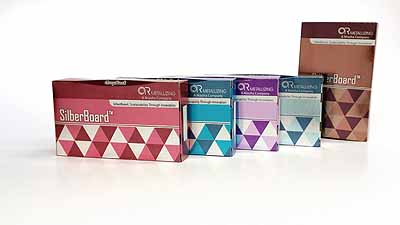 "The vision we had and still have is that as our clients become more global, we want to be close to them and be able to streamline our supply chain as much as possible. So the acquisition in Brazil gave us a solid and reliable supply chain for our customers in Latin America and it also enables AR Metallizing to move up in the value chain by integrating supply processes and expand and diversify our product portfolio," Bart explained.
"We also always have a back-up scenario for all plants," added Jacky. "In Brazil, for instance, we have created the capability to serve customers from Europe if needed. What we also notice is that combining the knowledge of the four different facilities is really helping us to better position ourselves, as well as improving our focus on the quality and design of our products, hence we can meet customer needs even better."
The acquisition also puts AR Metallizing in an even better position to respond to strong current global market demand. "Although oftentimes the perception in Europe is different, we see that especially the American market is very much in favour of sustainable packaging. It is interesting to see for instance how in the American market bottom-up approaches affect the industry. US consumers are advocating strongly for sustainable packaging, which has a major impact on the industry's behaviour. On the other hand, the industry also starts to understand that 'going or being green' is profitable, which is a great opportunity for a company such as AR Metallizing."
It is clear from speaking to Bart and Jacky that AR Metallizing is a very hands-on and entrepreneurial company, and one that is dedicated to continuous improvement. "We try to foster internally – throughout the whole company – the spirit to always think ahead and anticipate, by listening, learning and then leading – this is one of my favourite mottos," said Bart. "If you apply this in the company and towards your clients you are often successful. We also keep a close eye on our competition, pay attention to the trends in the market and as I mentioned, listen to our clients. Of course you also have to undertake the necessary investments and that is what we try to do. Invest in technology, people, and obviously in new products.
"We think that our true competitive edge, is not caused by only having good management strategies, but in the execution thereof. We are continuously focused and result-driven on all levels of our organisation: sales, marketing, purchase, R&D, operations. We are always looking for cost efficiencies and true solutions for our customers."
Going forward, AR Metallizing's strategy will be to continue to build on its strengths, with the ambition to always be a better company that can serve the labelling and packaging industry to the best of its ability. "My leadership team is proud that we can steer a company like AR Metallizing, and every day we see the commitment of our people – without them the company would not be the success it is today," concluded Bart. "We are also proud of our customers, who are also loyal and dedicated to improvement. We are keen to apply the motto of listen, learn and lead to them all, as we believe that such an attitude is necessary to stay at the top globally."
AR Metallizing NV
Services: Global provider of specialty technical coatings for metallized applications