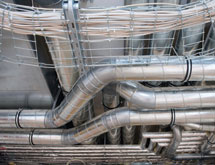 When a company leads a market in some aspect, it shows the operation was either able to out-muscle the competition with its size, or worked hard in its particular niche to gain competitive advantage. In the case of Arrow Fabricated Tubing, it may have the experience of a company three times its size, but it has become the industry leader in aluminum tubing products as the result of its hard work, development of proprietary production systems and getting a jump start on the rest of the market.
"We saw the HVAC industry migrating to aluminum tubing products long before others, because we started working in that niche about eight to 10 years ago," Vice President of Sales and Marketing Chris Foster explains. "We developed our own brazing systems for aluminum manifolds, and that is proprietary. The metal point on the brazed system is so close to the metal point in the aluminum that you have to be very careful. Our system helps us to provide consistent quality."
Based in Garland, Texas, Arrow was founded in 1978 as a metal service center, and began producing copper return bends for the HVAC market in 1985. Later, it added fabricated copper assemblies and components and it began producing aluminum return bends and manifolds in the early 2000s. Since 1999, the company has focused exclusively on the fabricated copper and aluminum tube components market.
"All of the major HVAC companies know who we are – they look at us as a contract manufacturer," Foster says. "Our clients come to us with parts and designs, and we evaluate them and then manufacture them. We are known for the quality, service and value that we bring to them."
Providing the Best
Arrow helps its customers transition to aluminum coil manufacturing in a number of ways, whether they need aluminum coil products such as return bends or crossovers , interconnecting tubing or aluminum-brazed manifolds. The company has state-of-the-art equipment and tooling that is used only for aluminum and was designed specifically for this side of its business.
"We used to be 100 percent copper, but aluminum is now 50 percent of our business," Foster says. "We are continually adding capacity to meet demand, and all of our aluminum equipment is dedicated to the aluminum products."
On the copper side, Arrow has the largest product line in North America for its customers' coil manufacturing needs, Foster notes. Arrow's copper products include hairpins, return bends, and crossovers – in copper, steel and stainless steel. The company's copper manifold products range from simple cut-and-bent parts to complex brazed assemble control systems with sizes from .125 inches to 1.375 inches in diameter. It uses custom braze fixtures to braze products to clients' exact specifications.
"We constantly focus on lean manufacturing and continuous improvement because we want to provide the best to our customers," Foster explains. "However, we also build quality into the design. This helps it be easier to make, easier to form and easier to braze."
He notes that Arrow continually works to improve its brazing operation, but it also is enhancing the overall business throughout ongoing training of its approximately 330 employees.
"Right now, we are taking our entire workforce through lean manufacturing training," he says. "That involves various aspects of lean manufacturing, 5S and continuous improvement practices."
Win-Win Situations
Arrow serves the residential and commercial markets, and is seeing extensive growth in the residential sector right now. The company also has some automotive customers, working as a third-tier supplier to the OEMs.
"That's the good thing about HVAC – most everybody is always going to have air conditioning in their house, so the market stays strong," Foster says. "Even at this time, the housing market may be down overall, but the repair market is doing really well, and that is great for our company."
Even during the economic downturn, Arrow struggled like many other companies, but it refused to do layoffs. Foster says the company values its dedicated workforce too much to layoff anyone, because it didn't want to lose the expertise and skill its people possess. This is especially true because Arrow wanted to be prepared for the inevitable recovery and be poised to go after any opportunities that came its way.
"In the next two to three years, our growth opportunities are really great," he says. "We expect to increase the size of the business by more than 50 percent over the next few years."
He notes that Arrow has about 175,000 square feet of manufacturing space right now, as well as a couple off-site warehouses, but he believes it will need more space soon. With the quality of its workforce and the entire company's dedication to customers, he says there will be no problem in Arrow meeting its growth goals.
"We have a very dedicated workforce, of which we are very proud," he says. "Everyone works hard to ensure our customers are served properly with quality products. We understand that it's not just us that benefits from our customers' business. It has to be a win-win situation for both of us – us and our customers – for the business to truly be a success."