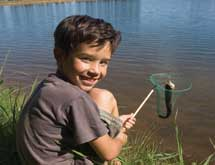 Artisans Inc. may be a family owned and operated business tucked away in the scenic community of Glen Flora, Wis., but it is by no means a small, old-fashioned company. It is known for creating unique and stylish products using modern technologies and innovative techniques. Now, in its 47th year in business, "Artisans continues to delight and inspire their customers by providing unique, high-quality clothing to those who demand the best," the company says.
In 1963, farmers Orlo and Bernice Dukerschein sold their dairy operation to be modern-day artisans and thus became pioneers in a new phenomenon in fashion known as screen-printing.
Although Andy Warhol popularized screen-printing in the art world, American entrepreneur Michael Vasilantone invented it, having developed a rotary multicolor garment screen printer that he later received a patent for in the late 1960s.
The machine was initially used to print logos on bowling garments but soon became a popular way of decorating T-shirts.
Fast-Track Growth
When the Dukerscheins started the company, it was just the couple and their six children screen-printing T-shirts, sweatshirts, ribbons, buttons, emblems, decals, bumper stickers, banners and cow boards.
In 1974 – the same year Gordie Dukerschein, the couple's youngest child, joined the company – Artisans moved into a new, 5,000-square-foot production facility and focused its product line on sportswear. Gordie's wife, Bev, and brother, Larry, joined shortly after.
In the late 1980s, Artisans expanded its production capabilities to include an on-site cut-and-sew operation. By 1991, the company had outgrown its facility on the family property and built a 50,000-square-foot production facility in Glen Flora's industrial park.
It added another 50,000 square feet in 1994 and yet another 50,000 square feet in 2000, bringing the total to 150,000 square feet of manufacturing space.
In 2002, the company started utilizing offshore manufacturing to continue delivering its products at a competitive price.
Ahead of the Curve
Artisans broke ground in 2004 when it became among the first in the industry to acquire a digital garment printer, allowing it to offer unique placement and customized items. The next year, it added a laser machine to its equipment fleet that could cut fabric with greater precision and attach appliqués and em­broideries that were once difficult to achieve.
Today, Artisans is led by CEO Gordie Dukerschein and his wife, Bev, who continue to abide by the corporate mission and values in­stilled by the Dukerschein's parents more than 40 years ago. The company serves these markets:
Resort/souvenir – Artisans' products are featured in gift shops, resorts, hotels and attractions across the United States.
Outdoor sports – The company specializes in outdoor apparel for active sportsmen and wildlife outfitters, which appeal to sportsmen of every gaming niche. In 2007, Artisans became the official licensee of Ducks Unlimited Apparel, the world's largest wetland and waterfowl conservation organization.
Corporate and commercial accounts – Artisans provides customized clothing for corporations, as well as colleges and universities.In addition, Artisans sells its products through mail-order catalogs and has its own retail outlet in Glen Flora, which is across the street from its corporate headquarters and manufacturing facility.
"The outlet is open year-round and offers a variety of Artisans clothing at true outlet pricing, as well as unique gifts and seasonal home décor," Artisans says.
Fashion Forward
Artisans says its company name is indicative of the fine craftsmanship customers will find in each and every product. "You can expect to find much more than a basic sweatshirt or T-shirt when you work with Artisans," the company asserts.
"While we have several timeless, tried-and-true garments that carry over season after season, we are always developing innovative fashions so that you can consistently find fresh colors and collections made to appeal to the young and mature alike."
Artisans' in-house product development team consists of artists, art directors and merchandisers who keep a close eye on regional, national and international market trends.
"Eight professional artists apply their creativity and skill to enhance forecasted trends and make exclusive designs that are not seen anywhere else in the marketplace," the company explains. "Our award-winning designs, created by hand and with computer-aided design programs, have the depth and detail that you would expect from a nationally recognized leader in screen-printing and embroidery."