Lighting the way
Focused on quality and innovation for more than 30 years, ASD Lighting leads the way when it comes to developing LED luminaires
Established in 1983, ASD Lighting (ASD) has developed a strong reputation in the UK as a true manufacturer of lighting that is both innovative and of high quality. Combining its skills and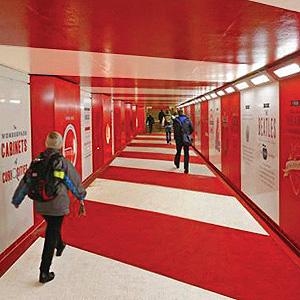 expertise in the design and manufacture of lighting, the company boasts a unique and growing portfolio of products that are not only attractive and hard wearing, but also offer practical and timesaving installation features.
Elaborating on ASD's success story, Tony Stewart, Managing Director of ASD Lighting, begins: "The fact that ASD is an engineering firm and true UK manufacturer gives us our competitive edge in the market. We started trading in 1983 as a manufacturer of small lighting bulkheads with an integral PIR (Passive Infra-Red) sensor predominantly for the domestic security market. This was revolutionary at the time as PIR's were a relatively new technology and were primarily being used in burglar alarm systems. Our decision to integrate the two technologies for the first time was a huge success and allowed for rapid expansion in the market sector with the addition of domestic lanterns and bulkheads.
"Since then the company has gone from strength-to-strength, continuing to expand in all areas of the lighting sector while maintaining our stance of leading the market with technological advances and innovative solutions. When the economic recession hit, ASD was leading the market with the research and development of LED lighting technology and bringing it to the market in commercially viable applications for the first time. This meant that throughout the recession, while other manufacturers were declining or going out of business, ASD was increasing turnover, profitability and staff levels. The company's strong foundations are built on technical innovation, expansion and diversification in new areas of the market. These strengths are what will enable us to continue to grow further."
Manufacturing at its 200,000 square feet factory in Rotherham, ASD's continued success has enabled it to recently acquire the facilities adjacent to its existing premises. With an additional 45,000 square feet of capacity, 25,000 square feet of which used for manufacturing, the company has been able to enhance efficiency by boosting control and planned production. Moreover, the investment has also been used to update both new and existing factories so ASD can provide swift delivery of its products throughout Britain and across the globe. "LED is all about saving energy, maintenance and reducing CO2. ASD's in-house photometric laboratory includes one of the largest integrating spheres in Europe and two gonio-photometers, which enables us to fully test any luminaire in less than one hour to realise all the relevant output, performance and the energy footprint for each fitting.
"Our ability to manufacture and deliver products in a matter of days rather than weeks or having to rely on shipping products from the other side of the globe is our major advantage when operating in the market. We listen to our customers and their feedback and are constantly looking to improve our products where possible while keeping on top of all component technological advances to help improve the technical performance of our products and also reduce manufacturing costs. Because of these capabilities we have developed innovative bespoke lighting solutions that require a high level of engineering, which only the most agile of manufacturers would be able to offer successfully," highlights Tony.
Created to meet the exacting demands of facility managers, specifiers, contractors, designers, architects and end users, ASD's products have grown in demand over recent years; this is largely a result of its diversification and expansion into new market sectors as well as the revolutionising of products and services offered to said markets. Tony elaborates further: "There will always be markets that aspire for good quality products, at reasonable prices on short lead times that are backed up by a high level of locally based customer service; it is these markets that ASD pro-actively targets. Our ability to deliver good quality products quicker and cheaper than our similarly placed market competition has allowed us to grow the business, particularly
evidenced in the local authority street lighting sector where the manufacturing lead time for street lights was inherently eight to 12 weeks as standard. We brought a superior solution to the sector at a fair market price but on lead times of ten to 14 working days, thus drastically overhauling industry expectations and generating a lot of business."
Thinking back to notable projects within the local authority street lighting market, Tony continues: "ASD has developed a positive relationship with a major internationalcontractor and local authority in the south of England. The technical specification was extremely high and ASD was able to meetthis specification while offering a price, which enabled the contractor to mobilise the project. ASD manufactured and delivered over 40,000 pieces over a nine-month period to this contract with ample capacity left over to manufacture tens of thousands of pieces to other contracts simultaneously. The success of this project and our ability to keep to our stated lead times of ten to 14 working days, even for orders in excess of 5000 pieces has led to ASD securing projects in neighbouring authorities and all across the UK."
Another notable contract was the company's work on the Wonderpass subway in Baker Street, London, where its Invincible fitting was used. Viewed as the best choice for the project thanks to its durability and vandal resistance, as well as its ability to give out the right amount of light while also being economic, Invincible is often used in areas such as subways, railway stations custodial suites and secure units. Commissioned by local business improvement district the Baker Street Quarter Partnership and funded by Transport for London and Westminster City Council, the project has resulted in the transformation of the subway, which is now light, clean and colourful.
With more than 30 years of experience in designing and developing innovative products that are not only functional but also stylish and financially viable, ASD looks set to go from strength-to-strength as it continues delivering high quality solutions to its diverse customer base. "Over the medium term our ambition is to grow company turnover to £50 million while maintaining the same levels of profitability and manufacturing efficiency. The route to achieving this will be to continue investing in flexible UK manufacturing with new engineering technologies and processes, and also developing new innovative products and solutions that are requested by the market," concludes Tony.
ASD Lighting
Services: Manufacturer of high quality and hard wearing luminaires