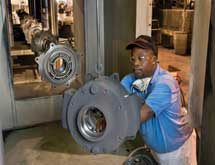 "When I joined Ausco Products 20 years ago as vice president of sales, the company's standard selling method was to promote a catalog brake and sell a lot of them," President and CEO Bill Heinrich says. "As I traveled the country and met with our largest customers, I began to see that just didn't work for them. Each customer and each market had different criteria."
For the last 70 years of more than a century in business, Ausco Products Inc. of Benton Harbor, Mich., has focused on building OEM brakes for the construction, agricultural, mining, turf care and recreation vehicle markets. Ausco takes an in-depth engineering approach to developing the sophisticated braking systems these specialized applications require. The company offers the widest range of spring applied multi-disc, hydraulic calipers, mechanical calipers and ball ramp brakes available.
"When a customer comes to us with a brake issue or an opportunity, one of our greatest strengths is our problem-solving ability," Heinrich notes. "We stay away from the commodity approach and focus on tailoring a solution."
Ausco deals with 170 OEMs on a direct basis. "The agricultural market's combines, balers and sprayers, for instance, are very different from the shuttle cars and roof bolters used in underground mining, which have to stand up to some of the most adverse conditions imaginable," Heinrich explains.
"With the acidic nature of the mining environment and the constant moisture, the brakes take a beating," he adds. "We've developed enclosed systems that protect the braking systems from that harsh environment."
Innovation and Design
New product development is "very near and dear to us," as Heinrich puts it. In fact, Ausco recently received its seventh patent in five years and currently has eight to
10 patents pending. Innovation paired with specialization, advanced system analysis, field testing and a highly flexible workforce provide a synergy that keeps the company agile.
"We see cross-training as a big advantage," Heinrich adds. "Cert­ification programs in different manufacturing skill sets help maintain a good balance when customers change their requirements, and our customer base changes [its] needs constantly. It's vital for us to have a flexible supply base and knowledgeable workers that can meet these demands."
Ausco shares profits with its em­ployees on a quarterly basis and places great emphasis in team building. Most of the technical sales employees hold engineering degrees, and product engineers often accompany sales personnel on customer visits. The product and customer engineers and sales person collaborate on getting the right product for the right price.
"Our foreign sourcing is at 5 percent or less," Heinrich says. "Though some believe costs are contained by using foreign sources, we feel domestic suppliers will work with us and can respond more quickly. It's an advantage to have low-volume suppliers, too. Many companies look at only one thing: price reduction. We understand the total cost. This model just works best for us."
Ausco has been certified to either the QS 9000 or ISO 9000 quality standard since 1997, Heinrich verifies. "It's critical that we maintain very high quality and safety standards," he adds. "If a brake doesn't work, someone gets hurt. We consistently receive very high quality ratings from John Deere and Caterpillar. All of our customers – which include the likes of JCB, Case New Holland and Polaris – give us strong endorsements."
A Bright Future
Certainly most markets have been depressed over the past few years. Yet in 2009, a down year, Ausco cut its debt by 60 percent by looking at all aspects of its cost structure and improving cash flow. Areas addressed included: reducing capital expenditures by 70 percent; reducing manufacturing support overhead by 25 percent; cutting sales travel costs and advertising by 50 percent; and reducing or eliminating miscellaneous expenses like company-sponsored events, outside cleaning services, subscriptions and donations.
Quality, communication, common sense and customer satisfaction are key at Ausco, Heinrich points out. "As our owner likes to say, it all comes down to fundamental blocking and tackling," he adds.