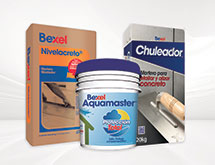 Bexel was founded in 1995 with the goal of creating the kind of products that would meet the needs of the modern contractor. Its vision was to become a leader in the industry. Bexel started operations with one plant in Escobedo, Nuevo Leon, Mexico. After almost 20 years, Bexel has grown, adding five plants, seven distribution centers, two divisions – one concerning organic chemistry and another inorganic chemistry – and also diversified its portfolio.
"The company currently runs plants and distribution centers strategically located to supply our clients in 29 states across Mexico, with a portfolio that includes more than 140 products," Commercial Director Roberto Sánchez says.
Bexel's products have gained recognition within the industry, starting with its mortars and additives for construction. Those are used by builders for multiple applications, including waterproofing, installing tile floors, coating inner and outer walls, and protecting and finishing pools. The organization's success is based on the advantages its products offer to builders in terms of cost reduction – in labor, supplies, time and maintenance. "Above all, we have succeeded due to our emphasis on excellent service to clients and our focus on innovation," Sánchez says.
"We have been the first in Mexico to develop porcelain, anti-slipping and underwater adhesives," he says. "We are the first in waterproofing technology with flexible cement bases and mortars, among other state-of-the-art technologies. Our aim is to support building systems, hence our positioning in the offering of building solutions. Our R&D department works to add a varied and innovative set of products to our portfolio."
Continuous Improvement
Bexel's leadership aims to be consistent globally in its production and supply of products and services. That means it seeks continuous  improvement and to meet quality standards. In fact, thanks to its compliance with international quality norms, the company has been granted institutional credentials such as the American National Standard Institute for the development of formulas for adhesives and other products. In addition, the American Society for Testing and Materials oversees the company's development of stuccos and mortars. "With this, we are offering assurance that our products, which are designed to meet local needs, are also tested according to international guidelines of quality," Sánchez says.
Technical assistance is another key factor explaining Bexel's growth. Clients are offered extensive technical service, with company professionals helping to answer questions about the correct application of products.
To guarantee the professionalism of its service, Bexel provides employees with extensive access to training programs. That includes instruction on new building technologies, education about international norms and standards, and advice on how to assist clients in the best possible way.
Bexel invests in the development of new solutions as much as it fosters professionalism in its workers. The recruitment and selection of highly skilled employees are essential to the company's goals. Workers receive training after their needs have been evaluated. Most workers begin their training process with immediate access to courses where they can learn the correct techniques of using the company's products, and about systems to protect against humidity. They are also trained in the manual and mechanical applications of mortars.
Bexel highly values the reputation of its brand, aiming to be associated with the protection of the environment and working for the community. In fact, there has been an effort on behalf of the company's leadership to align corporate goals with the community's.
Therefore, the company encourages a commitment to the environment. For five years, Bexel has been awarded the Empresa Socialmente Responsable certificate, granted to socially responsible enterprises. "We also support institutional initiatives such as the Red Cross and the fight against breast cancer, [and] we help programs such as 'Embrace your Community,' as well as partner with other companies like Cemex to support other social programs," Sanchez concludes.