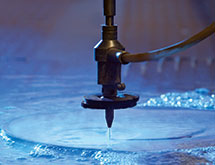 Bertsche Engineering Corp.
When manufacturing high-performance machining tools, automatic tool changes and robotics, quality must remain a top concern, because those tools play important roles in the operations of customers. Bertsche Engineering Corp. understands this well, serving major industries such as aerospace, mold and die, fluid product and automotive. With the guiding philosophy of "better ideas, better solutions," Bertsche Engineering is dedicated to meeting the needs of its customers with advanced machines known for their reliability and productivity.
"Since 1992, Bertsche Engineering has pioneered the development of very high federate, long-bed traveling column machining centers," the company says. "Available as vertical spindle, as horizontal spindle and as five-axis machines, they feature long travels in X, high spindle RPM, feed and rapid rates, and high acceleration – all necessary components for high-feedrate machining."
Based in Buffalo Grove, Ill., Bertsche Engineering began in 1972, primarily selling, installing and servicing digital readout systems for the metalworking industry. As the technology advanced, Bertsche began redesigning, retrofitting and remanufacturing machine tools for CNC operations. In 1987, the company formed its automatic tool-changing and automation systems group to design and integrate flexible part-loading and handling systems for use in flexible manufacturing applications.
"As part of a continuing effort to develop new products, Bertsche Engineering introduced in 1992 the first high-velocity three-axis traveling column CNC vertical machining center," the company says. "To date, enhancements include horizontal and five-axis high-speed spindle configurations. This machine has been successfully sold and marketed to the aerospace industry for the high-speed machining of aluminum and composites, as well as the conventional machining of steel."
In 1994, Bertsche was selected as a supplier to Rockwell, then to Boeing North America in 1997 on the Boeing 777 program for the AFG floor beam and longitudinal machining systems. In 1996, Bertsche was awarded U.S. and EU patents for its direct-drive, two-axis rotary CNC milling heads used in the complex milling of 5-axis parts. The company began working with Boeing Commercial Airplane Group in 1998 for the AFG machining system on the Boeing 767-400 program.
Over the years, Bertsche continued to make more advancements and partnered with clients such as Lockheed Martin, Airbus and Spirit Aerospace. "In 2010, Bertsche is selected as a supplier to Boeing's Everett, Wash., facility to supply turnkey fully tooled Flex-Cell to manufacture floor beams for the Boeing 747-8 program," the company says. "In 2011, Bertsche is selected as floor-beam supplier to the 787-8 program for Tier 1 suppliers Spirit, Kawasaki and Alenia. Today, Bertsche Engineering Corp. offers turnkey solutions, products and services to customers seeking innovative answers to manufacturing problems."
Increasing Productivity
Bertsche continues to develop new tools and machining centers to meet the needs of its customers. In August, the company introduced the new TC Mill machining center, which is its next-generation high-velocity, vertical traveling column machining center. Bertsche created the TC Mill to offer high acceleration, high feed rates for high-power cutting and long travels in X axis. Bertsche says the traveling column design permits machining of long parts or the pendulum machining of shorter parts, independent of part weight.
"This machine is entirely designed and manufactured in the United States, and has a number of unique features not available from any other manufacturer, domestic or foreign," the company says. "Its modular approach offers considerable flexibility in tailoring the machine tool to meet customers' specific needs."
In April, Bertsche solved an issue for a customer with another machine. A customer came to Bertsche after rising monthly production rates required more capacity. The customer needed two machines, but had a building that could only fit one. Its choice was to build a new facility for two machines or split production between two sites. Bertsche's answer was the newly developed P5x5 mill.
"The innovative portal machine design features two 5-axis machine modules on opposed sides of the bridge, reducing the overall footprint and increasing productivity by a factor of two," the company says.
Bertsche explains the P5x5 has the benefits associated with having two machines but with lower operating costs:
>Independent but linked CNCs;
>Two 5-axis machining modules each with a separate machining component;
>Ability to machine two different parts at the same time;
>Nearly the same footprint as a previously supplied single 5-axis P5 mill.