Bilfinger Industrial Services
Bilfinger Industrial Services prides itself on its ability to perform multiple functions that keep its customers' manufacturing operations running.
"We have an integrated portfolio of services that we're able to provide, whereas other companies may only be able to provide a portion of those services," says Dr. Boudewijn van Lent, president and CEO of the Ballwin, Mo.-headquartered company.
The company offers engineering, construction, maintenance and support services on industrial sites across the United States. "What we do best is modify, expand and maintain plants for our clients," he adds. This includes maintaining and replacing existing equipment and infrastructure, engineering and executing physical plant expansions and completing production line installations.
Bilfinger Industrial Services uses a variety of methods to complete its expansion and construction-related projects including laser scanning and computer imaging technology. The scanning and imaging techniques allow the company and its subcontractors to see the exact floor layout of a plant before beginning an expansion project.
A Complete Concept
One of the company's core offerings is the Bilfinger Maintenance Concept, a modular maintenance concept based on integrative cooperation and flexibility to clients' needs. The concept includes 16 modules covering a host of maintenance topics "ranging from analyzing a company's current maintenance performance to completely managing maintenance for them and everything in-between," Van Lent says.
"This is geared to give our clients higher reliability and availability in their production and reduce their maintenance costs over time," he adds.
The modules encompass more than 30 maintenance methods and tools. The concept is available either as a package or in singular components. The concept is in place at more than 30 of Bilfinger Industrial Services' client sites.
"This is a concept that we think contains all aspects of running a good maintenance organization," van Lent says. "We think it really benefits our clients."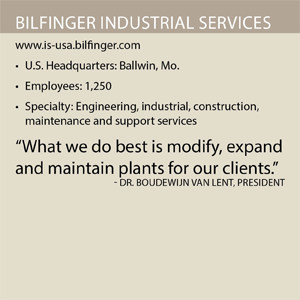 Exceeding Expectations
Bilfinger Industrial Services serves large national and international companies in process-oriented industries including the specialty chemical, food and beverage, industrial manufacturing and light consumer goods markets. The company has provided services to many of its major-brand customers for up to 75 years.
The company's focus on process related industries gives it extensive experience and knowledge of the needs of those markets. This know-how enables it to better serve those clients by minimizing the disruption of its services to daily operations, among other advantages. "If you have knowledge of clients' production lines and the layout of their facilities, you can perform multiple services with minimally interfering with daily production," van Lent says. "We want to be almost as invisible as possible so our clients can continue to make their products successfully."
Bilfinger Industrial Services' offerings are critical to the success of its clients. One recent example of the company's coming to the aid of a client was its replacement of a boiler that had failed at a customer's plant. "We worked night and day to repair the boiler failure and get that plant running again," van Lent says, noting that the company's work lasted close to a week.
That client, like most of the company's customers, was highly grateful for Bilfinger Industrial Services' efforts. "If I were to go to sites where we work, I'd find that basically across the board our clients are extremely appreciative of the work our people do," he adds. "Our people have been doing this for a long time, know what the expectations of our clients are and deliver according to those expectations."
International Knowledge
Van Lent's technical, marketing and sales background makes him an ideal leader for Bilfinger Industrial Services. He joined the company in September 2013, after working as president and general manager of Rhein Chemie Corp., where he was responsible for the company's North American business. Before joining Rhein Chemie, van Lent led the chemical sector for Celerant Consulting and was vice president of technical rubber products for LANXESS Corp.
Van Lent's personal and professional background includes extensive work in Europe. He was born in the Netherlands, and holds a master's degree in molecular science and a doctorate in physical and colloid science from the University of Wageningen, the Netherlands.
Bilfinger Industrial Services is a part of the Bilfinger SE group, a European-based industrial services provider. The company has roughly 60,000 employees globally and operates multiple service sites across Europe.
The company applies the knowledge and staff of its parent and sister companies to its U.S.-based projects and clients. "We've brought over several people from Tebodin, our European engineering organization,  to benefit from their expertise and client relationships, which helps us accelerate our growth," van Lent says.