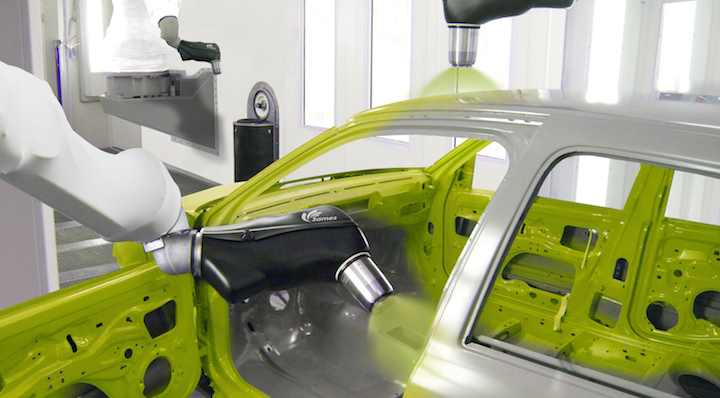 Whether an automotive OEM needs to add a coat of paint to a car body or a cabinetmaker needs to add a varnish to a cabinet, Exel North America manufactures a variety of spray painting and dispensing solutions for a wide range of industries. Exel North America is part of privately owned Kremlin Rexson-Sames based in Paris, France, which owns a variety of companies all supporting the same purpose: the dispensing and spraying of liquids thick or thin for various markets.
"That is the common thread that runs through the different divisions," Director of Sales Steve Coats says. "We manufacture spray painting and material dispensing solutions, automated or manual. Anything that pumps or sprays a liquid thick or thin, that's what we do – virtually anything that needs a coating applied to it during the manufacturing process."
"The fact that we manufacture paint and dispense solutions sets us apart," Vice President of Automotive Marketing and Sales Greg Kremer adds. "There are a lot of companies that do one or the other but we do both. We concentrate on the application end. That's is our core competency."
Coats and Kremer are based in Exel North America's headquarters in Plymouth, Mich., and run the automotive sales group. Some of the items the company manufactures include dispensing equipment for sound deadeners for cars, sealing solutions, gluing solutions for vehicles and robotic and manual paint applicators.
Exel North America works with a number of major automotive OEMs. For example, Exel North America provides cost-saving and quality improvement solutions for General Motor's paint and body shop, while automotive component supplier Magna utilizes Exel North America's painting equipment for its bumpers and plastic parts.
"Our focus is on the end-users," Kremer says. "We set up their manufacturing process in our paint or dispense labs and can then transfer it to the customer's manufacturing environment."
Always Improving
Exel North America operates an automotive paint and dispense lab at its Plymouth office that can simulate the production environment of its end-users. Its R&D teams around the world are driven to ensure the company remains the leader in dispensing and painting technology.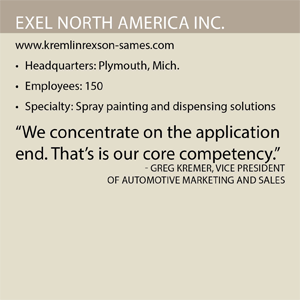 "Exel North America is well positioned as a technology leader in painting and dispensing for the automotive industry as we are in direct contact with the end users and can easily transfer their needs to our R&D teams and labs," Kremer notes. "Our customers' needs are always changing so it's important for us to have these capabilities. We're always adapting to market conditions here and around the world."
Applying materials, especially paint, is a very expensive part of the manufacturing process no matter where a company is based, so by making the application process more efficient, Exel North America can save companies money. "Our objective is to design application equipment that gets as much material as possible on the object being coated; optimizing transfer efficiencies translates into real dollars saved during the manufacturing process," Coats says.
"There's a lot of development we are involved with to help automate and improved finish quality," Kremer adds. "By increasing transfer efficiency, we not only decrease material cost, but also improve environmental impact.
"It's a relentless push towards better quality and lower costs," Kremer continues. "But the competition is pretty intense, so we are committed to staying on the cutting-edge of technology and always evolving."
Exel North America gets its products to the end-user through three avenues: a strong distribution network, integrator partners and directly to the customer. These options allow the company to respond quickly to any needs from its wide base of customers. It also helps the company to maintain a full customer support plan that includes timely replacement parts. The replacement parts inventory in its North American headquarters supports its installed base of customers.
"We have employees set up regionally throughout North America to respond quickly, and we have emergency levels of inventory for all of our equipment so we can react immediately," Kremer explains. "Automotive companies can't be down for very long."
Open Environment
Innovation is key in all facets of the company, and the management team fosters this by operating as a very flat organization and encouraging openness in the work environment. Coats says an open environment with close working relationships keeps people around, even if finding and keeping highly tech-savvy workers can be tough in the industry.
"There are a companies that you can buy paint and dispense equipment from, but we have some really strong process people here, and our process people come up with solutions that you really can't get anywhere else," Kremer says. "And now we're working on coming up with ways to improve efficiencies with the use of robots doing all kinds of cool stuff."
"We are on the cutting-edge of technology with new dispensing processes and paint application equipment that can provide the end user with a high-quality finish while minimizing waste," Coats adds. "We continually bring those types of solutions to the market."