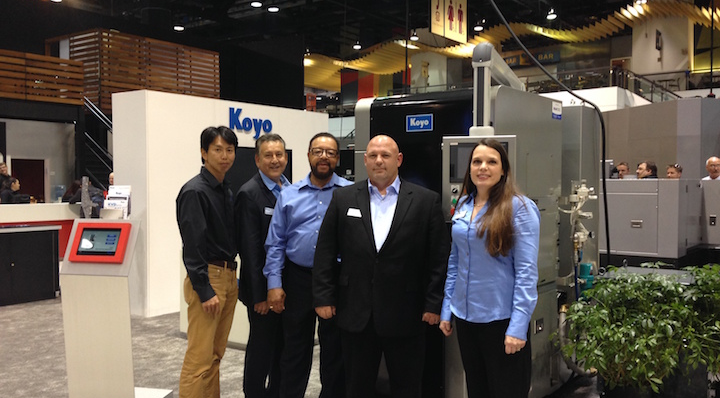 Koyo Machinery U.S.A. Inc.
Koyo Machinery U.S.A. Inc. delivers the most reliable, precise and customizable grinding equipment manufacturing products that improve their customers' ability to run leaner. "All of our machines are designed and built around the customers' work piece." General Manager Chris Clark says. "Koyo Japan is always trying out new designs to improve its equipment.  Koyo Japan's Grinding Research Center is always pushing the envelope to build a better machine. The sky is the limit for possibilities for future grinding equipment."
The Plymouth, Mich.-based company is a wholly owned subsidiary of Koyo Machine Industries Co., Ltd. based in Osaka, Japan. Koyo Japan was established in 1961 and produces various grinding machines, assembly machines, spindles, precision ball screws, universal joints, and drive shafts. In addition, Koyo Japan performs applied engineering research and production engineering research.
Koyo Machinery provides manufacturing products to customers in the automotive, heavy equipment, aerospace, medical, IT and other manufacturing industries. Established in 1991, Koyo Machinery specializes in the sales and service of Koyo machines to customers in North and South America, as well as in Europe.
"Our service engineers are trained at the factory in Japan and our salesmen are trained in-house by our senior sales personnel and are also sent to Japan for training on the machinery," Clark notes. "We have a very large product line with a wide range of capacities and factory automation."
Best-in-Class Design
About 90 percent of the tooling and machine components are built in-house at Koyo Japan, which also is where the product designs are created. The other 10 percent is automation components that are ordered from its suppliers. "Being started in the early 1960s, we have a very good background in grinding," Clark says. "Our machines are well known in the industry for how precise they are and our price is lower than our competitors. Koyo Machine Industries Co., Ltd. was originally part of Koyo Seiko, which is one of the top three bearing manufacturers in Japan producing quality bearings for grinding equipment."
The main core of the machine bases in the Koyo product line does not change often, but Clark says components and controls equipment are upgraded or added to the product line for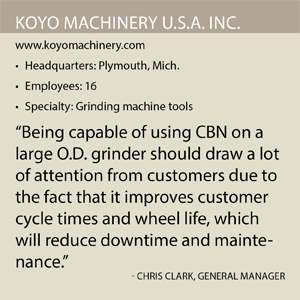 machine upgrades continuously.
However, Koyo Japan recently added cubic boron nitride (CBN) grinding wheels to its large centerless grinding machine line. This resulted in the need to add new internal components and the development of a completely new machine that boasts a surface speed of 80m/sec. "I can't share all of the design of the new machine, but this machine will be a force in the large O.D. grinding world," Clark notes.
The C6060 centerless grinding machine is one of a few on the market today that is capable of using large CBN grinding wheels, Clark says. "Being capable of using CBN on a large O.D. grinder should draw a lot of attention from customers due to the fact that it improves customer cycle times and wheel life, which will reduce downtime and maintenance. In addition to these advantages, our machines are inexpensive compared to our European competitors," he explains.
Koyo Machinery will debut C6060 in September during the International Manufacturing Technology Show in Chicago. "Koyo Japan tries to develop new products every year, and that's based on customer needs," Clark notes.
Customized Build
Koyo Machinery's engineers work with customers to develop the right machine that will fit their needs. Customers often tweak the initial machine design and send a final back for Koyo Japan to begin manufacturing. "Koyo has the capabilities to work with customers to develop new machinery for their needs," Clark says. "We design and help them through the process with our engineering expertise."
Part of building the customer process is test grinding.  Koyo Japan performs test grinding for Koyo Machinery's customers. "There are 20 different grinding machines we can test on," Clark adds. "The customer sends us parts to test grind to ensure we meet their criteria. We send the parts back with data to prove we can and are capable of processing their parts."
A standard machine can be delivered to a customer's facility in about 30 weeks from the order date. More custom products have a 35-week lead time. "We do the installation, training and all the technical and maintenance training," Clark says. "We set it up and turn it over to them for manufacturing."
Expanding Services
Moving forward, Koyo Machinery is focused on growth by expanding its service offerings. The company recently implemented a spindle rebuild department and plans to add full machine-rebuild services in its facility. "All of the Koyo spindles that were rebuilt in the U.S. prior to this were sent out to a vendor," Clark explains. "We are bringing everything in-house."
The company anticipates its biggest growth to be seen once it begins fully rebuilding machines later this year. To accommodate for these additional services, Koyo Machinery dedicated an area in its ISO 9001:2008 certified facility for new machinery. "This will require more equipment and possibly the expansion of our facility," Clark says. "We have already started purchasing equipment and targeting more. We expect to move forward by the end of this year."