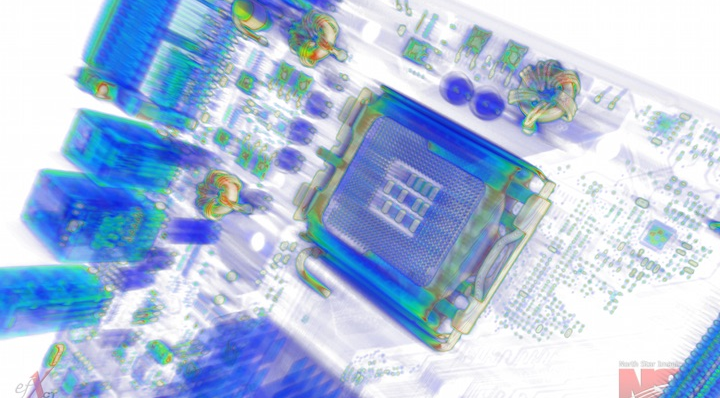 North Star Imaging's products and services help make the world a safer place. The Rogers, Minn.-based company builds high-quality digital X-ray and 3-D computed tomography (CT) systems used by manufacturers to perform non-destructive testing of critical machine components.
"We serve customers who make aircraft, medical devices, cars and munitions," General Manager Seth Taylor says. "If any of those items are faulty, it could result in someone losing life or limb. We take our responsibility very seriously; everyone here understands the meaningful service our products and services provide."
In addition to manufacturing testing equipment used in the aerospace, automotive, defense and other markets, North Star Imaging operates a group that provides parts inspection and measurement services. The company last year opened a facility in Irvine, Calif., that solely offers these services. North Star Imaging's main facility in Rogers also offers inspection and measurement.
"That business is going very well for us," Taylor says. "We can provide customers with a CT scan or a 2-D image. They send the parts, which we scan and then provide customers with data so they don't need to make the capital investment to use our technology."
The company prides itself on manufacturing systems that are easy to use. "We've made a significant investment in service and support," he adds. "We operate a world-class laboratory our customers can visit and see our capabilities; it's important for our customers to see what they can do with our products."
The diversity of North Star Imaging's offerings and its ability to provide services to multiple industries has helped the company adjust to changes in individual markets. "The automotive industry is a big piece for us, but also our most volatile market," Taylor says. "The defense market is very much dependent on government funding, but overall very good for us, and we're also seeing more investment from medical device manufacturers than we have in the past."
The increased use of CT systems for testing in several industries is also a growth area for the company. "Standards organizations such as ISO, ASTM and SME are adopting this technology for metrology just as they did for coordinate-measuring machines (CMM) and laser scanners years ago. This technology offers the opportunity to take very precise measurements internally without cutting into parts or destroying them," he adds. "We've invested in this technology and are helping the early adopters who are putting it to use and seeing a yield from it."
Manufacturing Process
North Star Imaging offers a standard line of X-ray and CT equipment that can be customized with various options based on customer needs, Director of Operations Larry Whitman says.
The company's fabrication capabilities include welding, metal-working and assembly. North Star Imaging also performs system integration, which involves placing components such as X-ray tubes and X-ray detectors and manipulators into fabricated cabinets.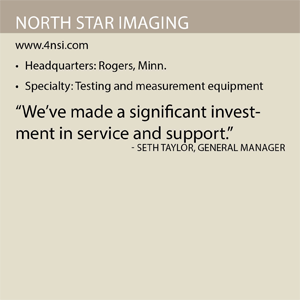 North Star Imaging's manufacturing staff members are continually trained on all of the options and equipment upgrades offered by the company. Final performance testing requirements include standard North Star Imaging systems tests and any special tests the customers may require. "They fully understand the options and capabilities of the systems we manufacture for our customers and are able to adjust our testing techniques to ensure our systems meet the required specifications," Whitman says.
Taylor credits much of the company's success in manufacturing to its staff. "Our people make the difference – we have a lot of staff that have been here for many years and helped our company grow," he says.
In addition to having many veteran employees, North Star Imaging also actively recruits staff by partnering with community colleges near its facilities.
North Star Imaging's suppliers also play a critical role in the company's ability to manufacture exemplary systems. "We believe in building solid relationships with our suppliers," Whitman says, noting the company regularly meets with its vendor base. "We believe in communicating the good and bad – we talk about quality issues we may be having as well as things that are going well." Product quality, innovation, cost and delivery all play a vital role in our supplier relationships.
Decades of Growth
The company this year is celebrating its 30th anniversary. North Star Imaging was founded in 1986 in St. Paul, Minn., as a manufacturer's representative company specializing in industrial X-ray testing equipment and accessories. The company expanded into digital radiography and X-ray system manufacturing in the early 1990s. "That was a big shift for North Star," Taylor says. "Having a product line of our own meant taking on more responsibility, making a greater internal investment and getting to know a brand-new market."
The company initially worked with other manufacturers to produce its systems before bringing that capability in-house in the late 1990s. "We decided to become self-sufficient and invest in the engineering and operational capabilities needed to manufacture those systems ourselves," he adds.
North Star Imaging produced its first computed tomography system in 2002, shortly after assuming responsibility over its own manufacturing. Two years later the company, having outgrown its St. Paul location, moved into its facility in Rogers, Minn. North Star added its inspection services group in 2006. The demand for both manufacturing and inspection services led the company to expand its facility in 2009.
In 2010, the company was acquired by Illinois Tool Works (ITW), a leading diversified manufacturing company with more than 100 years of history and more than 800 individual business units. North Star Imaging is part of ITW's test and measurement business segment. "ITW brought in new knowledge and several best practices, as well as new expectations for operational efficiency," Taylor says, noting the company became ISO 9001 certified after the acquisition. "Because of this knowledge, we've been doing quite well for the past six years and growing rapidly."
International expansion has been a high priority for North Star Imaging since the acquisition. The company opened its first overseas location in Paris in 2012. In 2015, aside from North Star's facility in Irvine, the company added a site in the United Kingdom and, this year, in China.
"I'm thrilled with the way we've adopted ITW's positions and the way we've been able to embrace their philosophies and implement them in such a way that we can exceed customers' needs and provide them the quality and support they expect," Taylor says.