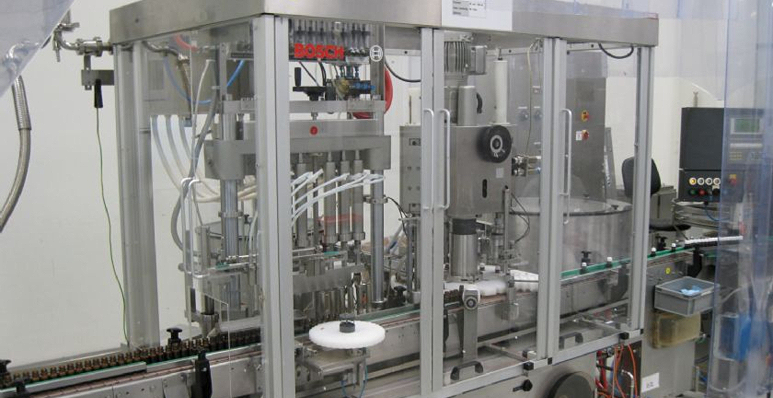 Bio-Techne has been changing its focus in recent years. "In the past, it was our desire to do it all; formulate, fill, test, label and pack," Sales Manager Don Smith explains. "Now we are open to doing individual segments."
"We won't burden ourselves with things that aren't needed," says Shelly Barry, director of quality control and research and development. "Our change in focus allows our processes to be flexible. We are no longer one-size-fits-all."
Quality Control and Calibration
Bionostics, a brand of Bio-Techne was incorporated in 1981 and acquired by Bio-Techne in 2013. It does business at Bio-Techne but has industry name recognition as Bionostics.
Bio-Techne of Devens, Mass., is a developer, strategic partner and manufacturer of high quality, turnkey calibrators and customized quality control products for original equipment manufacturers of point-of-care and laboratory instrumentation. They are certified to ISO 13485:2016 and are a GMP facility.
The company partners with companies that manufacture laboratory instruments and point of care equipment at medical offices and hospitals.
Bio-Techne manufactures the quality control and calibration controls for the equipment of its customers. In other words, Bio-Techne controls make sure the equipment is accurately measuring what it claims to measure, prior to measuring patient samples.
Take, for example, glucose meters, a piece of equipment that diabetics use to measure their blood sugar level. Bio-Techne manufacturers a glucose control solution that is used with the meter and test strips to make sure its readings are accurate.
Bio-Techne also manufactures equipment that is used in hospital emergency rooms to test a patient's blood for pH, blood gas, electrolytes, metabolites, creatine, creatinine, urea, bilirubin and hemoglobin fractions. "A large part of our business is formulating and filling liquid-control solutions in plastic bottles, glass vials, micro tubes and glass ampoules,"
Smith says. "They have to run our solution on their system to make sure the instrument is accurate."
Other solutions created by Bio-Techne coagulation controls, A1C controls, urinalysis controls and lipid panel blood tests that measure cholesterol, triglycerides LDL and HDL. "Our ongoing product development keeps us at the forefront of emerging technologies," Smith says.
Right-sizing to Grow
Bio-Techne has a wealth of knowledge about launching products and dealing with regulatory challenges to getting products on the market. The area with the most potential for growth for us, Smith says, is in filling and packaging.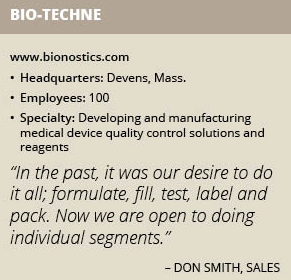 "As the technology is changing, we see what original equipment manufacturers are doing," Smith says. "We had to right-size ourselves to grow with some start-up companies and diversify our manufacturing facilities. We are adding a mix of new technology and newer devices."
Newer items include a two-in-one device that allows two liquids, a liquid and a powder, or a diluent and lyophilized material to be mixed. Such items usually require two separate vials and multiple processing steps. "Our engineering team came up with a concept where there is one container and the two solutions are pre-measured and can be mixed together," Smith explains. "The new bottle design is simple to use and provides a correct ratio every time."
Working with start-up companies, however, requires change.
"That's been a challenge," Smith says, "to create the ability to help those smaller start-ups. We have cost structuring that allows us to go from the small end to the larger."
A majority of Bio-Techne revenue comes from their top 10 customers who have fairly predictable orders. "The bigger companies out there know about us," Smith says. "We are trying to reach out to smaller organizations who we can assist with our expertise in manufacturing and commercialization."
Doing it All
Bio-Techne works with its partners throughout the product cycle. That includes assisting with initial evaluation, product development, testing, manufacturing, packaging, graphic design and branding and final product delivery.
"We are often pigeonholed that we can only put quality control solutions into a vial or container," Barry says. "We think we can play in other spaces beyond medical devices. Right now, we are still casting lines."
In manufacturing, Bio-Techne can produce formulation batches ranging from one to 1000 liters. They have multiple pieces of filling equipment to accommodate filling a variety of different glass and plastic container sizes and have postprocessing autoclave and pasteurization equipment.
Bio-Techne engineers also work with clients on creating final pack configurations and making recommendations for improvement.
"We have done several product transfers," Smith says. "We meet with our customers to understand their specifications and then make validation lots for the customers to approve before making products for commercial sale. We also create a dedicated transfer team to make sure the product is launches on time and without any issue."
We Can Do it for You
"Our biggest competition is customers doing it themselves," Smith says.
Bio-Techne's response is part patience and part education. "We're waiting for a paradigm shift – such as customers needing to clear up space for other things," Smith says. "We say, when you are ready, we can do it for you. I've had customers where the sales cycle took 10 years to bring it over. Our pitch is that we are a worldwide leader in supplying quality control solutions at competitive pricing and using our expertise in manufacturing the products.
"Our quality is second to none," Barry says.
Bio-Techne sells third-party controls directly to hospitals using the RNA Medical brand name. The RNA Medical product line includes both point-of-care products and lab products for quality control.
It also offers a PeerQC program, that supplies interlaboratory peer statistics using a web-based program. PeerQC lets a customer run controls compare its results with a peer group. It's done over a web-based program with real time data.
Future
Bio-Techne has recently entered into the veterinary market. "That has similar diagnostic needs but fewer regulatory requirements," Smith says. "We launched our first product, Paratest, in early 2017. Paratest is used to detect parasites in felines and canines. We are in the process of developing lateral flows for kidney disease and heartworm in the veterinary market."
To market its products, Bio-Techne attends trade shows, advertises and attends conferences. "A lot of it, we hope is word of mouth," Smith says. "Our customer base is over 100 in original equipment manufacturing. We hope they talk to others or remember us if some of our contacts move on to a different company."