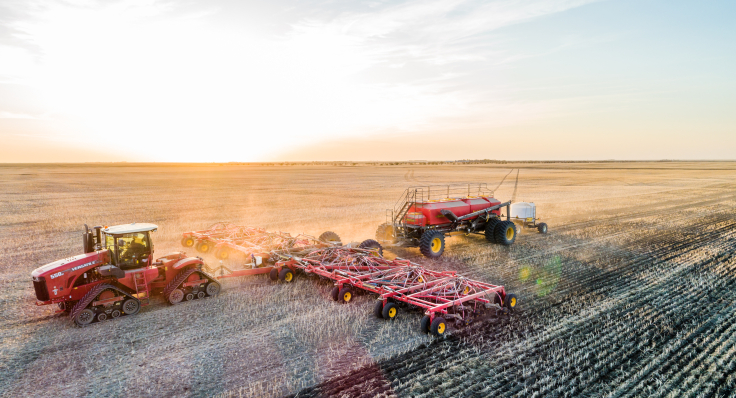 Väderstad Industries Inc.
Väderstad Industries Inc. can serve a variety of customers with its agricultural equipment.
Every day, the associates at Väderstad Industries Inc. focus on manufacturing innovative precision seeding and agricultural equipment. But it is essential to maintain strong relationships with its clients while achieving this goal, CEO Nigel Jones says.
Thanks to this approach, he explains, the company can learn what its clients need, which will make its equipment even more successful. "[We focus on] constant innovation of the products in terms of what the customer wants," he says.
Based in Langbank, Saskatchewan, Väderstad Industries is part of the Väderstad Group, a manufacturer of tillage, drilling and planting farm equipment based in Väderstad, Sweden. The company's history in Canada, Jones notes, goes back to 1992 with the formation of Seed Hawk, a manufacturer of direct seeding technology.
Its original founders, he explains, were looking for a machine that could place the seed and fertilizer shallow and accurately whilst packing the furrow in one pass. "They set about making their own implement that would do that," he continues, noting that Väderstad purchased a minority stake in Seed Hawk in 2006.
Eventually, Väderstad purchased full ownership of Seed Hawk in 2013. Four years later, the company became Väderstad Industries and switched to its parent company's corporate colors and branding. Today, "We have a broad range of customers," Jones says.
"We are able to cater to farms of only a few hundred acres right to tens of thousands of acres," he says. "We also provide equipment that is able to deal with a wide variety of crops and conditions."
Väderstad Industries has the ability to meet the extensive demands of its clients, particularly during seeding time. "Their expectations are very high during that period," Jones says.
When it comes time for seeding, he explains, the window of opportunity is short. "Once the seed is in the ground, many other decisions can be made and resources applied to ensure a good crop, but if one cannot get the seed in the ground, then nothing else matters," Jones says. "This heightens the intensity of the expectations during this period."
Growth Focused
A native of South Wales, Jones joined Väderstad Industries in November 2014. Previously, he gained more than 20 years' experience in the automotive industry in Europe working for first-tier manufacturers.
When Jones came to Canada, he began working in the agricultural manufacturing industry and has stayed there for the last 12 years. When he joined Väderstad Industries, he served as the vice president of operations and oversaw the company's research and development.
In 2017, Jones took his current role at the company, which is following a growth strategy. "Though we have a great ambition to expand in the United States, we're still focused on domestic growth through our current product," he says.
"Though steel prices have been steadily increasing, the recent tariffs have not helped the situation," Jones says. "I'm hearing the same thing from various manufacturers, whether they're in Ag or not."
The recent announcement regarding the USMCA deal has not had any impacts, he notes. "It is still unclear as to whether or not this will affect the tariff situation any time soon," he says.
Väderstad Industries' current strategy, he notes, is to increase revenue while reducing costs through improved design and quality. "It's kind of a double-ended approach, but it's still very much based on innovative product development," he says.
Each year, the company looks at new innovations so it can continue that trend. A recent example of one of its innovations, Jones notes, is the Väderstad CrossCutter Disc, which opens up opportunities for effective tillage and improved field results in a wide range of conditions.
Most recently, he notes, the company won the Machine of the Year 2018 award for the innovation. "The award was presented at the Agritechnica Show in Hannover, in the Tillage category," he adds.
Väderstad Industries also is focused on growing its footprint. "We're looking at expanding in North America, particularly in the United States through additional facilities," Jones says, noting that these locations will be assembly centers or component manufacturers.
The company also may add new locations in Australia. Although it already has a presence down under, "There's more to do," he asserts.
"Working with our current importer, we are reviewing our options to establish an assembly facility in that market," he says. "This will improve build times and consistency and allow us to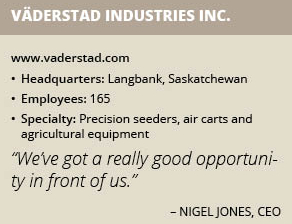 better serve our customers."
The Quality Hub
Väderstad Industries focuses strongly on manufacturing quality, which it maintains through multiple systems and procedures. For example, the company has its audit team, which acts the centralized quality function for the company.
"Everything we do in terms of quality – whether it's quality items from the field or the pre-delivered process – we deliver through that one hub," he says, noting that the company is looking at ways to identify trends from the field.
The company also has its end-of-line testing where its associates test its products before they leave the plant. Although Väderstad Industries has yet to earn quality certifications such as ISO, it has started implementing lean manufacturing initiatives.
"We're in our infancy but is a very strong focus for us," Jones says, adding that the company has concentrated on lean for the past year. "We're heavily invested in developing people through yellow belt and green belt training, value stream mapping and trying to identify opportunities for improvement."
Väderstad Industries began the process, he notes, with the fundamentals of 5S and shop floor controls. "I expect that to accelerate over the next year," he predicts.
"Having established the fundamentals, we have now linked our 5S efforts directly to our Safety program," Jones says. "The disciplines involved with standardizing and maintaining will also benefit the whole manufacturing process as we continue to implement improvements."
The company also is at work on developing a leader-driven culture that will be focused on continuous improvement and learning. "We rely on Insights Discovery and Dale Carnegie [philosophy] as the two main programs as a baseline for our management teams," Jones adds.
For the Long Term
Väderstad Industries values its relationships with suppliers. "We try and aim for a partnership, rather than trying to hop around, always looking for the cheapest price," Jones says, noting that the company wants these partnerships to last for the long term.
The firm also strives for transparency in these relationships. That way, "We understand what is involved in the suppliers' process and how that cost builds up from a supply chain point of view," he says.
Väderstad Industries makes sure to take the time to reward its suppliers, as well. "We give an award for our 'Supplier of the Year' annually," Jones says.
The inaugural winner in 2016, he notes, was Mercury Specialty Products based in Winnipeg, Manitoba. Last year's winner was Russel Metals, while 2018's winner has yet to be announced.
Good People
Jones takes pride in Väderstad Industries and its work. While the company has been successful at delivering innovative products and forming strong relationships with clients, "I'm also proud of the employees," he says. "You don't deliver any of that if you don't have good people on board."
He is confident in the company's future. "At the moment, I see a lot of opportunity for growth," he says, noting that its employees will continue developing their skills within its walls. "I'm very optimistic that we can see improvements as we go.
"We've got a really good opportunity in front of us," he says. "It's an opportunity that doesn't come around often, but I'm certainly looking forward to it. I think it's going to be an interesting run."
Sidebar — Exceptional Performance
Väderstad Industries Inc. CEO Nigel Jones says the company has plans to offer more of its Swedish brands to clients in Western Canada. This includes the company's Tempo, a new generation high-speed planter that can provide precision at double the speed of traditional planters.
"No-till, min-till or conventional tillage – Tempo performs exceptionally in all conditions," the company says. "The crops [get] the best start possible, which results in an even emergence."
Tempo also offers next-generation metering. "The heart of the Tempo is a unique seed metering unit, the Gilstring Seed Meter, which delivers an unmatched precision at very high speed," Väderstad Industries says.
"The secret behind this lies in the fact that Tempo takes full control of the seed delivery from the seed meter, all the way down into the soil," the company says. "This unique seed control means vibrations or slopes do not affect the precision of the seed metering."
The company also wants to introduce to Western Canada the Carrier disc cultivator, used for high-speed primary tillage and seedbed preparation. "The wide range of front tools, discs and packers enables Carrier to handle the versatile changes of modern farming – from ultra-shallow tillage to deeper incorporation," it says. "The versatility it brings to the farm saves passes, decreases machine cost per hectare and provides the best start possible for the coming crop."
Sidebar — Spreading Knowledge
Väderstad Industries Inc. has made substantial progress with its lean initiatives, Nigel Jones says. Today, its staff includes 20 associates who have completed either their Yellow or Green Belt training.
"Internally, we are rolling out 'lunch-n-learn' sessions to spread the knowledge," he says. "Value stream mapping activities are in progress and numerous improvement activities have been rolling out as a result."
The company also has established component teams in manufacturing to provide a more rigorous focus on the various processes. This also will allow more decision-making to occur as close to the process as possible.
"This improves the synergy between the main functional groups of production, quality and production engineering whilst reducing the time elapsed between identifying a problem and implementing a solution," he says. "This is moving us towards lean being the way we do business, not some isolated, unconnected tools or stand-alone initiatives."