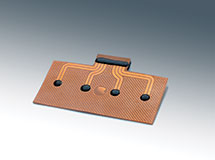 Birk Manufacturing may have started small – launching from its founder's garage – but it has seen steady growth over the years and has become one of the leaders in its market. This is the result of developing a strong culture, fully understanding its customers and the needs of the market, as well as ensuring quality remains paramount in everything the company does.
The company was founded in 1989 by Norman Birk, who had nothing but a homeowner's line of credits and his garage as a workspace. Birk began by producing silicone rubber heaters, but after a few years, the operation began producing Kapton© Heating Solutions, which is a more advanced technology, President Michael Mattox explains. From there, the company added Mica insulated heating elements and systems, heated tubes and, most recently, a line of temperature sensors. But Mattox stresses that as much as the company's technology and product line has evolved over the years, the company's culture has kept up, remaining a strong backbone for Birk's continued growth.
"The company's first employee still works for us, he's an environmental engineer," Mattox says. "We have very little turnover, and we treat our employees well. Honestly, we can't have much turnover because we produce such a custom product. All of our processes have been created in-house, and it takes up to a year to train someone well. Across the board, we are really focused on quality engineering and customer service, and it takes a strong employee base to deliver in both of those areas."
With Birk's product and operational growth, the company has doubled in size in the past four years, Mattox notes. As a result, employees have had a lot of opportunity to move up. The company has filled almost all of its new positions internally, because its employees already know its products and the Birk way of meeting customers' needs.
"We have cookouts every month, we have beach days a couple times a summer and we have donuts every Thursday," Mattox adds. "When we hit our sales and production goals for the quarter we give everyone a half day to say thank you for the hard work. Quality is not inspected in, it's built in, and that's all on your people. Our people have great ideas and we are willing to listen to them to improve our company. Culture is really the most important thing here."
A Major Advantage
Birk is constantly focused on improvement to best meet the needs of its customers, and it strives to meet the needs of research engineers, development managers, purchasing agents and designing experts when expanding its product offering. One of the company's main areas of focus at this time is on its supply chain, using its suppliers to help its operation – and theirs – grow.
"We have a very challenging customer base," Mattox says. "We use 6,000 custom parts, and we need our supply chain to respond as quickly as we do. We are leaning on our suppliers to help us reduce our inventories. We're setting up kanbans and vendor-managed inventory in-house, and we're already seeing big improvements."
By improving its response on high-end, quick-turn projects, Birk will be able to reduce the issues it sees with customers challenging parts on their assemblies, Mattox notes. Therefore, Birk is focused on improving its supply chain, as well as its quality. The recently became ISO 9001:2008, ISO 13485:2003 and AS9100:2009 certified to demonstrate its dedication to quality.
"Those certifications are challenging to adopt and maintain, but we are doing it," Mattox says. "We are using our quality and expertise to develop a way to supply more systems. Our largest customers use plug-and-play assemblies and that is what we want to deliver."
In fact, Birk has found that major changes are the key to its ongoing growth. Mattox explains that the company has a lot of competition in basic heaters, but not many others have the capabilities to also do high-end assemblies. With its experienced and knowledgeable workforce behind it, Birk believes it has a major advantage in its ability to deliver the assemblies.
The company's goal is to double the size of the company every three to five years, and it is focused on growing in higher-end markets, such as aerospace and medical, Mattox says. He notes that Birk is always looking for acquisitions to open it to new markets, because the medical market, for example, is difficult to get into organically.
"We see ourselves as an engineering company first, and a manufacturing company second," he adds. "We work hand-in-hand with our customers, and we see ourselves as a thermal engineer for customers. This is an area of engineering that is not well understood unless you do it every day, so we spent a lot of time at our customers' facilities are having the customers come here so we can work closely with them.
"We will continue to be open and honest with our customers and our people. We give back to our people to build a strong culture, because without buy-in and support, it would be impossible to do these very hard projects to improve the company. Our people are so driven, and that pushes us forward."