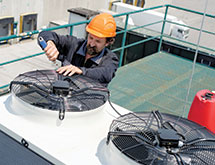 Depending on the circumstances, indoor facilities can have wildly different air quality needs. Providing building owners with customized air-handling units (AHUs) that can meet their highly specific needs is what ClimateCraft Inc. has been doing since 1998, and the company says it has the engineering expertise necessary to supply air-handling solutions for virtually any situation.
"ClimateCraft Inc. is a leading manufacturer of innovative custom air-handling units that are used to provide comfortable, efficient environments in healthcare, education, laboratory, commercial and high-tech manufacturing facilities throughout the United States," the company says. "Our applications and engineering teams consist of some of the industry's most talented and innovative professionals. Their extensive knowledge and experience come standard with every design to produce a custom solution for the most challenging new construction, renovation or replacement projects."
The company says it understands its customers' need for customized air-handling solutions, whether they need a custom unit due to a special application, a physical challenge or long-term durability needs. No matter why their customers need a custom AHU, ClimateCraft says it has the ability to deliver a custom unit and more.
Full Solutions
A major contributing factor in ClimateCraft's ability to deliver custom AHU solutions for its customers is its manufacturing capabilities, which the company says are among the best in the industry. "Our custom AHUs are made in Oklahoma City in a manufacturing facility that is designed to produce some of the industry's highest-quality, most-durable and best-performing products," the company says. "We combine leading-edge construction methods with high-quality components to produce AHUs that offer exceptional performance, quiet operation and lasting value. ClimateCraft systems can comply with the high-velocity hurricane zone requirements of Miami-Dade County and the Florida Building Code, and meet the seismic construction and compliance requirements of the International Building Code. In fact, ClimateCraft was the first custom air handling company to receive California's OSHPD certification."
The company's manufacturing capabilities would not be possible without the engineering expertise ClimateCraft brings to the table, and the company says it results in products that go above and beyond for its customers. "We've considered many common concerns about customized air handlers, so we built an extra level of quality into each of our products," the company says.
"For instance, knowing that vibration is an enemy to the lifespan of a fan and motor, our FanMatrix design is not only balanced at the design point, but throughout the operating map of the fan curve and uses spring isolation and greaseable motor bearings with the intent of extending the motor life well past our standard five-year warranty period," the company continues. "Another example, our MatrixMonitor, provides notification of when motor bearings need to be greased based on operational time and speed to allow for minimal, planned maintenance when it's convenient for [the customer's] facility. These features and benefits are just a few examples of the exceptional engineering that goes into every ClimateCraft product."
Suitable Solutions
ClimateCraft says its customized air-handling systems are becoming especially necessary in a world where indoor air quality and energy efficiency have become higher priorities for property owners. "Until recently, the HVAC industry had been slow to change," the company says. "Modifications to codes, emphasis on reducing energy consumption, and LEED and green building initiatives targeting net zero facilities have challenged the industry to look for better ways to condition the spaces HVAC systems serve.
"Reducing building system maintenance costs as well as sustaining optimal performance over the life of airside equipment is where the HVAC industry's focus lies today," the company continues. "When it comes to capital budgets, design flexibility, system integrity, ease of maintenance and longevity, nothing beats a custom air-handling unit.
"Over the years, tremendous effort has been devoted to improving chiller efficiencies, as well as to achieving unitary equipment mandates for lowering energy usage," the company adds. "At the same time, airside products have been widely ignored, so today there is tremendous opportunity for building owners to benefit from recent advances in that area."
ClimateCraft says its solutions for air-handling provide customers with energy-efficient and ecologically sound products and should prove to be the key to its continued success for the foreseeable future. "By focusing on total cost of ownership rather than on system cost, and by factoring high energy efficiency and minimal system upkeep into airside equipment maintenance budgets over the long term, building owners will realize the benefits of investing in custom AHUs rather than in standard options that may be less expensive in the short term," the company says.