In-house excellence
Having gathered vast experience in a host of industries, Blackrow Engineering has grown into a seasoned and versatile engineering services provider, whose one-stop shop proposition is regularly being sought-after by household global brands
Rarely does an engineering company have the capacity to do "nigh on everything," as Blackrow Engineering's Group Head of Project Management, Eifion Evans, puts it.
The Grimsby-based business – established exactly 39 years ago – is a remarkable exception, its capabilities ranging from the design, engineering, manufacture, and installation from say 50p-worth products to the delivery of large-scale projects valued at millions of pounds.
"It is quite unusual for a company to be able to offer one-stop shop solutions for every industry under one roof," Eifion begins. "Whether that is mechanical or electrical engineering,
fabrication and installation services, laser cutting, or engineering project management, we can respond to any sort of customer requirement. For example, this year, we were involved in a major £7.5m scheme for a brand-new factory in Peterborough where we had to demonstrate our full skillset, deploying circa 100 people on-site at the peak of the project."
Owing to the fact that Blackrow supplies more or less every sector you can think of – including food and FMCG, pharmaceuticals, petrochemical, waste-to-energy, renewables, and power generation and utilities – the company has had the unique opportunity to pick up the best practices in each of these areas. As a result, it has grown unrivalled knowledge and expertise that enable it to routinely execute even particularly complicated projects.
"The food industry and the waste-to-energy sector are two areas that are showing visible signs of growth and an increased demand," comments Eifion. "Our experience in the former allows us to produce equipment for crisps and snacks, chilled foods, meat and fish, as well as bread production lines, and we have served some of the largest blue-chip companies in the world. Through our capabilities, we can provide high-quality design, manufacture, installation, and maintenance of a range of food handling systems, conveyor systems, gantries, mezzanines, and platforms.
"We often take part in big waste-to-energy projects, too, and have already gained years of experience in this emerging sector," Eifion continues. "In this highly-specialist field, our customers are usually looking for turnkey solutions, with our services including heavy fabrication, electrical engineering, pipework, manufacture and assembly, and installation and commissioning."
Another sector, which Blackrow has identified as one where considerable growth can be pursued and achieved, is defence. As in many other industries, the company is already ahead of the game, thanks to its previous experience in the area. "After Brexit, we expect a lot of inward investments to be made in the UK, especially in the defence sector. There will be a lot of new fabrication, manufacturing and repairs works that will have to be done and as our team also does some work for third-party suppliers, we feel we can intensify our efforts in this respect, too," Eifion reasons.
For it to nurture its capabilities and prepare to accommodate the growth in the aforementioned sectors, Blackrow recently completed a cycle of investments that saw the organisation spend nearly £1 million. "We invest in the business all the time, but the latest series of developments has been particularly noteworthy, because we tripled the size of our machine shop and also our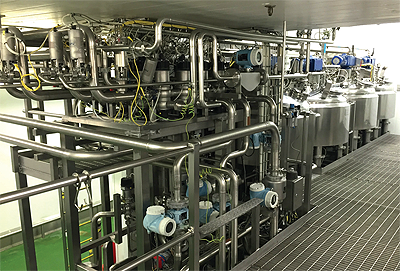 electrical department," Eifion reveals. "Among other things, we purchased a new 4000m/220-tonne Amada press brake for our sheet metal department, also bringing in a new XYZ milling machine, capstan lathe, five-metre lathe, a 12in stroke slotting machine, a horizontal borer, and a 75-tonne hydraulic press. As we strive to operate in an environmentally-friendly way, we have also spent £90,000 on a NitroCube that will allow us to produce nitrogen from the air circulating in the workshop."
Historically, much of Blackrow's growth has been generated through word of mouth, as the company has gained an enviable reputation across the business world for its in-house faculty and site installation works, creating an unparalleled breadth of products and skills. As the times are changing, however, the organisation has now decided to design an extensive marketing strategy. Advancing it, Blackrow has formed a dedicated sales and marketing team, which spends a lot of time and effort utilising social media and applying efficient digital marketing principles to engage with existing and prospective customers alike.
Eifion adds: "We have captured insightful data from monitoring the visits to our website, as well as from our activity on social media, and we now have a better understanding of where the interest is coming from and what our audience relates to. It has also become a common practice at Blackrow to regularly go to industry exhibitions and be more proactive in seeing our clients and establishing stronger relationships with them. As a whole, we are very pleased with the sales and marketing team's input to our growing turnover."
There has indeed been an impressive surge in the company's annual figures. In 2018, Blackrow registered a turnover of £18 million, while for 2019, the expectations are that this will soar to £24 million. Speaking of the company's future objectives, Eifion imparts that the aim for the next couple of years is to at least maintain the same pace. "We want to grow in a controlled manner and make sure that we have got the necessary internal structure and supporting services in place to manage this growth. This includes focusing on our facilities and extending our programme of ongoing investment. We want to ensure that we have the latest technology, in order to be as cost effective as possible.
"Last but not least, we are looking to employ more people for the branches we have set up lately – in Chichester, Cambridgeshire, and Scotland – and work more intensively with our apprentices. By developing their skills, we will guarantee that we can rely on a strong workforce of skilled engineers in the years to come," he concludes.
Blackrow Group
Services: Mechanical and electrical engineering, design, fabrication, sheet metal, laser cutting, installation, project management, CDM