Monstrous efficiency
BMH Technology is looking to set up offices in new locations in a reflection of the significant growth the developer of waste handling equipment solutions has experienced
In the almost 90 years of its existence, BMH Technology has entered into numerous fields of business, before the Finnish company found its true vocation in creating waste-to- energy solutions in the early 21st century. "From that point onwards, we have been developing and growing, because we had already had a history in bulk material handling, such as handling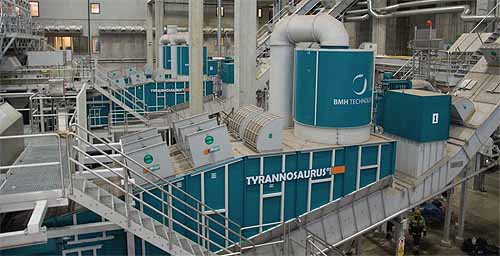 woodchips and biomaterial for pulp and paper mills and bioenergy companies. Since we shifted to the waste-to-energy industry, we have delivered more than 70 waste processing units along with over 150 biomass handling systems and have become a global leader," CEO, Jouko Salo begins.
Known for its capabilities to provide end-to-end solutions that cover the entire process of turning waste into fuel, BMH Technology has launched a range of tools, including feeders, pre-shredders, shredders, fines screens, air classifiers, and conveyors. Characterised by ultra-reliability, these bear the awe-inspiring name of TYRANNOSAURUS® and are among the largest and most powerful of their kind worldwide. BMH Technology's shredders can handle a mix of MSW (Municipal Solid Waste), and C&I (Commercial and Industrial) waste with the idea to reduce the particle size of the waste for optimal separation precision and combustibility of the fuel."There are certain key features that enable our shredders to achieve the reliability they display," Jouko notes.
"First, there is the MIPS®, or the Massive Impact Protection System, as we call it, which allows the entire process to function efficiently. Because we handle a mixed composition of waste, there might be large pieces of metal or concrete for instance that cannot be shredded.With traditional systems, the process needs to be stopped for these non-shreddable items to be taken out. Our line, on the other hand, enables the seamless continuation of the process, as it automatically spits out those pieces that cannot be shredded," he explains.
"The second key feature of the TYRANNOSAURUS® system is what is known as ZeroGap®.This technology ensures that the waste is cut into small and uniformly-sized pieces, resulting in a higher quality of the fuel for the end user.We can guarantee a large variation of the particle size, so we are able to improve the usability of the fuel produced."
Taking pride in being a network-based company, BMH Technology is aware of the necessity to incessantly improve the efficiency of its operations, not least from manufacturing point of view."We assemble the key machinery ourselves, but we also have a large network of companies working with us to manufacture various components," Jouko clarifies."We believe that establishing an efficient process originates from the know-how acquired during running it and the ability to manage the pieces of information you obtain.We have been investing in IT systems to improve our performance in this respect."
As BMH Technology has proven the quality of its services, the company has undoubtedly become a trusted and sought-after partner in a multitude of projects all over the world. Jouko refers to some of the major works the company has completed over the past few years."We are especially proud of the delivery of a waste-to-energy solution to Mälarenergi AB in Västerås, which is a local heat and energy producer in Sweden.The difference our technology made to them, was that they no longer had to use coal as a fuel for their boilers, shifting instead to waste as a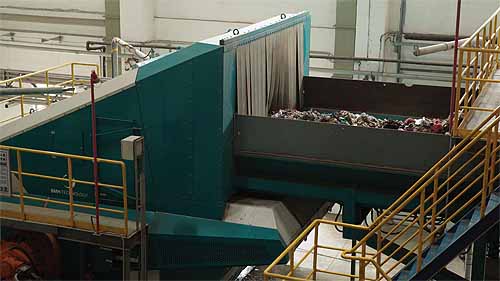 resource. It was a move that helped the client drive costs down and profitability up, while significantly lowering its CO2 emissions," Jouko explains.
"Another very good case study of what we do is the delivery of a TYRANNOSAURUS® waste processing plant to Posco E&C in the South Korean city of Gwangju. It really shows the future of waste handling and how efficiently waste could be turned into fuel, while valuable recyclables are separated out of it. It is an example of how this could be done and is already being done in places like Korea, with the current level of technology," Jouko enthuses.
In order to illustrate the operational efficiency of BMH Technology and its supply chain, he highlights the project the business undertook for the Beijing Building Materials Group – one of the biggest cement producers worldwide – which involved the delivery of the group's first solid recovered fuel plant in Handan."We completed the entire job in just five months, which was an exhibition of the strong collaboration that was formed by us and our network when having to work to such a pressing deadline," Jouko praises the synergy between BMH Technology and its suppliers.
"Our future investment will focus on building our network closer to the clients. In the coming years, we will need to set up a tight network of local partners operating in the geographical areas that are of interest to us.We have to start organising a supply chain in regions such as southern Europe, China, and the USA to meet the requirements of local customers there.The machines we make and the components for their production are quite large and transportation is not always the most efficient method to get them to the customer.This is why we want to start having the parts manufactured where the clients are.
"There is a strong potential for growth in recycling and if we are to keep up with the trends, we need to prepare by opening offices in new locations, also ensuring that we can attract talented locals to work for us. In a technology business like ours, it is the people that make the difference, so we have to make sure that we have the right staff in the right place, in order to utilise the growth drives we have identified," Jouko adds.
Nobody will deny that going green is firmly positioning itself as a mainstream fashion across business and for Jouko, it is essential that more and more companies truly take environmentally-friendly considerations to heart. "We regard ourselves as a circular economy company and we believe that this concept should be introduced to all manufacturing processes and supply chains. We feel that the companies that will be the most profitable in the long term, will be the ones that have sustainability at the core of their operations – both in terms of the recyclability of what they produce and the actual way of making it. Businesses should look at recyclability not merely as a compliance issue, but as a way to future-proof their activities," he concludes impassionedly.
BMH Technology
Products: Waste and biomass handling systems