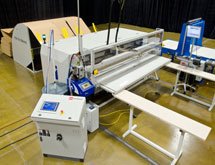 In 2011, U.S. e-retail sales reached $202 billion, this year they are estimated to top out at $226 billion, and sales will continue to grow each year, so much so that U.S. retailers are expected to see $327 billion in online sales by 2016, according to Forrester Research. Distribution centers are busy, but even with all of that revenue coming in via the Internet, few businesses can afford to waste money in any aspect of their operations. Box On Demand helps online retailers – as well as numerous other markets – ensure their packaging and shipping remain as cost-efficient as possible.
Box On Demand eliminates the need for its customers to source corrugated boxes; instead, it allows them to manufacture their own boxes without needing a complex, resource-intensive operation. When a company's products constantly change in size and are highly configurable or customizable, packaging can be a challenge. Box On Demand helps customers create a box that is sized exactly right for each item they ship, providing them with flexibility and cost savings.
"We can help the e-commerce market get the exact size box for their products," President Greg Magnell explains. "That way, they aren't shipping air and their shipments don't have unnecessary cubic volume, which wastes money. Especially with overnight shipping, for every inch that you can shave off of a box, you save a lot of money.
"Manufacturers benefit from our system when they have a complex mix of products to ship," he adds. "With our technology, manufacturers can make what they need when they need it. They produce boxes on-demand, in a just-in-time scenario – or they can just make small quantities. Our technology allows them to always have a box when they need it and eliminate the complex box supply chain."
Box On Demand was launched in 2002, the result of a partnership between Battle Creek, Mich.-based Plymouth Packaging Inc. and Panotec SRL of Treviso, Italy. Panotec was founded in the mid-1980s by engineers who sought to design packaging machinery to serve the requirements of the Italian furniture industry. Plymouth Packaging has been in operation for nearly 70 years as a supplier of corrugated materials with multiple Michigan facilities. Plymouth Packaging operates a fully automated corrugated manufacturing plant that also houses a technical and sales staff dedicated to the implementation of Panotec technology and related equipment.
Easy Setup, Highly Reliable
With the Box On Demand system, instead of sourcing a large quantity of standard-size boxes, clients can order raw, unconverted corrugated and cost-effectively produce custom corrugated packaging in their own facilities. Users of the technology either set up a JIT pack line that produces a right-sized box as products are introduced, create a box production area that prepares boxes to be used at a later time or set up pack stations that share a smaller on-demand box making machine. Packaging costs are consistent regardless of configuration, quantity or design, and every order has a perfectly sized box. This eliminates inventoried boxes and streamlines the  overall supply chain.
The core equipment involved in the Box On Demand system involves material-feeding technology, CNC box-making machinery, gluing stations and product size measuring technology. Variable configurations are available to meet the requirements of any shop. Additionally, the software has been designed to maximize the efficiency of workflow – almost any box design can be programmed and the system allows for easy scheduling and configuration management.
"We are vertically integrated, so we can provide all of the technology, materials and support services for the systems we implement," Magnell says. "In our Battle Creek location, we have our manufacturing operation, technical support, customer service and marketing teams, and the ability to stage and test the technology."
Box On Demand has invested heavily in its operations in the last 10 years, with a goal of being the best at implementing on-demand technology. It is one of the only companies in America to produce technology like this.
"These machines are very easy to run, low maintenance and highly reliable," says Rick Morse, vice president of sales and marketing. "Basically, you push a button and a box comes out, so it's more like a desktop printer than an industrial box machine."
Box On Demand's machines use standard components, which are put together in a structure that is custom to the needs of a certain operation's workflow. Additional customization comes in the configuration of the software.
"We will rent equipment to new customers or place equipment in their facilities at no cost to them," Magnell says. "It allows them to try it out and get up and running quickly with low risks. To date, we have an extremely high customer success rate."
Benefit to the Bottom Line
By reducing the size of boxes and the amount of void-fill necessary in packages, the Box On Demand system reduces customers' costs as well as their carbon footprints. Morse explains that by reducing the dimension of a box by at least 20 percent, a customer will use 30 to 40 percent less corrugated material.
"Smaller boxes need less filler, so that doesn't end up in landfills," he says. "Additionally, this is more environmentally efficient from a transportation standpoint. The smaller packages are more efficient space-wise for air and land shipments, and our customers can get a lot of raw corrugated material in one shipment, which helps them save on diesel fuel costs."
"Most people are buying a limited number of high-cost, pre-made box SKUs today, not because that's what their business needs, but because they can't pay for, store and get  to their packing operation on time the much larger number of SKUs they actually do need. With the Box On Demand system, that's exactly what they now get."
In addition to its packaging system, Box On Demand has gone a step further and commercialized a line of dimensioning technology to eliminate the tape measure, which is "not efficient," Magnell says. The technology can automatically measure the three dimensions needed for a box, saving more time and money.
The company's technology is new for the e-commerce market, so Magnell comments that Box On Demand is experiencing  "a large amount of organic growth because e-commerce is a very large, broad and diverse market."
Box on Demand also is targeting the furniture and cabinetry markets, any company that has to ship replacement parts to customers and the printing industry for the creation of preprinted signs and folded cartons.
"At the end of the day, it's about saving money for our customers," Morse says. "Especially with air shipments, this technology allows businesses to save at least $1 per shipment on packaging, and they even can save on their negotiated shipping rates. We can help them save on their box costs and shipping costs, which only benefits their bottom line."