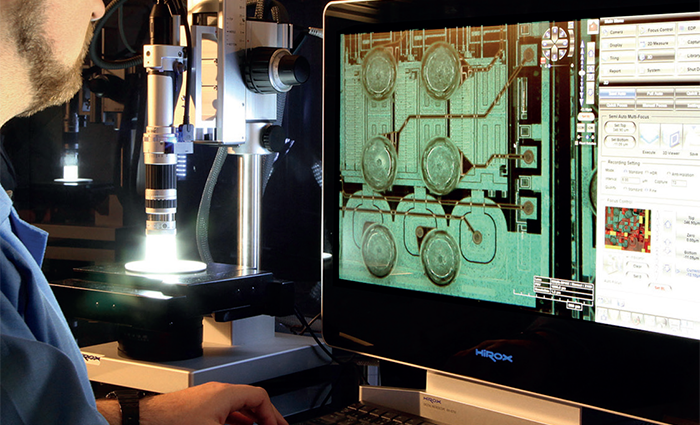 Braving the new digital world with TechPoint
There is no mistaking that the world is becoming an increasingly digital space. Two-letter acronyms abound: AI, VR, EV, and so on. The digital economy feels like a tangible prospect now. We have already surpassed the dates that Marty McFly went back to the future (2015) and Rick Deckard stalked the gloomy, dystopian streets of Ridley Scott's Blade Runner (2019). We are living in a brave new world.
And the proof is in the data. For instance, in the last two years alone, the acceleration of our increasingly digital landscape has stimulated unprecedented growth in the demand for electronics and electronic components across the world. An explosion of new products – cameras in doorbells supported by phone apps, next-generation gaming consoles right the way through to electric cars – have elicited predictions of the global electronics market growing from $484 billion in 2021 to a staggering $541 billion by the end of 2022. New applications supported by Edge Computing are facilitating faster decisions by the user, and developments in manufacturing techniques means smaller, more complex printed circuit boards (PCBs) can be built, further creating new opportunities.
When we consider the geopolitical backdrop of the past year, booming figures such as these are made even more impressive. Indeed, since the brusque arrival of Covid-19, global supply chains have been placed under extreme pressure; the entire end-to-end network, at certain moments, appeared to be close to breaking. Material shortages and the scarcity of materials led to many manufacturers struggling to meet frantic, rising demands. But companies – and, more specifically, those behind them – pushed through.
In reality, this was a long time coming. While the pandemic brought its own tensions, it also exacerbated many preexisting issues, including an excessive dependence on outsourcing an array of manufacturing operations to cheaper overseas alternatives and over-reliance on just-in-time production means. With the ongoing war in Ukraine and mounting tensions between China and Taiwan, further disruptions to global supply chains seem evident – uncertainty has become the new normal; that much is certain.
Competitive edge
Helping many on this Homerian journey of hardships is TechPoint, a unique end-to-end supply chain consultancy and electronics manufacturer. As our recent conversation with Group CEO Gary Mitchell made clear, within the context of fragile supply chains and demand outpacing supply, Original Equipment Manufacturers (OEMs) are currently placing a special emphasis on recalibrating their supply chains: sustainability, efficiency, and resiliency are three cornerstones that must be recognised as we approach Industry 4.0 and a future that will no doubt be burdened by similar geopolitical difficulties.
"The electronics and technology sector is currently experiencing a period of mass innovation and change," begins Gary. "Buzzwords like Industry 4.0 and Internet of Things (IoT) show evidence of the revolution that is currently going on."
What does that mean for the industry? "Most sectors are showing an increased rate of New Product Introduction (NPI)," explains Gary. "We are seeing shorter product life cycles in all sectors and as a result we are seeing a faster rate of NPI released to the market."
Technology, internet, global communication. All these evolving factors drive market change. As Gary makes clear, the times are a-changin' with unprecedented speed: "Many of our customers' Research and Development (R&D) teams are dedicated to this technological evolution of sorts; it keeps them in a competitive space as they launch innovative products and utilize new technologies within a challenging environment.
"R&D teams are all striving for that competitive edge," he goes on. "If you look at our capabilities at TechPoint, we are ultimately a service provider – and that means we help companies focus on their core business. They can outsource or employ us as a partner for some of their key services (the design process, testing components, sourcing alternative components, finding applications, and so on)."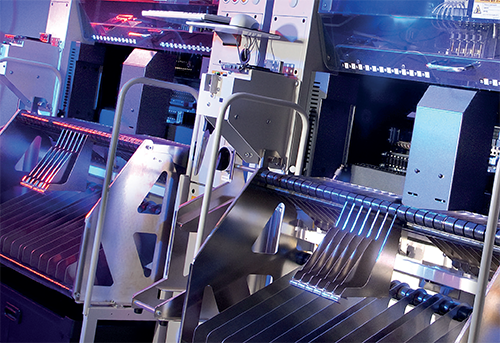 Ensuring partner organizations thrive in a complex global marketplace, TechPoint leads from the front with four Centers of Excellence, all providing clients best-in-class services in supply chain management, rapid prototype development, and specialist electronic contract manufacturing.
Increased synergies
Three TechPoint tenets – scale, flexibility, and unrivalled customer service – are lived by a team of experts delivering bespoke technical solutions, utilizing tomorrow's technology today. As a group, TechPoint and its subsidiaries (Vanilla Electronics, Bela Electronics, Golledge Electronics, and Interconics) work to supply value to some of the leading multi-national electronics businesses in the audio, aerospace, medical, automotive, defense, and industrial sectors.
"As a proactive consultancy with extensive market knowledge and industry connections, we can help customers when they launch new products in their respective markets," says Gary. "Though innovation is often driven by customers, we are on hand to carry that sense of progress forward, doing as much as we can by coming up with plenty of creative ideas. But we are also innovating our own processes, breaking new ground with solutions for engineering, assembly, and supply chain grievances."
TechPoint has grown a lot in the last year. Each month, it is morphing and evolving into a holistic consultancy with a deep knowledge of technology roadmaps to better pinpoint the shrewdest investments companies can make.
In fact, TechPoint continues to invest and often makes specific investments in technology needed by customers. "For example, we have invested in 3D X-ray and optical fiber splicing as well as several soldering robots which improve quality and efficiency for our customers. Though this is not necessarily new technology, it is a new service and we are innovating in terms of how we are applying it for our customers."
This follows the group's recent rebrand, where it consolidated the various entities under its roof as one prism of TechPoint companies. "We wanted to reinforce the group as a technical powerhouse with strong capabilities, experience, and skills within the electronics field. As part of that transition, we knew that it was crucial to retain each business within our sphere of excellence. All our companies have over 20 years of operational experience, and by adding new entities to the group – as well as establishing new synergies between existing ones – we are bolstering our customer offering by focusing on dedicated knowledge and continuous improvement."
Growth journey
More recently, the manufacturing sector has witnessed a resurgence in onshoring, or the process of sourcing or relocating a company's production operations within domestic borders.
"Amid all the post-lockdown progression we are seeing in the electronics industry, it is clear that companies are driving huge growth with sustainability in mind," Gary notes. "One way of doing that is through relocating manufacturing centers from elsewhere to national soil – in fact, we are looking at 2023 as the year of onshoring. We are already in talks with manufacturers that want to bring their operations back to the UK as it offers them greater product control. Consequently, at TechPoint we are determined to respond to this trend by identifying positive market conditions and working to accelerate domestic growth."
A flexible, self-conscious, and evolving strategy such as this has paid dividends. As Gary tells us, the company has had – simply put – a very good year. "TechPoint is expanding fast and our level of investment in our portfolio capability means that TechPoint has significantly increased its capacity to support future growth." With a focus on customer success, examples of this are seen as Vanilla Electronics freshly EN9100 and EN9120 accreditation to supply aerospace industry and Bela adding higher specification assembly lines to increase level of component traceability. These examples demonstrate a commitment to quality and delivering visibility and control to customers of their production process, distribution and retailing processes.
Accreditation, acquisitions and organic growth, and investments supported by private equity firm Literacy Capital – these are the ways TechPoint will continue on its supersonic trajectory. "In the face of what will be another challenging year in terms of supply chain, 2023 will see us continue to make efforts to support our customers manufacturing and sourcing of components (including, for instance, microchips), while securing stock and optimizing delivery dates," concludes Gary.
There is no mistaking that the world is becoming an increasingly digital space. Guiding market leading electronics manufacturers through unknown territories within that environment is TechPoint.
www.techpoint.co.uk