Breaking the mould
Ongoing investments in upgraded technology will ensure leading composite manufacturer Broadwater Mouldings Ltd develops a strong global presence in both new and existing markets
Established in 1973, Broadwater Mouldings Ltd is a subsidiary of the Betts Group and operates from a modern, purpose built manufacturing facility in close proximity to Beccles, Suffolk, where it manufactures fibre reinforced plastics (FRP) for a range of industries. "Essentially we are a service provider as everything we manufacture is custom-moulded and directly advised by our customers; they come to us with an idea for a product, whether from a design or a drawing, and we manufacture exactly what they want before shipping it out to them when they want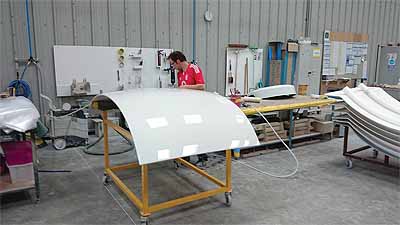 it. We primarily work in THE medical, automotive and industrial fields for customers such as Philips Medical, JCB, McLaren Automotive and Lotus," begins James Cushing, Sales Manager at Broadwater Mouldings Ltd.
An innovative British design engineering and composites manufacturer, Broadwater Mouldings specialises in moulding high quality fibre reinforced plastics (FRP) and fabricating finished assembled FRP components for a diverse range of customers in the UK, Europe and across the globe. To ensure the company can provide the most suitable solution to customers, James says Broadwater Mouldings offers a wide range of moulding techniques: "We manufacture through a variety of different technologies; there is Hand Layup, for smaller parts and smaller volumes, and Spray Layup, which is for larger parts; we manufacture campervan panels with this technology. There is also Resin Transfer Moulding (RTM), which involves the resin, gel coat and glass fibre mat being put in a closed mould before the resin is drawn out by a vacuum to create the part, and Low Pressure Press Moulding (LPPM), which although the tooling is more expensive can create higher volume parts leading to the actual product being less expensive per piece."
Closed mould processes such as LPPM, RTM and RTML (Resin Transfer Moulding-Light) produce a smooth semi-cosmetic B surface that is preferred by many customers. Similar in the sense that they all produce a composite of polymer matrix and glass fibres, Hand Layup, Spray Layup, LPPM, RTM and RTML all typically use polyester, which can be formulated while in a liquid state to give specific properties for particular applications; these include reduced shrinkage and flame retardancy. During the moulding process, the resin is converted from a liquid into a solid polymer, encapsulating the glass fibres to form a composite structure. Post moulding operations include trimming (either manual or robotic), drilling, assembly and, in some cases, painting.
With every aspect of the design and manufacturing process completed in-house, the quality-conscious Broadwater Mouldings ensures it has full control and traceability on all products that leave its site. "Our quality and expertise is second to none in the industry," says James. "We have a very experienced workforce, with many employees working with us for more than 20 years; this level of experience means we know exactly what we are doing. Moreover, everything from design to tool making, to actually designing the jigs and pallets that the products are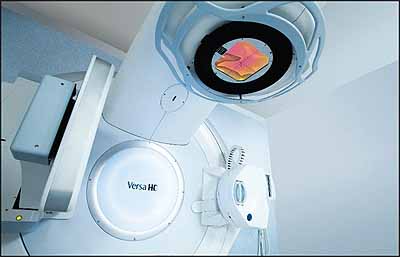 dispatched on is done in-house. We work to ISO 9001, so if we start from the glass fibre cut, through the laminating process, to final checks and dispatch we follow a six-part process to sign off as we go before the product is sent out. This commitment to quality ensures full traceability over every single thing that goes out the door."
As one of the leading fibreglass composite manufacturers in the UK, Broadwater Mouldings has remained in demand in both the UK, Europe and throughout the world. However, to further strengthen its foothold in the market, the company continuously invests in its facilities and announced the completion of an upgrade to its robotic trimming department in July 2016. This investment will allow the trimming of over 70 per cent of its FRP mouldings to be done by robots, which will enable the company to grow in both new and existing markets, as James confirms: "With 70 to 75 per cent of our parts trimmed by robots, we will create a more accurate trim and lessen the cost for our customers. This development comes at a time when we are looking to grow again by targeting specific markets such as the automotive market, which will be looking for lighter weight parts within cars and ready production cars over the coming years.
"We anticipate that by 2025 manufacturers will start to develop lighter weight parts; in response to this we are involved in R&D on new materials to diversify away from traditional GRP markets and potentially provide parts to customers who haven't used GRP in the past and would traditionally use metal."
With this new upgrade increasing flexibility and enhancing reliability and accuracy, Broadwater Mouldings is at the forefront of FRP manufacture and assembly in the UK and is ready to take on new opportunities on a global scale.
Broadwater Mouldings Ltd
Products: High quality fibre reinforced plastics (FRP) and finished assembled FRP components