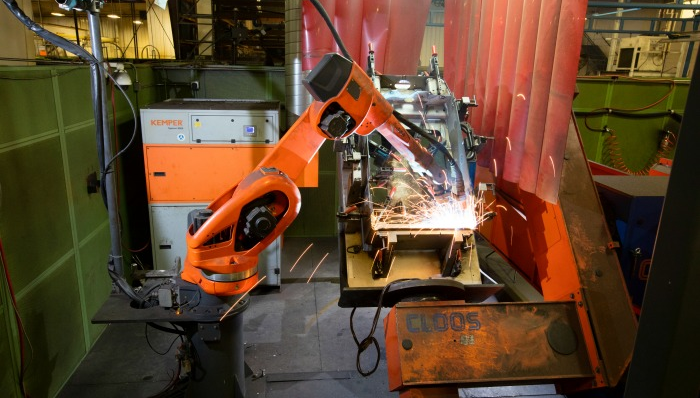 Many companies outsource work, but BTD Manufacturing prefers to do as much as it can under its roof. But this is not as much about cost as one might think, President Paul Gintner asserts. "It's about the speed," he says.
Thanks to its Advanced Manufacturing group, BTD can quickly navigate its clients' products through multiple processes, including stamping and tooling, all on its own. "That brings value to our customer," he asserts.
Based in Detroit Lakes, Minn., BTD offers custom metalworking services including metal fabrication, forming, welding, powder coating, prototyping and laser cutting. Founders Erling Rasmussen and Paul White Jr. started the company in 1979 as Bismarck Tool and Die (BTD) Co.
The company operated as a tool and die firm for many years, but ultimately changed its operations. "Instead of just building dies and selling tools to the outside, we started running them and building product off them," Gintner says.
At the suggestions of its clients, BTD adding more metal fabrication services. This included welding, which it had originally outsourced. "It got to the point where it was very hard to grow because of purchasing costs and markup over time," he recalls, noting that the company recently added painting to its specialties. "It was probably our last hurdle to becoming self-sufficient."
Branching Out
Today, BTD serves multiple industries, including agriculture, sport and recreational vehicles, construction, lawn and garden, and energy. Vice President of Sales and Quality Jared Lotzer notes its largest customer is Polaris, which specializes in on- and off-road vehicles, as well as snowmobiles.
Polaris recently opened a facility in Huntsville, Ala., which drove BTD to purchase its own. "We needed a geographic footprint so we could grow to meet their needs," he explains. "Our growth is somewhat contingent on our OEMs."
BTD had long planned to open a location in the Southeast due to its growing clientele in that region, but Polaris' new facility fast-tracked the process. "That initiated more of a sense of urgency to say, 'What do we have to do to partner with you there?'" Gintner recalls.
The company ultimately acquired Impulse Manufacturing, a Dawsonville, Ga.-based metal fabricator. "They had a great presence in the Southeast," he says. "They were very aggressive and they really took the time to invest in the right things to stay current."
Impulse's location also benefited BTD. "That puts us an hour-and-a-half away from Huntsville," Gintner explains, adding that this helps expedite deliveries to Polaris. "We'll be producing a lot of their product in the Southeast."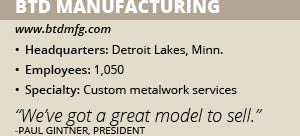 Centers of Excellence
Manufacturing quality is a major focus for BTD, Lotzer says. "[We have] a very robust corrective action process that's always infusing continuous improvement into our corporation," he says.
The company also utilizes lean manufacturing initiatives. "We go about it in two different ways," Gintner says, explaining that the company often looks at how to keep production costs down on certain items. "We ask how that item is being set up and if it is the most efficient way of building that product."
The second approach involves looking at how that part moves through its plant. "That's just natural for us," he says, noting that BTD examines how many touches the part encounters before it leaves the plant.
BTD's focus on efficiency led it to invest in changes at its plants in Minnesota. "We really worked on just trying to make the plants easier to work in, with a lot less material handlers and a lot less touches," he recalls.
At the time, its largest plant was located at its headquarters in Detroit Lakes. BTD also had a plant in Lakeville, Minn., and a depot in northern Minneapolis that operated as a cross-dock between the two.
But BTD lowered logistics costs and material handling by consolidating operations and reorganizing both plants to be more independent. It expanded its Detroit Lakes location and made similar changes to its Lakeville plant. It also consolidated the depot into its Lakeville location.
Today, "They're really both independent, focused factories," Gintner says. "We've created centers of excellence inside of our business. They're all relatively self-sufficient."
BTD's focus on efficiency, he adds, has been well received by its customers. "They are looking at whether you are getting better as a business and if you can drive more volume," he says. "They want you to be very competitive on the item, but they also want you to have things that can sustain and grow the business on the long term."
Poised to Grow
Lotzer is proud of BTD. "We've been very successful in gaining market share with our current customer base," he says. "We are fast and nimble to meet their needs, reflecting our slogan of 'Speed 2 Line.'"
BTD takes a "cradle-to-grave" approach where the company can perform R&D for its clients before their items are put into production. "A lot of our competitors don't have that breadth of capability," he says.
Gintner is proud of BTD's staff. "I started at BTD when we had six people," he says. "Today, we're 1,050 across the organization. We took a lot of people that really didn't have any background in the metal fabrication industry and turned them into awesome metal fabricators.
"We're committed to the idea that if you want opportunities in business, you've got to be with a growing company," Gintner says, noting that more expansion lies ahead for BTD. "I see us continuing to grow up the value chain. We've got a great model to sell."
Lotzer agrees. "We're well poised for growth with the investments we've made,' he says. "We've got a lot of runway."