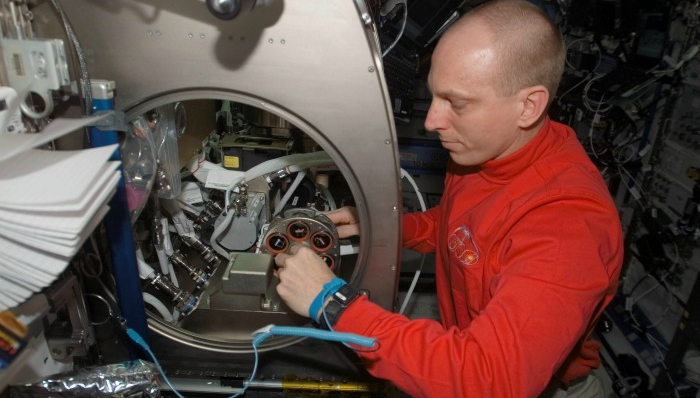 In all the talk about 3-D printing and its effect on the manufacturing sector, it can sound at times like a 3-D printer simply spits out a component that's ready to use right away. Although that's true in many cases, in other cases those components still need some work before they can be of use to manufacturers.
For more than a decade, RePliForm Inc. has been providing metal plating services to the 3-D printing sector, and President Sean Wise says the company's post-processing solutions have made it a valued partner to many of the industry's most demanding companies.
Wise started the company in 2000 to perform electroforming services for injection molded plastic components. Although the company was very successful at first, it started losing business to offshore competitors. However, around that same time a customer came to RePliForm with a request that would reshape the company's destiny and give it new focus.
The customer wanted to know whether RePliForm could plate just enough of a 3-D printed part to make it robust enough for testing purposes. After giving it a try, the customer found that a part that had been getting only 5 percent of the cycles needed in an uncoated state was now reaching 100 percent with the coating applied by RePliForm. "Obviously, the plating did exactly what they wanted it to do," Wise says.
From there, RePliForm shifted its focus to concentrate on providing plating for the 3-D printing market, and Wise says the company's customer base is very eclectic. Today, the company serves customers ranging from aerospace manufacturers and the automotive sector to companies that make fine art. No matter what type of customer it serves, however, RePliForm concentrates on providing solutions that change 3-D printed components from relatively weak plastic parts to more robust composite components. Thanks to the company's technological edge and unique expertise, Wise says, RePliForm occupies a strong niche within the 3-D printing marketplace.
Unique Position
Wise says RePliForm occupies a unique place within the industry, as it is one of the few companies that performs electroplating on plastic components and takes advantage of the strength of the electroplated coating. "We focus more on engineering solutions," he says. "There's nobody else who really does that aspect of it. Creep resistance improves dramatically, which is critical for photopolymer parts, there is much higher impact strength, wear-resistant surfaces and the coating is an environmental barrier which can make 3-D printed parts moisture and heat resistance. NASA has even flown 3-D printed parts on the space shuttle and International Space Station which were coated to eliminate flammability of the base resin as well as toxic outgassing in case of a fire."
This helps RePliForm's customers gain the fullest advantage from 3-D printing, as they benefit from the cost-effectiveness and efficiency of plastic 3-D printing and gain the strength of metal without the added cost of metal 3-D printing. Wise says many in the manufacturing sector aren't aware that they can convert weaker plastic parts into a more robust composite component through this process, but word is starting to spread.
One of the biggest keys to the company's success is the strength of its technology, which utilizes electrolytic as well as some electroless plating processes. Using copper and nickel in varying ratios, RePliForm can customize the plating to find the precise balance between flexibility and conductivity for the customer's exact needs. Wise says this is another significant advantage the company has over the small number of competitors who offer this type of service.
"What sets us apart in the marketplace is that we take a lot of time to try and understand the customers' needs and use a coating to try to get them there," Wise says, adding that the company's expertise in the 3-D printing realm also gives it a leg up on its competitors because it knows how to process virtually any type of 3-D printed organic material in the industry, so long as they are compatible with the company's plating electrolytes. Most are, Wise says, but there are a few exceptions such as metal-filled resins and paper laminate models that are not compatible.
"That's all we do," Wise says.
Speeding Up
The company's expertise and technological edge are critical for its continued success, especially in helping it overcome the challenges it faces in the industry on a day-to-day basis. "Some of the biggest challenges we face have to do with the variability in 3-D parts, especially on the [fused deposition modeling] side," Wise says.
Wise explains that RePliForm is a low-volume production shop, specializing in orders that don't involve large numbers of parts. "We have a joke that we tell people where we say we'll do anything except a lot," he says.
That served the company well when 3-D printing was a much smaller portion of the manufacturing world than it is today, but with the number of manufacturers employing 3-D printers in the industry today, RePliForm is starting to see demand for higher-volume production ramp up. Exacerbating that demand is the proliferation of high-speed printers, and Wise says there are faster machines than ever coming down the pike in the next several years. In this new environment, he adds, RePliForm is challenged with helping to create parts that are just as strong and consistent as its smaller runs but in the higher volumes customers demand. "Looking forward, we need to see how well established production plating technology can be combined with structural electroplating technology and the special needs of 3-D printed parts to make a cost-effective system for plating additive manufactured plastic parts in high volume," Wise adds.
Although Wise says RePliForm wants to continue to support its current low-volume business, the company's focus for the future is to try to adapt its work to the high-speed printing that is to come and integrate those services into its current model. Even though technology continues to advance with each passing year, he adds, there remains a significant gap between printed plastic and printed metal parts that make printed metal cost-prohibitive for many manufacturers.
As long as customers continue to look for the speed and cost advantages of 3-D printed plastic parts combined with the strength and reliability afforded by metal plating, Wise says, RePliForm expects to continue to serve the 3-D printing segment of the marketplace.