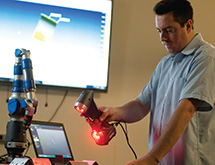 Many manufacturers likely look at additive manufacturing – commonly known as 3-D printing – as a way to create plastic prototypes for concept models and form-checking parts. For CalRAM, the method is more than a way to prove out a concept for eventual tooling and manufacturing – it's a fully fledged production process.
"It's easy to buy a machine and print parts, but it's hard to make them consistent every time conforming to stringent aerospace production requirements," says CEO Duane Pekar.
Transitioning the world of 3-D printing from prototyping to a full production model is exactly what Victor Vescovo, co-founder of Insight Equity, had in mind when his firm purchased the company in 2014. "We have transformed the company from a research and development-based prototyping operation into a full-blown manufacturing facility," Pekar says. CalRAM was founded in 2005.
Within the past year, the company has more than doubled its production capacity by adding four powder bed fusion (PBF) machines and moving into a new, 25,000-square-foot state-of-the-art facility in Camarillo, Calif. CalRAM also added metrology and machining production capabilities as well as laser PBF technology.
The improvements and expansions to CalRAM's operations have enabled the company to provide high-quality, critical components for the aerospace market. Most notably, the company produces structural components for orbiting satellites as well as prototype parts and samples for the defense and commercial aircraft industries.
CalRAM is AS-9100 and ISO 9001 certified, and International Traffic in Arms Regulations (ITAR) registered. CalRAM's customers include Boeing, Northrup Grumman, Lockheed Martin and Space Systems Loral.
"It's incredible to know that our parts are orbiting Earth on satellites today and at some point will be flying on commercial aircraft," Pekar says. "It's equally important to me, however, to know that thanks to a great team and technology, we've taken an operation that had four men and three machines and transformed it into a factory supporting major customers in just 12 months."
A Precise Process
CalRAM's machines utilize a high-energy electron beam to melt metallic powders to create a 3-D part one layer at a time based on computer-aided design (CAD) files. The electron beam powder bed fusion (ePBF) process uses CAD files to generate beam position, spot diameter and power instructions for each layer, which is then produced by scanning the electron beam rapidly across the surface of the powder bed. With each layer, the part is lowered and a fresh layer of high-quality metal powder is applied.
The ePBF process requires a hard vacuum chamber that also creates a contaminant-free environment for consistent metallurgy of the parts. Parts are produced in temperatures ranging from 700 to 1,000 degrees Celsius. When cooled, the parts retain their shape, have consistent grain structure and are stress-free, says Director of Additive Manufacturing Programs Shane Collins.
CalRAM uses several different powdered materials in its products including titanium, aluminum, cobalt chrome, and Inconel®, a high nickel super-alloy. The company also has the ability to make and test parts from most metallic materials specified by a customer.
As it is based on precise CAD measurements and tightly controlled process inputs, CalRAM's process yields highly consistent parts that can be produced in a repeatable fashion. Many of the parts produced by CalRAM for the aerospace industry can potentially be in service for up to 50 years, Collins adds.
In addition to their quality and repeatability, parts produced using the PBF process do not require expensive, long lead-time tooling. This advantage gives customers the ability to iterate their designs rapidly and launch into production immediately with the exact process that manufactured the prototype parts.
The company provides turnkey manufacturing services to customers from printing parts to testing and performing secondary operations including machining and assembly. CalRAM works with customers to engineer their existing parts for the PBF process through workshops at their facility as well as on-site at its customers' locations. "Our customers could just take their existing designs and have us print them as-is, but what we're seeing in the industry are organizations' engineers redesigning their parts to take advantage of this technology," says Vice President of Sales and Marketing Sean Treacy. "In some cases, customers have achieved over a 50 percent reduction in weight and cost by working with CalRAM to optimize a system. Reducing the weight of anything that flies carries with it substantial benefits for customers ranging from increased payload, lower launch costs and improved fuel efficiency," adds Treacy.
CalRAM also can reproduce customers' obsolete spare parts by scanning them, converting the 3-D scanned image to a CAD file and printing them. "The benefits of additive technology in the production of spare parts for defense and commercial aircraft is immense given the long service life, high cost and lead-time of spare parts," says Treacy.
Looking Ahead
Because PBF is still a relatively new manufacturing method, CalRAM faces the challenge of ensuring its staff is up-to-date with the technology. "Because we're on the cutting-edge, one problem we run into as an industry is finding a workforce with the skillset needed to do this work," Collins says.
To create a pipeline of skilled professionals, CalRAM is involved with America Makes, a national organization dedicated to advancing additive manufacturing and 3-D printing efforts. CalRAM, in collaboration with others participating in America Makes, Robert Byrd College in northern Virginia, is developing a national curriculum that can be used to train technicians in the use of the method.
"We are helping create the next generation of engineers and technicians in additive manufacturing in the United States," Collins adds.
Pekar predicts big things for additive manufacturing, particularly when it comes to large, complex parts. "This will soon be a billion-dollar industry," he says, noting that the method is already gaining traction in satellite production. "In the coming years, we will see a transformation in the aerospace industry as metallic additive parts are qualified on higher volume aircraft."