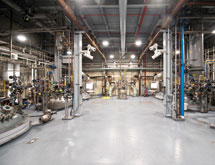 In a pharmaceuticals industry dominated by giant corporations, Cambrex Corp. views its relatively modest size as an advantage.
"It's a nice-sized company," says Simon Edwards, vice president of global sales and business development. "It's a mid-sized company with a really good balance. It's almost a unique balance because we have custom manufacturing, generic API and formulated drug product capabilities. We are not a big behemoth and are small enough to be customer-focused."
Cambrex serves customers ranging from multinational pharmaceutical companies to small and emerging biotechnology companies. "We work with customers of all sizes and don't just do big blockbusters," Edwards says. "We are really flexible with customers and market-focused for both generic and custom manufacturing."
Quality, flexibility and reliability are always at the top of the list of its priorities. Cambrex defines quality as compliance with regulations, as well as product development and manufacturing that spare costs and reduce deviations. Flexibility in scale and responsiveness to always-changing needs are equally imperative to its experienced teams.
A Unique Blend
Cambrex is a life sciences company using innovative manufacturing technologies and high-quality processes to spearhead the commercialization of small molecule therapeutics. Its expertise includes active pharmaceutical ingredients (API), advanced intermediates enhanced drug delivery, and formulation.
The bulk manufacturer of small molecule drugs (SMD) specializes in difficult and tightly controlled chemistries. These may be controlled substances regulated by the U.S. Drug Enforcement Agency because of their psychoactive nature as well as high-potency products that are highly toxic. Cambrex manufactures high-energy compounds containing chemical reactions of thermally, unstable or explosive products and processes.
Cambrex has a unique blend of generic and custom-manufactured APIs and a strong regulatory and quality track record. Cambrex offers operational excellence, reduced defects and price-competitive products for small and large-scale manufacturing. It has significant expertise with process development and validation, scale-up and biocatalysis.
Nicely Positioned
Sales for Cambrex reached $277.9 million in 2012 and it anticipates an increase of between 8 percent and 12 percent in 2013. This marks its second consecutive year of improved sales following the 2009 economic downturn. Strong custom development and manufacturing demand have spurred the growth.
Cambrex has sites in Charles City, Iowa; Karlskoga, Sweden; Milan, Italy; and Hyderabad, India, along with R&D facilities in Wiesbaden, Germany; and Tallinn, Estonia. It is based in East Rutherford, N.J.
Cambrex upgraded its Iowa facility this year, adding 7,000 square feet. The expansion added 60 new positions and an additional 40,000 gallons of reactor capacity, which equates to the potential for tens of metric tons of API production on an annual basis. In addition, its capacity in Sweden is expanding with two new production trains added in 2013.
The economic climate of 2009 and 2010 was extremely difficult for many companies in the pharmaceutical and biotechnology industries and in turn for the companies that supply them goods and services.  However, the number of New Chemical Entity (NCEs), or compounds not previously approved for humans, is increasing and generics continue to grow.
"We are currently seeing worldwide growth in the pharmaceutical industry," Marketing Manager Stephanie Harrison notes. "There have been more requests for proposals for custom development and manufacturing products, as well as increased demand for generics products." She adds that Cambrex is capitalizing on the demand for custom development and manufacturing of NCEs in the United States and E.U.
"We are nicely positioned in the U.S. and E.U.," says Edwards, who spent 16 years with another API contract development and manufacturing firm before joining Cambrex in April. "Our largest facility is in the U.S., and we have two good-sized sites in Europe." The biggest challenge is coping with all the current opportunities, which "speaks to the right offering of high-quality products with the right portfolio and being the right size to respond and meet customer needs," he says.
"You'll find everyone in the company is pointed in the right direction to execute our strategy," Edwards explains. "We believe this alignment gives us a competitive advantage."
Edwards says he is most proud of Cambrex's:
Quality and safety: Cambrex focuses on world-class safety, environmental, quality and regulatory performance on a daily basis and its employees achieve these goals.
Ability to meet challenges: The Cambrex Charles City, Iowa, facility expansion started in August 2012 and was completed only eight months later.
Reliability and dependability: Cambrex completes projects in the required time and on budget with consistent results every time.
Teamwork: Cross-functional groups work together to meet goals and solve problems.