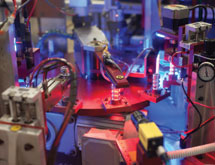 Illinois-based manufacturer Camcraft is very clear about what it does and why it does it. Camcraft provides precision-machined components used in the hydraulic, fuel-delivery and engine management systems  of on- and off-highway engines. The company dates back to the 1950s  as a small Chicago job shop, but today employs approximately 300 people in a much larger operation just outside Chicago in Hanover Park, Ill. Unlike its size, however, the company's mission or it's "why" has remained the same.
"Our mission is very unique and the first part is to glorify God in everything we do," says Steve Olsen, vice president of operations. "The second part of our mission is related to that and it's to have a company culture that makes it a great place to work for our people."
The last two guiding principles of Camcraft's overarching mission are to be its customers' most-valued and trusted partner and to grow the company profitably. Those four tenets provide the basis for every decision made at Camcraft, and Olsen says they have undoubtedly led to the company's success, because to do all these things requires strategic investments aimed at being the best. From its workforce to its equipment to its systems, Camcraft invests millions every year in winning and retaining world-class customers.
"Because the customers we go after are typically market leaders that are winning new business from OEMs, they have to invest to grow, and they need suppliers that can grow and invest as well," Olsen explains. "A lot of the designs that come to us require us to invest in new technology and machine tools and if you can't invest in those things, they can't work with you. Our ability and willingness to invest heavily in the latest technology is one of our areas of differentiation and superior service to our customers."
Exciting Expansion
The company recently opened a second facility close to its 120,000-square-foot plant that it has been in for the past 20 years. The second plant adds 30,000 square feet.
"Emission standards for on-highway applications have been getting tighter for years, and now we are seeing that these stricter emission requirements and the need for greater fuel efficiency are being applied to the much larger, off highway engines – locomotive and marine engines, for example," Olsen says. "This has created opportunities to apply our expertise to lower volume, much larger parts that require extremely tight tolerances."
The company moved some of the equipment from its first plant into the second plant but also invested in brand-new technology, such as a new machining center, CNC turning equipment and a coordinate measuring machine. The new facility will also house a new metrology lab, making it the company's fifth, solidifying its standing as a leader in maintaining tight measurement tolerances.
"All of our metrology labs are outfitted with the best equipment in the world and it's the same or better than what our customers have," Olsen says. "Oftentimes a customer will call us up and ask, 'Can you check this for me?'"
Reliable Resource
Ensuring components consistently work as they should is always forefront at Camcraft, and Olsen says that promise has increased in importance in recent years. Camcraft's components are included in engines that travel all over the world. In addition to automobiles, Camcraft manufactures products for light-duty and heavy-duty trucks as well as for construction and mining equipment. Its parts often wind up in corners of the world where after-sales service is not available.
"Customers ship their products that contain our components all over the world where the operating conditions are not the same as here in the United States, Canada or Europe," Olsen says. "They are going to developing nations and very remote locations with very harsh operating conditions, so everything has to work and it has to work for a really long time because there is no dealership with a technician every 50 miles."
Camcraft's metrology labs play a big part in meeting these requirements, but the labs are just one part of a robust operation. Camcraft does all of its high-precision machining in-house. It's also a big believer in automation – utilizing robots for part handling, packaging and inspection.
"We use automation not to replace, but to multiply our people," Olsen says. "We've been able to grow sales and improve productivity with our core team by having automation systems do the repetitive work of part placement, removal and vision system inspection. So now, the same employee that used to run one machine can run a cell alone or with another person. The job is more interesting for them, and instead of them having their hands in a machine all day, they can better monitor the process, troubleshoot work and work on improvements."
By letting automation handle routine work, Camcraft frees up its employees to do what machines cannot – use learned insights, knowledge and first-hand experience to bring efficiencies to the company. Two years ago, Camcraft launched a continuous improvement program, E2B2, which gives employees in all areas of the business a platform to suggest and implement improvements.  Front-line employees have a direct voice into how Camcraft can better fulfill its four-part mission to honor God, workers and customers while creating profitable growth.
"E2B2 means 'Everybody, Everyday Getting Better and Better,'" Olsen explains. "In the last couple of years we've tapped into the expertise of our people actually operating the processes. E2B2 provides a great framework and methodology for our people to identify something that can be improved and to document what they've done to improve it. We get hundreds of improvements every month and thousands every year. They don't have to be big things. They're often incremental quality and safety improvements. But when you have a couple of hundred people doing that, those incremental steps really add up and you start to move the needle."