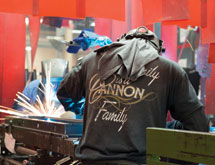 Cannon Safe's employees have one common thought when fires or burglaries make the news in their hometowns. "When we read about something that went on down our block, we ask ourselves, 'Why didn't we tell our neighbor to get a Cannon Safe?'" says Pasquale Murena, director of marketing for the Henderson, Nev.-based company. "Our goal is to get one of our safes in every home – if there isn't, then we haven't done our job. We don't just do this to make money – we do this to preserve people's peace of mind."
The company's products have helped homeowners and businesses protect their prized belongings from theft or disaster for 50 years. Cannon and its subsidiaries GunVault and Cannon Security Products manufacture safes, gun safes and lock boxes for customers in practically every walk of life. "There's not a market we can't touch, because everyone has a need for a safe," Murena says.
Cannon Safe's internal focus on engineering and continuous improvement in its manufacturing operations allow to it to produce safes that can stand up to fire or burglary. "We have safes that have been in a five-hour fire and everything inside survived, because of the way our products are engineered," he adds.
All Safes go through what the company calls a "True Fire Test" protocol, during which they are subjected to maximum temperatures of 1,200 F within eight minutes of the beginning of the test for a prolonged period of time. "There are no established industry standards for fire ratings," Murena says. "Our competitors' fire testing will take a safe, put it in a fire averaging 300 to 400 F, raise the temperature at the end of the test and then say their safe has a rating at 1,200 F." The company places nine sensors inside the safe to get accurate test results, and has its fire ratings verified by independent lab Intertek-ETL.
Several security features are built into Cannon safes that make them more difficult to crack than competitors' products.  Safes feature a plate of three double-sided layers of extra-hard steel that protect the lock, as well as anti-pry tabs that keep a bolt secure and add extra strength to a bolt during a prying attempt. Cannon's locking bolts are four inches thick. All safes also include internal hinges, which are significantly stronger than external hinges, Murena says.
Cannon's safes are also built for convenience. Its home series safes include drawers and compartments for jewelry and other small valuables. Power supplies and multimedia ports including USB and ethernet inputs are also two standard 110v plugs, which allows customers to store hard drives and computers.
'A Lean Machine'
Strength, durability and ease of use are the ultimate goals of Cannon's manufacturing processes. The company in 2013 relocated its headquarters from San Bernardino, Calif., to Henderson, Nev., where it is building a new manufacturing facility it anticipates opening next year.
The company's manufacturing floor includes turret punch presses, press brakes, shearing and welding machines. Cannon also operates painting booths. "You can walk into our factory and see a flat piece of steel coming in on one side of the factory and completed safes being boxed up and loaded out on the other," Murena says. "We do everything here; we are a true manufacturing company." Depending on demand, the company can manufacture up to 1,000 safes a day.
Cannon's manufacturing operation is heavily influenced by the Toyota Production System – which it has adapted to its own set of standard operating procedures it calls the Cannon Production System – as well as other lean manufacturing principles. These include using visual controls, managing inventory on a just-in-time basis and regular kaizen events. "We've turned ourselves into a 100 percent lean manufacturing machine," he adds. "We are always trying to find improvements in our operations."
Suppliers play an important role. Cannon personnel regularly visit supplier sites around the world, and suppliers visit Cannon's facilities. "We don't consider our suppliers to be just someone we buy supplies from; we look at them as a partner and make sure that they're doing well, as that means that we will do well," Murena says.
Living the Values
Continuous improvement is one of the company's seven core values. These values – which also include loyalty, enjoying hard work, having actions speak louder than words, respect, loving change and "yearning to learn" – are what Murena says truly set the company apart. "These core values mean so much to us that every employee carries a coin in their pocket with these values on them," he adds. "We are very proud of them and work every day to ensure we live them."
The coins are presented during the company's training process, which includes culture training in addition to machine operation and process orientation. Training is enhanced by the company's use of videos of its manufacturing operations that it shoots and produces on-site.
For Cannon Safe, training is the beginning of a long relationship between management and employees. "Our company is an upside-down triangle, with the guys on the line at the top and our CEO and owner Aaron Baker on the bottom – he is there to support us," Murena says. "Employee satisfaction is very important to us; we want employees who will be with us for 25 to 30 years."