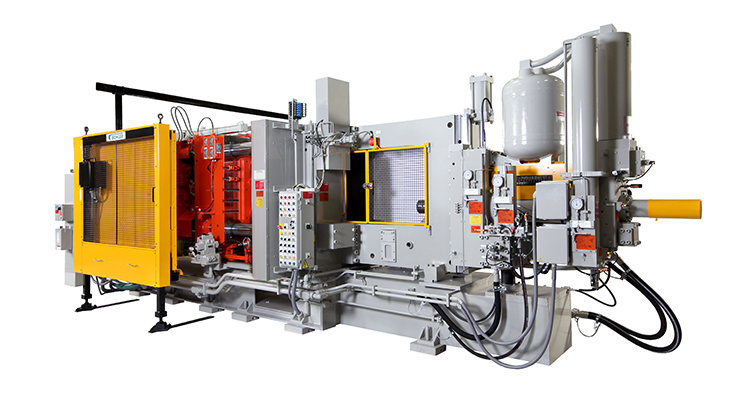 Making a difference
2021 has been a truly eventful year for CastAlum, and as 2022 draws closer this highly respected aluminium die caster and machinist is looking forward to further growth and prosperity
For those who may need reminding, mid-Wales-based business CastAlum is an internationally acclaimed die caster and machinist, supplying its range of High Pressure and Squeeze Cast products to customers throughout the UK and Europe, as well as those in countries such as Canada and Mexico. These products ultimately end up going into vehicles produced by the likes of VAG, BMW, Ford, General Motors, Fiat, Renault, Mercedes, Jaguar Land Rover, and other prestigious marques.
The last time that Manufacturing Today had the good fortune to speak with CastAlum's Engineering Director Paul Dodd, it was September 2020, and it is fair to describe the months since then – leading up to our most recent conversation in early October 2021 – as being eventful, to say the least. That is very much a sentiment shared by Paul. "When we last spoke, it had not been long since we had emerged from the first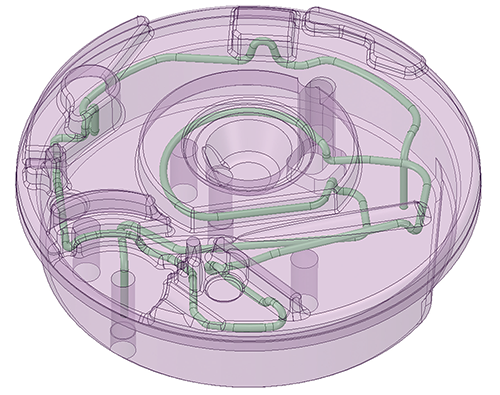 Covid-19 lockdown, and we were in the process of launching two significant new manufacturing programs, one for a large Electric Vehicle (EV) contract, and the other for a major hybrid transmission project," he notes.
Paul continues: "The aforementioned EV contract in particular has now launched in full, and surprisingly doesn't appear to be suffering from any effects as it relates to global shortages of semi-conductors or other challenges. So, that is well above the curve in terms of launch profiles and what the initial expectancies were for it at this stage, and this has made for an incredibly busy, at-times relentless, 12 months from an engineering and build perspective. Particularly since the summer of 2021, we have continued to ramp up our production volumes in relation to this program, to the point where it has sometimes become a daily challenge – albeit a welcome one – to actually get the required number of components out of the door!"
In the case of CastAlum's ongoing work in the field of hybrid transmissions, the program that this forms a key part of has been somewhat more significantly impacted by said semi-conductor issues, causing various plant pauses or shutdowns, both domestically and internationally. What this has meant for CastAlum is, while it has not stopped supplying its clients with components at any point, its output rate is currently far greater than usage levels.
As one can imagine, the level of work that CastAlum has found itself handling in recent months has placed increasing demand on its people – not least of all its production teams – and this has led to the activating of a recruitment campaign to bring new talent into the business. "In terms of the areas we are looking to add people to, these include what we refer to as 'direct' employees, so those individuals working in the foundry area and responsible for the production and running of our plant, as well as the support areas of the engineering process, such as our production, tooling, technical resource, and maintenance departments," Paul explains. "When it comes to what we look for in a potential new member of the team, we like to find individuals who possess a bit of spark about them and who display a drive or passion to get on and succeed. Personality is definitely a significant characteristic that we focus in on these days, however as a niche business ourselves, if we do also come across anyone who has previous experience of working within our industry they are naturally of interest to us as well." We've recently complimented this area with the introduction of a Training Manager who's responsible for the proactive development and retention of our workforce.
Another important topic of note that featured in our past conversations with Paul centred on CastAlum's forming of a consortium with British engineering company Renishaw and Coventry University – via Innovate UK – to investigate the best ways of applying additive manufacturing technology to steel tooling, and make the process repeatable. "That project has since concluded, and we are now running the equipment and solutions developed through it in-house as a stand-alone additive manufacturing production unit," Paul details. "At present, we continue to serve our own needs with said unit, but we are certainly open to opportunities in the sphere of additive manufacturing outside of casting. The team that has been running the unit have gained a significant degree of knowledge in the field of thermal control, and we are confident that we can exploit that in other areas going forward."
Considerable investment continues to be made in other areas of CastAlum's business, as Paul goes on to highlight. "One example of this would be the $5 million that we have invested in a new, 2000 ton, die casting machine cell to further increase capacity. As we speak, we are expecting the final pour of concrete to occur in the coming hours, after which the groundworks will be sealed and completed ready for installation of the machine, which has almost been completely assembled at its current location of Holland, Michigan. Once ready, it will begin a runoff on the floor there, and when this concludes the cell will be disassembled, painted and shipped to us here. We are working with the anticipation of accepting delivery of the cell in the first week of January 2022.
"Further to the above, we are also now carrying out groundwork to construct another project framework that will be again based around additive manufacturing and additional CNC milling capacity, which we intend to operate in conjunction with a supporting body such as Innovate UK. The overall aim of this project will be to effectively cast a heat-treated product in-house, where at present we cast products before sending them away for heat treatment."
As CastAlum's recent levels of activity – especially since the Spring of 2021 – clearly show, its people are driven by a core belief that together they can succeed, while also bringing about purposeful and positive change through endeavours such as its EV and hybrid transmission programs. Now, looking towards 2022, Paul believes that if the company can match its forecasts, and fulfil the plans and ambitions that it has in front of it over the next calendar year, then it will have done very well for itself indeed.
"If we take the new die casting machine cell that we have coming over to us at the turn of the year as an example, we already have confirmed and prospective customers for it jumping up and down eagerly in anticipation to make use of it," Paul enthuses. "It means that it will be extremely well utilized from the moment it hits the ground running, which we are very excited about.
"When you add to this the fact that our EV-related program is set to literally double in output in the coming months, our other programs continue at pace, and the many other investments that we are looking to make – including adding additional shot blast capacity to service our many activities – I see the next 12 months and more being a time of considerable growth again for CastAlum, both in terms of sales output and headcount."
CastAlum
www.castalum.com
Products: Cast aluminium and machined automotive components