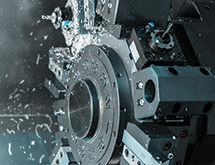 As U.S. businesses strive for more streamlined working models, there is a general consensus that the current Lean methodology has taken industry as far as it can when it comes to making the manufacturing processes more profitable. OPTIS' CEO Jon Iverson argues that – far from being obsolete – lessons learned from the Lean movement must now be capitalized on to continue on the path to improved productivity, profitability and establishing a dramatic difference in the marketplace.
Financial, operational and corporate decision-makers in the metalworking space have recognized the value of Lean processes but are not maximizing the deeper domain insight at their disposal.
Lethargy with messaging around "doing more with less" – and the absence of clear, tangible evidence that the gains achieved can be maintained – are hampering progress and putting firms in danger of losing their competitive edge.
The rush to implement the next new thing seems to be overshadowing the principles that got us to where we are today. But going back to basics in terms of taking what we've learned and applying it to future models is a fundamental step in moving forward.
Six Sigma may be nearly three decades old, but it remains relevant and necessary. Taking a disciplined, data-driven approach and methodology to eliminating defects in an existing process has clear parallels with the Lean movement in manufacturing excellence today. Industry 4.0 and the Internet of Things will inundate us with mountains of data, which makes it even more difficult to extract meaningful insights.
Indeed, finding focus is the key to reinvigorating the fervor for Lean and enabling meaner operations that are truly geared up for the factory of the future. By building a robust foundation of Lean principles, manufacturers can afford themselves the time and space for true innovation on both product and process levels.
Herein, we discuss six Lean lessons for professionals working within the aerospace, automotive, construction equipment and metalworking arenas. This is designed to help determine where machine and process optimization principles are perhaps under-exploited and to tune into alternate ways of thinking that can leverage Lean in the context of the modern manufacturing world.
Lesson One: Think Like the Machine
The first and most important lesson has to be "Think like the machine." Live data and the information it provides helps a business, but process and capability knowledge is truly transformational. Only by conducting analysis at the total process level and deep analysis at the "point of cut" in a machine tool can companies really empower themselves with this core trait for a Leaner future.
A powerful combination of live data and technical expertise to extract the insight from the data is the difference between simply maintaining healthy assets and managing a harmonized network of machines and operating teams with the know-how to make those healthy assets work harder and achieve more.
Of course, few organizations have invested in the tools (technologies) and thinking (people) to exploit this advanced way of working on any impactful scale. This could be a lack of awareness and/or apathy towards Lean concepts, or because with the sector struggling with skills and workforce shortages, the detailed understanding necessary isn't readily available. Third-party partnerships that can bring both business acumen and additional resources with deep machining insights can bridge the gap to make holistic improvements that tackle process and machine output together and yield significant impact to the bottom line.
Lesson Two: Think Differently
New thinking and technologies are important points of differentiation in a changing market and against a challenging and competitive backdrop. First to market means everything. Getting it right at the first pass helps secure repeat customers and upholds an enviable reputation. But staying in front of your competitors while maintaining requirements – and keeping a close eye on all moving elements – is a problem, especially for a global enterprise.
A key challenge here is overcoming a tendency to accept the status quo when what is needed is a collaborative culture that is hardwired to encourage problem-solving. Adopting differential thinking creates a can-do attitude that allows people throughout an organization to think alternatively and embrace new ideas and solutions. In ever-changing markets, scrutinizing processes from different perspectives means cost-effective solutions that deliver tangible process improvements that are identified and acted on early, so that an organization is always prepared.
We're in an era of expanding opportunity, so the focus has to be on affording the time and technology to realize those "first" ambitions. The stakes are high, and it's often the hidden opportunities that hold the most potential. Re-evaluating the company's Lean status may uncover previously unexplored threads that could make the competitive difference.
Lesson Three: Think Smartly
Don't just think about the here and now. In a fast-paced business environment, there's a tendency to shorten time horizons. To take a small- to medium-term view, in some industries even five years ahead is considered too forward-thinking.
Recognizing that machine and process optimization is an ongoing process and not a project that can be isolated is an important shift in mind-set. With the industry abuzz with Industry 4.0 and Internet-of-Things ideology, thinking smartly is going to be pivotal to moving forward in this endeavor.
Although some of the key trends for this optimum model are emerging, there's still a long way to go until manufacturing is anywhere near the levels of sophistication that could be within reach. Embracing disruptive technologies like machine-to-machine connectivity and the digital thread is becoming more commonplace, but technology investment alone doesn't constitute "smart." It takes intellect to achieve marked improvements – using technology is only an enabler.
Transforming big data into smart data is about using data analytics to ensure once data is captured, it is then filtered and interpreted correctly to create a firm foundation for optimizing actions that deliver tangible process improvements. Technology has already reached a level that enables big data analytics with reasonable speed and efficiency, and there is significant business opportunity in big data analytics in manufacturing – the earlier companies get onboard, the more chance they have of getting ahead of the competition.
Lesson Four: Think Seamlessly
Smart manufacturing means seamless interoperation of cyber and physical assets. Cyber-Physical Systems (CPS) could be transformative for manufacturers – combining and managing cyber and physical assets alike – to give operators and leadership a clear and holistic view of the whole operation.
IT must be embedded throughout the business. No longer the domain of a single team, it must work seamlessly with personnel across the organization to not only inform operational and strategic decision-making, but be educated itself at multiple touchpoints, so real-time data and analysis become a standard approach.
An obvious stumbling block is the current lack of standardization between the output data from one asset to another. Without a uniform approach, how can companies meaningfully interpret the trends to identify Leaner ways of working, let alone benchmark between multi-site operations in a global theater?
Moreover, the challenging nature of the personnel attributes and capabilities required for smart optimization is another hurdle, and one that comes back to searching for that elusive skillset that can successfully marry high-level business and machining expertise.
Lesson Five: Think Progressively
People power is the crux of thinking progressively. As previously highlighted, the workforce skills shortage is one of the biggest manufacturing issues of our time. It is forcing us to take greater strides toward automation and lights-out processing, but on the other hand, doing so prematurely will be counterproductive to Lean initiatives in the long run.
A case in point: Between 2001 and 2011, an increase in lights-out manufacturing led to a 7 percent increase in productivity per hour, but total manufacturing employment dropped by 22 percent. This shows an uneasy trend that could jeopardize an already skills-light workforce. This is not about man vs. machine but more about strategically selecting people for the right roles and engaging them.
Reducing waste enhances productivity, which in turn increases job satisfaction. Optimized processes produce a happier workforce. But taking this a step further, engaging workforce expertise more effectively would allow the improved extraction of information to improve the part manufacturing process, which includes the part machining methodology that relies on man-and-machine interface coming together. We need to effectively utilize methods, machines and manpower to achieve the optimum performance.
Lesson Six: Think Tangibly
Ultimately, it all comes down to needing the right data to obtain information on your processes and ultimately gain knowledge for correct decisions. In a world of big data, how could we possibly want more? The truth is that data overload can hide critical information and send you off on a tangent. It comes back to focusing on managing all the data and finding the right data so that it is both meaningful and actionable.
Linking metrics throughout the organization and aligning these deep-dive analytics with company objectives may sound obvious, but without taking a two-fold approach that comprehensively covers the machine and process elements, it's likely that vital insights are being ignored.
The six spheres of machining (machine tool, cutting tool, work material, cutting fluid, machining accessories and machining parameters) integrate to eliminate non-productive time, minimize scrap rate and provide consistency and high-quality precision in each machine tool.
Together, these achieve repeatable results that today's customer expects. Business principles grounded in expert and granular analysis then need to overarch everything if the business is to be streamlined enough to be truly smart.
Lean Principles Needed
To conclude, the drive towards Industry 4.0 and the Internet of Things, far from rendering Lean principles outdated, makes them more important than ever. With more data to capture and process, a significant skills gap to fill and increased cost pressure driving manufacturers to constantly reassess competitiveness, eliminating waste and optimizing resources becomes critical to success.
It's about big data becoming smart data. It's about ingraining IT throughout the business. It's about thinking like the machine and making the machine think like your most skilled operators: informing the factory with tribal knowledge to make it smarter and more autonomous, and freeing up personnel time to focus on further product and process innovation.
The common thread uniting all Lean lessons is a focus on maximizing manpower. Lean has evolved with the factory floor, but the principles remain the same, and the opportunities have increased. With more data comes more informed decision-making and increased competitive advantage.
An approach that is founded on strong data analytics, machining expertise and deep domain knowledge can extract the full potential that is currently hidden in the production processes. To find this resource, you may need to go outside your current environment and find a trusted source that can provide it – one that is evidenced by a portfolio of successful implementation cases.
In essence, businesses need more meaningful knowledge to realize the full potential of their part manufacturing processes and to know where to focus their limited resources on machine optimization with Lean methodologies.
Re-evaluating and reengineering the two key resources for any manufacturer – machines and manpower – will be critical to success as we face the future. Striking the perfect balance in the use of people and machines and integrating the two is essential. The machinery must be able to take on the knowledge of the workforce, and the workforce must be able to think like the machine. The seamless integration of America's two greatest assets will maximize profitability to the power of six.
Jon Iverson is CEO of OPTIS. He has extensive experience in machining, manufacturing and defense services. With a highly successful 20-year career in the United States Navy, Iverson has led enterprise-wide Lean transformations across complex organizations of up to 4,500 personnel. He is a certified Lean Manufacturing Black Belt and Theory of Constraints Jonah.