ClearSpan Fabric Structures
Engineering Services & Products Co. (ESAPCO) has always grown its business by expanding on its capabilities. So when the company began considering what new products it could add about nine years ago, it looked at how to improve its current offerings. "We were already purchasing, selling and advocating synthetic fabric," Vice President of Operations Dave Buchheit says. "It became natural that since the covers on these buildings were synthetic fabric, that we manufacture the building ourselves."
The entry into fabric-covered buildings led to the creation of a new brand, ClearSpan Fabric Structures. ClearSpan manufactures the galvanized steel superstructure for the buildings out of its facility in Dyersville, Iowa. Fabric is procured from several sources and then heat sealed together to make the building coverings. Depending on the project's requirements, the coverings are made using a single sheet or multiple sheets connected through an attachment system.
ClearSpan is one of the fastest-growing parts of the ESAPCO family. ESAPCO was founded in 1979 as a grassroots supplier of high-quality products for the agricultural, horticultural, building and retail trade industries. Today the Connecticut-based company serves more than 300,000 customers worldwide. Besides the ClearSpan brand, ESAPCO is also home to GrowSpan Greenhouse Structures and the companies FarmTek, Growers Supply and TekSupply.
As customers have come to know ClearSpan, the brand is developing a reputation for solving space and building challenges for a variety of applications. The largest building ClearSpan has manufactured so far is 250 feet wide, but Buchheit says it is capable of going larger. "We're really only limited by engineering," he explains. To create those structures ClearSpan has an in-house team of structural engineers and designers capable of turning a customer's requirements into a final building. "Our claim to fame is really how quickly we can design and engineer and how diverse we can be," Buchheit adds.
Speed and Need
ClearSpan structures are designed to meet local building codes and to withstand the wind and snow loads of the regions where they are installed. In the Midwest, that means the structures and fabric cover must often handle 90 mph winds and 30 pounds of snow per square foot, while in Colorado a building can be rated for as much as 70 pounds of snow.
Once the superstructure is up, an attachment system is used to hold the fabric in place and ensure the cover is watertight. ClearSpan guarantees its fabric covers for 20 years and the structures themselves can be designed to fit a variety of dimensions and shapes.
ClearSpan has shipped buildings to every state in the U.S. and worldwide. Several of its structures can be found in Japan, for example. Customers range from farmers and manufacturers to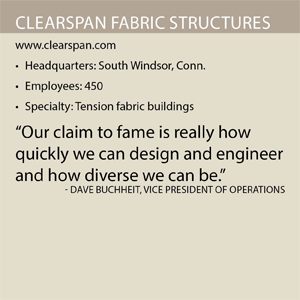 the federal government and several top corporations in the United States.
That diverse customer base grew as companies discovered ClearSpan and thought up new uses for the versatile structures. The original target industry was agriculture and farmers who used the buildings to store feedstock, hay and equipment. But it wasn't long before municipalities and state governments realized the buildings made excellent storage facilities for the salt and sand used to give roads traction during snowstorms. Now, the structures have a wide range of applications, including use as horse stables and warehousing. ClearSpan also manufactures in its own buildings located in Dyersville.
Aside from versatility, one of the largest advantages of ClearSpan structures is the speed in which they can be built. The company maintains some stock that can be shipped within two weeks of an order. Custom buildings can take as little as four weeks to manufacture and design, depending on the engineering required.
Installation is also quicker than with a traditional building. ClearSpan buildings can be built on a number of different foundation options. ClearSpan provides an exclusive helical anchoring system that securely anchors the structure to the ground, reduces installation time and allows the structure to be moved when needed. A small building can take as little as a week to erect, while a larger one might take several weeks depending on the size. Most installations are completed by ClearSpan's in-house crews or a certified subcontractor.
ESAPCO has also utilized its proven versatility and speed to produce a line of greenhouses, GrowSpan Greenhouse Structures. GrowSpan greenhouses have been especially big among the growing number of medicinal and recreational marijuana growers. Cannabis growing requires specific light cycles, and the brand has worked with customers to design an innovative blackout system, allowing growers to have complete control over the light cycle. The structures have also proved useful for other types of controlled environment agriculture, and they provide an excellent space for cultivation or retail needs.
Expanding Designs
ClearSpan continues to refine its manufacturing process to improve its structures. "We really take advantage of our engineering and design staff to find new ways to manufacture," Buchheit says. The company now uses welders who have higher certifications to create the steel structures. Recently, ClearSpan purchased a tube laser capable of cutting material in three dimensions, resulting in better fits during assembly.
On each project, ClearSpan uses a combination of its own engineers and experts in the field to design to the customers' needs. "It's pretty basic engineering philosophy that determines what we can and can't do," Buchheit adds.
After reaching more than 1,000 installations in 2015, ClearSpan continues to broaden its capabilities. ClearSpan recently developed its first all-steel building, which uses galvanized tubes to create the superstructure and is then covered over with steel. A second manufacturing shift was added earlier this year to keep up with demand.
The business continues to grow as the company creates new designs and makes its buildings suitable for a wider range of industries. "Word of mouth is our best advertising, because people love our buildings, our process and our people," Buccheit says. "When they see how we can solve the problem that their next-door neighbor had, they really love working with us."