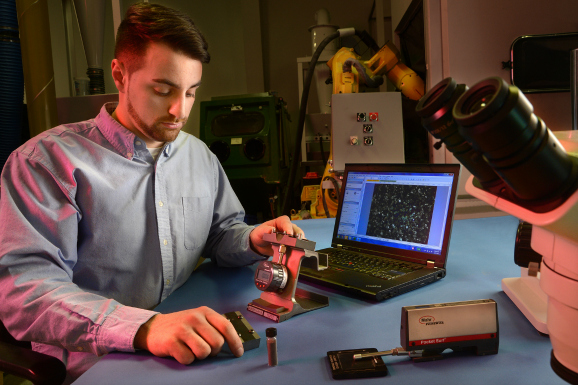 When Steve Byrnes took over as president of Guyson in 2008, he saw the abrasive blasting and shot peening machine market as a pyramid. At the bottom of that pyramid were a lot of manufacturers who specialized in selling thousands of low-end blast machines. Guyson was a step above, but Byrnes knew the company had the potential to do better. "When I took over as president we were located roughly in the middle of the pyramid," he says. "My goal was to bring us to the top of the pyramid."
In 2008, Guyson was a $5 million business. Today, it brings in $15 million in annual revenue. Byrnes credits that growth largely to the company's shift to manufacturing robotics and automated machines. It's a transition Guyson continues to work on every day.
Based in Saratoga Springs, N.Y., Guyson engineers, designs and builds custom surface finishing, parts-washing and advanced robotic machines for manufacturing plants. The company was incorporated in the United States in 1975, but derived from a U.K. company, Guyson International, which was established in 1933. "What we bring to the table is that we have a broad background when it comes to surface preparation," Byrnes says.
Guyson provides machines to a global customer base. Beyond the United States, Guyson has made custom equipment for manufacturers in China, India, France, Brazil and Mexico. Its customers hail from a wide range of industries, such as aerospace, precision products, automotive and medical, and include several major manufacturers such as Apple, General Electric and Pratt & Whitney.
As a vertically integrated company with 80,000 square feet of manufacturing space, Guyson does all its design, fabrication, testing, welding, painting and final assembly in-house. Because Guyson has its own extensive testing laboratory and is vertically integrated, the company is able to try out new technology before implementing it in its machines. That allows Guyson to better solve problems associated with automation.
For example, the heat inside a blast cabinet can endanger a robot. To mitigate the issue, Guyson purchased sewing machines and trained employees to produce suits that act as a protective armor for the robot. "Instead of buying off-the-shelf we go ahead and custom make a lot of that," Byrnes explained.
Guyson prides itself on its speed. Large systems can be manufactured and delivered within five months. "A lot of our competitors try to use the fact that we're a custom builder as a negative," Byrnes says. "But really, we're able to build custom machines in the same amount of time that our competitors can build standard machines."
That efficient manufacturing is possible because of Guyson's management team. The group meets on a weekly basis to talk about the hand-offs from one department to another and coordinate concurrent engineering.
Technology Leaders
One initiative that has fueled Guyson's growth in the past eight years is its commitment to delivering better technology than its competitors. Some integrators buy a cabinet from an abrasive blast company and then retrofit it with automation, instead of building the machine from the ground up with automation in mind. Bryrnes believes that approach shortchanges customers.
"One of the things about the abrasive blasting and shot peening industry is it doesn't seem to change quickly," he explains. "Our competitors aren't always developing new things so the industry itself is very, very slow to grow. What we do here is we try to create new technology."
Guyson tries to drive the technology industry-wide. Byrnes likens the move to robotic cabinets to how the market went from metal-cutting machines to CNC machines in the 1980s. About 75 percent of the company's machines now include some kind of automation.
Those technological advancements are not limited to the types of machines Guyson produces. Guyson is also innovating in customer service. At the beginning of 2016, the company launched a new customer service portal, dubbed MyGuyson, that acts as a single source for documents and other information about a customer's machine. Customers can even use a cell phone to scan a QR code label on their equipment to instantly access the manual and available spare parts list. "We've really made it easy for the operators and the maintenance staff to work on the machine," Byrnes says.
The benefit of MyGuyson extends to Guyson's own staff, who can use the system to pull up equipment details for prospective customers and share documents 24/7. "When we started the process with MyGuyson we really thought this would mostly benefit the owner of the machine, but we've seen it benefit [our] sales process," Marketing Manager Caitlin Lewis says.
Growing Talent
Finding the right people to help Guyson make the transition to automation was a challenge. Saratoga Springs is known as a tourist area and the pool of talented robotics engineers is small. To cultivate that talent, Guyson became involved in high school and community college programs. Further, the company was willing to take on people with basic skills and then train them up.
The company is also improving its visibility by becoming more involved in its community. In the past year, Guyson began offering grants targeted at local charity organizations. So far, it has donated to about six causes, including a high school robotics club, adopt a solider program, little league teams and a new school playground.
"It fits in with our core values," Byrnes explains. "We feel that the more we can give back to the community the more people would be interested in coming to work for us."