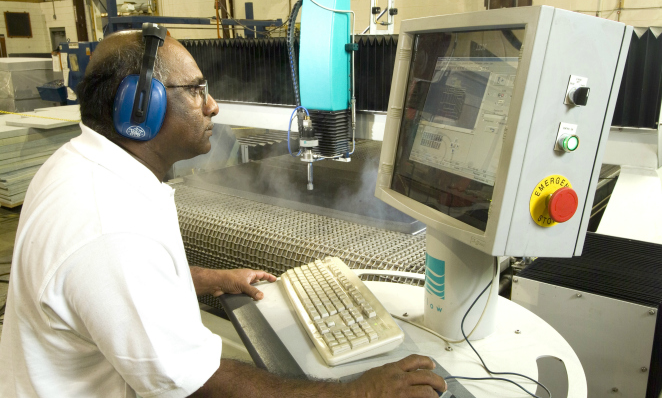 Polymer Technologies Inc.
Polymer Technologies Inc. specializes in being a resource to its clients, President Robert Prybutok says. "Where we really excel is in customer service, technical support, holding customers' hands and solving their problems," he says.
Based in Newark, Del., Polymer manufactures noise-reduction materials, molded foam products and vibration isolators. A longtime veteran of the industry, Prybutok founded the company in 1989 after working for Specialty Composites. "We grew that company into one of the leading suppliers of acoustical and thermal products to the OEM marketplace," he recalls.
He left the company in April 1989 and started Polymer in an empty warehouse six months later. "Our game plan during that first year was to put equipment in place, develop a manufacturing capability and begin to sell product," he recalls.
That year, three of Prybutok's competitors were sold to large organizations. "I realized what was going to suffer in the short run was customer service and technical support," he says. This allowed him to establish a niche in markets that did not have strong barriers for entry.
"We went after markets that had a history of purchasing bulk goods as well as fabricated parts," he says, adding that Polymer transitioned from a small leased facility by purchasing four acres of land in its industrial park in 1994 and constructing a modern 30,000-square-foot building, which was ultimately expanded to 77,000 square feet." It then added about 10,000 square feet of mezzanines.
Prybutok also began hiring people who had previously worked for him, as well as competitors. "As we developed our infrastructure and a level of sophistication, we were able to compete abroad almost all markets," he recalls.
In 2004, it opened a division in Boundbrook, N.J., for producing three-dimensional molded polyurethane foam parts and in 2014 acquired the assets of EPSG, a manufacture of vibration isolation products located in Norwood, Mass., which became the ESD (Elastomeric Solutions Division) division of Polymer Technologies.
Strong Support
Today, Polymer operates from its 87,000-square-foot headquarters and has a total of 114,000 square feet including its PMP and ESD operations. Polymer serves a broad customer base that includes the transportation, aircraft, military, power generation, medical, construction and agriculture markets. "We lead our industry in terms of technical support and quality," Prybutok says.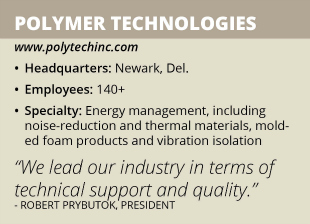 Its customers include major OEMs such as Kohler Co., AM General LLC, Cummins Inc., Bombardier and The Boeing Co. Polymer recently developed a new product for Boeing, using Basotect, an open-cell foam from BASF.
"Basotect absorbs water very readily and is termed a hydrophilic material," Prybutok says. "We've been able to convert the product to a hydrophobic or water resistant material through a patented process we developed which makes it useful in the aerospace industry. We introduced this product to the Boeing Company and they developed and released a specification around the material in 2005. Today, our product is used in all Boeing aircraft."
Polymer's work for AM General included a new insulation product for U.S. military Humvees. Previously, the Humvees were built with conventional polyurethane foam insulation in the cab compartments. But if the vehicle caught fire, the insulation produced a noxious smoke and dripped dangerous molten plastic, he says.
"The military needed a safer insulation," Prybutok continues. "We took information and technology that we developed in our aerospace work and applied that to providing a solution that was much less susceptible to burning.
"Essentially, what we did was produce a more survivable interior insulation for the soldiers," he continues. "We've also supplied that to more tactical vehicle manufacturers."
Streamlined Systems
Polymer focuses on being as cost efficient as possible, Prybutok says. "From last year to this year, we've managed to squeeze excess cost by applying lean manufacturing principles and looking at our people and our processes," he says.
This allowed the company to lower its cost and the size of its staff. "[We've been] looking at value-engineering through the processes and identifying activities that are not directly productive," he says. "[We've also] determined how to minimize those activities that tighten the supply chain from raw materials to materials going out the door."
Polymer also has improved its inventory turns, Prybutok adds. "[They] now are somewhere around 12, which is pretty good," he says. "You have to make sure you have adequate inventory to meet your demand, but that's something we're always working on."
The Right Paths
Polymer plans to continue to prosper, Prybutok says. "There's many paths to continued success," he says, but admits that the last six years have been difficult due to the recession.
"That's presented a lot of obstacles to industries and individual companies," Prybutok says. "It's been much more difficult than I would have predicted. But I think that we are positioned for extremely strong growth.
"If the economy doesn't fall apart, I think we will have a lot of options in front of us in the next several years," he continues, noting that Polymer may continue its growth by acquiring related companies. "Every few years, you have to assess what makes sense moving forward. I'm sure we'll do that for the next few years."