Growth in a connected world
CML Microsystems' successful targeting of niche markets within industrial storage and communications has enabled the company to carve a name for itself over the past 50 years
The fact that every product coming out under the CML Microsystems name finds an application in critical performance areas (CPAs) of various segments of the industrial communications
and storage markets, signifies two things. First, that the designer and producer of semiconductors has built a sterling reputation for product quality that has turned it into a sought-after partner for its customers whenever there is a need for spot-on solutions.
The second conclusion we can draw from CML's central role in the supply chain is that the company is unafraid to develop high-performing products whose properties accurately address market demands and quickly become recognised as a true benchmark in their respective field.
"CML celebrated its 50th anniversary at the end of 2018 and that is quite an achievement for a business operating in the semiconductor industry," claims Hugh Rudden, Group Sales & Marketing Director. "Our longevity is down to the expertise we have built in the very specific, niche markets we are targeting within the communications and storage industries. This has enabled us to become particularly knowledgeable in areas within the narrowband radio technology, for example, where we are specialists in making both baseband processors and RF building blocks. Irrespective of our 'component' supplier status, we have a very good overall system knowledge, as we have full control of the functionality and subsequent partitioning of silicon and software, which means that we can deliver the optimum design mix for any specific target application."
Creating quality products, however, does require the availability of a strong team of people and Hugh insists that the stable workforce CML has been fortunate to maintain, is another major reason for the business' success. "We have very capable engineers and members of staff who are experts in their field and who make up the strong company culture we maintain. When we combine our people's professionalism on all levels with their in-depth knowledge, the result is the creation of very strong, long-standing customer relationships with some of the most well-known blue-chip companies in the market."
On the communications side of the business, alongside the baseband processors and RF building blocks, CML has also enjoyed success with its data modem components. Hugh explains: "These products are used in machine-to-machine communication, or the so called Industrial Internet of Things (IIoT). It is an up-and-coming market as the IIoT is constantly increasing its influence on our daily lives. People are now looking for long-range, yet secure and reliable connections at a low cost, and we feel that these demands fit nicely into some of our core strengths.
"Another area where we have become very popular is marine communication," he continues. "For years on end, we have been supplying vessels with Automated Identification System (AIS) processors and we estimate that there are currently well over a million of vessels out in the sea that have got a CML processor on board. Moving forward, our customers are now taking delivery of our latest marine product, which is a complete VHF Data Exchange System (VDES). It is designed to help them meet the new marine standards that are coming through in the next two or three years," Hugh points out.
"Trading through our business named Hyperstone in the storage market, CML has developed a specialist capability in the niche field of flash memory performance reliability. "Flash memory wears out after a certain period of time and while this may not be a major issue for ordinary PC users, there are certain situations in the industry where you cannot afford to have your data corrupted in any way," Hugh notes.
"We have actually just released a new product we are incredibly excited about. It is called X1 and is the latest addition to our portfolio of NAND flash controllers. The X1 is unique in that it is a highly-reliable SATA 3 controller providing low power consumption, which is just what the market is looking for," comments Hugh.
Over the course of the development of a new product, CML employs a number of trusted subcontractors to perform various manufacturing tasks for the company. Whilst this is a standard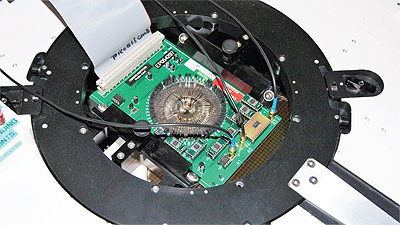 business model applied within the semiconductor industry, CML distinguishes itself with the assiduous testing it subjects all of its devices to. Not long ago, the business developed its own automated testing equipment programme to claim full control of the product testing process and ensure the items' quality superiority – a critical requirement in the markets CML serves.
"We need to be able to dig deeper, be as good as we can, and offer that extra value in our proposition, in order to remain competitive in a challenging industry like ours," Hugh claims. "The strategy to target niche markets is definitely paying off. Within it, we have long product development cycles that allow us to work very closely with our customers to identify market trends and that is how we become specialists in a particular sphere. Furthermore, we are members of various UK and European bodies and organisations to keep ourselves updated on the latest developments and find solutions to some of the technology roadblocks that we encounter on our way."
CML has also taken the necessary measures to streamline its internal procedures and equip itself with an efficient data management system technology that will support the company's decision-making process. "We are just finishing a project where we are implementing new ERP and CRM systems within the business. Our size as a business – not that big, but still of a global stature – suggests that we have to take an awful lot of aspects into account. There are different national laws, accounting standards, customs, currencies, and languages, and their ramifications need to be understood when planning on our activities," Hugh observes.
Preparing for a busy year ahead, the company has partnered Digi-Key – one of the largest electronic component distributors in the world – alongside several other smaller distributors for the Asian market. The move comes on the back of a predicted increase in the number of CML's customer engagements.
"X1 is not our only new product. In fact, we launched two other devices just before Christmas, so we are expecting 2019 to be very busy for our sales force," Hugh aspires. Discussing the company's long-term ambitions, he adds: "We want to be the first-choice supplier within our markets. People have to think of our brands first when looking for a provider and for us to stay in this position, we need to continue investing heavily in R&D.
"Over time, we have grown both organically and through acquisitions. The successful purchase of the Hyperstone business about 15 years ago is a prime example of the feasibility of this strategy. A couple of years ago, we also acquired a business in China, so there definitely is a possibility of us growing several more legs to the business in the future," he wraps up, hinting at the potential addition of new expertise to CML's offering.
CML Microsystems
Products: Semiconductors for the industrial storage and communications markets