Nogales, Ariz.-based Collectron has helped more than 200 U.S.-owned manufacturing companies save labor costs by taking part in its Shelter Plan program, a system the 40-year-old company created to allow foreign manufacturers to test production in Mexico before committing to forming a Mexican subsidiary.
Since 1969, Collectron's Shelter Plan Program has simplified the process of starting and operating operations in Mexico as Maquiladoras Operations, Collectron says. Maquiladoras Operations – or "twin plants" – are companies operating under a special Mexican customs regime and were designed similarly to a production-sharing model originally instituted in Portugal. More than 4,000 companies operate under this model in Mexico today.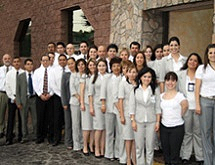 Using Collectron's system ab­solves long-term commitments, large capital outlays and long start-up schedules, it says, so a client needs only to invest in equipment, materials, the transfer of technology and on-site plant management to launch operations in the region – and benefit from cheaper labor. For example, a company can pay an employee an hourly rate of $1.14 to $2.16, depending on skill level and other factors.
"U.S.-owned and foreign manufacturing companies continue to move production to Mexico to take advantage of Mexico's low-cost, quality-conscious work force, its proximity to the United States and Mexico's free trade agreements with 32 countries," Collectron notes.
Collectron is the oldest shelter plan operator in Mexico, it says, and its subsidiaries are located and operate in five cities in the state of Sonora, Mexico. The company manages 32 manufacturing facilities and leases and manages more than 3.5 million square feet of total space. It employs a total of 5,500 people.
Collectron's employees are bi-lingual and "bi-cultural," the company notes, and have extensive experience in starting-up and operating Maquiladora plants. In addition to being affordable, employees are more than competent, President Maria Elena Rigoli says. "It is important to mention that production quality has improved dramatically during the past 10 years," she notes. "For example, Ford Motors' automobile stamping and assembly plant in Hermosillo, Sonora has been recognized by J.D. Power and Associates as the second most efficient automobile assembly and stamping plant in the world."
Economic Evolution
The Maquiladora industry is the dominant economic force in its state, Collectron says. Of the 92 Maquiladora establishments in Nogales, 65 are established at seven industrial parks with a total of 25,400 employees. Six of the 50 companies established in Sonora fall into the electronic field.
The industry has evolved significantly over the past 40 years, Collectron notes. The first wave of companies to take part in the business model were mainly labor-intensive textile operations fields, the company says. The second wave leaned less towards assembly and more toward manufacturing processes. "Such firms used automated and semi-automated machines and robotics," Collectron says. "They rely on highly skilled labor, such as specialized engineers and technicians.
"Technological dependence on the parent company disappears in third-generation Maquiladoras and thus decision-making becomes auto­nomous," the company continues. "Delphi Corporations Mexico Technical Center in Cd. Juarez is a good example of a third-generation Maquiladora. Delphi's Cd. Juarez operation employs about 700 Mexican engineers to develop patented products, such as oil sensor and brake systems for automobiles."
Today, companies require a much more educated and skilled workforce, Rigoli says, which Collectron can provide. "We see companies bringing a lot of technologies, which takes less people and more technically skilled workers," she says. "We will be the employer that offers the most experienced people, and the one that could manage any company's expectations." Rigoli sees the biggest demand for expertise in the aerospace, electronic and communications sectors.