Columbian Home Products – Granite Ware Division
Although Columbian Home Products (CHP) enjoys a rich history of manufacturing quality cookware since 1871, the Terre Haute, Ind.-based company – working in buildings that were built in 1902 – ultimately achieves success by meeting the demands of the modern-day consumer through product innovation and continuous improvement initiatives, Vice President of Operations Bill Carper says.
"Doing it the way we have always done it is a recipe for failure," he says. "Success is only achieved by continually improving process efficiency and effectiveness, and product value. The journey of continuous improvement includes searching for and discovering new methods and procedures to reduce costs and waste, and improve productivity while maintaining or enhancing product quality. Our suppliers are partners in this journey to excellence, and we value the contributions of each and every one.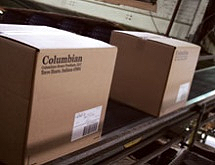 "Our customers expect to purchase and use affordable cookware that will last a long time with reasonable care and maintenance," Carper explains. "The quality of our cookware is evident in its versatility, quick heating and cooking ability, natural non-stock and anti-microbial surface, and excellent cooking properties, whether the customer is baking, broiling, steaming, roasting or stewing their food."
Building Strong Brands
CHP's Granite Ware Division manufactures, markets and distributes porcelain-on-steel cookware ranging from roasters, canners and seafood pots, to broilers, steamers and bakeware. These are distributed to all of the major retailers in the United States, with additional export to Canada, Iceland, France and Greece.
"Granite Ware is a mainstay in most households because the cookware is functional, affordable and time-tested as a good choice for use in a variety of cooking applications," he says. "The CHP sales force is actively spreading the good news of Granite Ware and our other branded products and working with the operations group to develop new products for consumers to use to enhance their cooking experience."
Continuous Improvement
CHP is constantly looking for new ways to provide consumers with innovative products at lower costs. "CHP is respected for providing the consumer a good-quality and an affordable cookware option in today's challenging economic times," Carper states.
With rising costs in raw materials and packaging, the company has invested in energy reduction and increased its recycling efforts, he says. For instance, since 2002, CHP's energy consumption has been reduced by 40 percent, and the company's factory recycles every process byproduct except for employee-consumed food packaging waste.
"Employee training and process management are part of a continuous effort to ensure productivity and quality are at the highest levels in the manufacturing operations," Carper adds. "Additionally, automation of many processes are reviewed and implemented when it is cost effective and improves the productivity in the facility and/or the quality of the product."
As CHP continues to search for ways to improve its processes, Carper believes that it is important to track results, even if they seem minor at the time. "Because the search for improvement is continuous, it is not always a first thought to benchmark the progress of change, as the incremental steps and the achieved results are sometimes very small," he says.
CHP is an all-encompassing home product manufacturer, thanks to a number of acquisitions that have strengthened its name. Besides Granite Ware, Columbian Home Products' brands include Snow River Products and Wisconsin Hardwoods, which offer American hardwood cutting boards and accessories; Keilen Ltd., which distributes specialty, ethnic and international cookware; and Joyce Chen, which provides the largest selection of authentic Asian kitchen and tabletop products.
Promoting Domestic Supply
The domestic supply chain has become strained as a result of continued outsourcing to overseas producers. The company continues to review material and component sourcing, and find alternate sources for materials. "Locating and sourcing from qualified suppliers is a challenge facing many domestic manufacturers; CHP is no exception," Carper notes.
He maintains that domestic manufacturing allows for quicker customer response. "The presence of our manufacturing facility in Indiana permits CHP to provide better replenishment and inventory returns for our retail customers," Carper explains. "Products can be delivered faster to market, as domestic retail managers can easily communicate with our sales and operation staff, and visit our facilities to clarify or enhance a preferred outcome.
"A marginally lower price with the longer lead times typical of imported goods and materials are a benefit and risk to the domestic importer; there is generally no recourse for faulty goods once received," he points out. "And the time delay involved with foreign supply normally prohibits the pursuit of other options. Thus, the presence of domestic supply greatly enhances our ability to meet our customers' needs."
Among the company's many success factors, Carper says he is proud of "the intelligence and effort of past and present employees to actively and continually participate in creating a successful business in the face of extreme pressure from manufacturers in lower-cost countries that are attempting to sell similar products in our marketplace. Achieving success is an every day event, and it is only through the dedicated and active efforts of everyone that we are able to achieve that success."