Connecticut Hypodermics Inc.
Connecticut Hypodermics Inc. is a leading producer of custom hypodermic needles, cannula, probes, cut tubes and other surgical tools and assemblies for the world's largest medical device producers. It takes pride in its reputation for quality and reliability, President Steven Tutolo says. His father, Leonard Tutolo, founded the Wallingford, Conn.-based company in 1979 with partner Frank Janowitz. Janowitz provided the financial backing, while Tutolo brought industry knowledge and experience.
Connecticut Hypodermics' initial focus was the hypodermic cannula, which is a surgical needle without a hub or a base. Through the years, its product line grew to serve customers' changing needs. Today, the company produces a variety of hypodermic needle parts in various configurations that are primarily composed of stainless steel, tubing and wire, with additional components made from various alloys such as tantalum, platinum iridium and nitinol.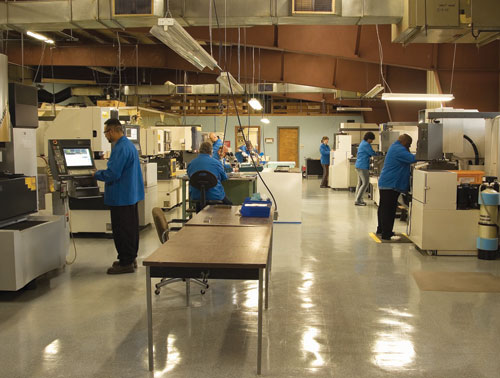 "Most of our customers come to us with a design or print or particular part that they're looking to build," Steven Tutolo says. "We'll often work with them to help along the development phase to improve characteristics to improve their particular application. We have no off-the-shelf parts. Everything is custom-made, which tends to be where the market has evolved and changed. Customer needs are always changing, and you have to be very flexible to assist customers with changes to the components they are using and also fluctuations in market demand."
Connecticut Hypodermics manufactures from two production facilities encompassing 30,000 square feet on one location in Wallingford. Its parts cover a host of product applications ranging from precision surgical needles for open-heart surgery to easy-to-use disposable needles for treating illnesses such as diabetes or cancer. Although 90 percent of the company's parts are used by the medial industry, it also has made custom parts for non-medical applications, such as giant road spikes used by police forces.
Even though Connecticut Hypo­der­mics serves a niche, "We've grown our company in difficult times be­cause of needs in the medical marketplace," Tutolo says.
"We've kept busy by the growth of many of our existing customers, so our first priority is to service them and take on additional customers only as we have the capacity to do so."
Continuous Improvement
It brings the people of Connecticut Hypodermics immense satisfaction to know the parts they make will be used to save lives.
"Sometimes you're working on a piece of stainless steel tubing, and you don't immediately see the value of where it's going to be used," Tutolo remarks. "We had a customer that came to visit us and brought in a video of open-heart surgery, which showed our needles being used in the procedures. They ex­plained to our employees the critical nature of the application and why they have to focus their attention on the [product's] quality."
Considering the nature of its product applications, this leaves no room for error. "We integrate customer, em­ployee and management input to constantly improve our quality focus," Tutolo states.
Connecticut Hypo­dermics follows a strict quality control and quality assurance program. In addition to its own internal audits and frequent management review meets for quality improvement, the company often is audited by its customers. Tutolo says it has dock-to-stock certification with some customers that allows its products to forgo inspection and go straight to a customer's inventory, which only is designated after a series of rigorous testing.
Connecticut Hypodermics also re­lies on the quality of supplies it sources from its vendors. "I learned a valuable lesson from one of our best customers over 25 years ago," Tutolo recalls. "While some of our other customers were pushing us to extend payment terms and lower our prices, this customer would actually pay us early and not ask for a discount.
"When we visited them, we were treated as if we were their very best customer instead of a supplier," he adds. "We try to partner with our suppliers in a similar manner.
"The growth of our customers through the years has been tremendous, and they have taken us along for the ride, keeping us as an important supplier and boosting our sales," Tutolo continues. "Likewise, we want our suppliers to be successful in the work they do with us. We want them to favor us over our competitors if the need arises."
These close-knit relationships with its customers and suppliers are due in part to its family nature.  Even though Leonard Tutolo is retired as CEO, he remains on the board of directors. Many of his children and grandchildren work at the company.
Connect­icut Hypodermics strives to treat its employees like family, as well, which is why the company has low turnover, Steven Tutolo remarks. "We often find that our employees have the best suggestions for improve­ment," he adds. "No matter how well we do something today, there's always a better way to do it."