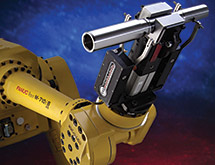 Control Gaging first made a name for itself more than 40 years ago when founder Jack Brown patented the world's first quick-step gage head that reduced changeover time from 20 minutes to 30 seconds.
That innovative spirit continues within the company today as it continues to develop automated gage systems while maintaining its reputation for superior-quality products and dedicated customer service.
"We excel on projects where changeover time is critical," President Dave Hayes says. "Typically, our products offer faster setup time than the competition and those are the products we have an advantage on."
The company was founded 43 years ago in Saline, Mich., to address a need in the manufacturing industry for more sophisticated instruments to control automatic machinery and produce higher-quality products. "We know from experience that automatic control of machining processes through real-time measurement can cut production costs through improved productivity and quality," the company says.
Today, Control Gaging is a leader in measurement systems and process controls for the machining industry. It designs and manufactures in-process gages that provide closed-loop feedback to machine controls based on real-time part measurement.
The company also produces gage systems that can be integrated into material-handling systems so parts can be measured while transported.
Innovative Culture
Control Gaging has been a place for innovation since day one, and over the years it has not only introduced the first electronic quick setup gaging system, but also the first quick-setup ID gage for through-spindle applications. In 1985, the company moved to its current location in Ann Arbor, Mich., which offered more space for growth.
Throughout the 1990s, Control Gaging patented its first crank pin gage and center-less shaft gage, as well as introduced the fourth-generation of micro-based monitors. In 2000, the company became a registered TE9000, tool and equipment quality standard company, and earned ISO 9001 and QS 9000 certifications.
Control Gaging introduced its first electronic monitor with digital signal processing to produce greater accuracy and speed for premier products. The introduction of the Grip-Gage-Go solution that integrates measurement devices directly into material-handling systems followed in 2004 and the World Gage product line of enhanced products with greater durability and accuracy was rolled out by Control Gaging in 2006.
"Today's highly competitive marketplace requires reliable gaging systems," the company says. "Control Gaging responds to [our customers] needs with gages that are easy to setup, produce precise measurements and are extremely reliable."
Reliable Products
Control Gaging manufactures custom-engineered solutions for a variety of industries. "Typically we run a design/build model," Hayes says. "We will quote a system for a given part and our customer's manufacturing process, then we build a custom design for them. Everything is designed and machined in-house."
Petra Electronic Manufacturing, based in Moline, Mich., supplies circuit boards for Control Gaging's products. The companies work closely together when developing a new solution for customers, Hayes says. "We involve them in the manufacturability of our products and they offer us ideas on how to improve our circuit board designs," he adds.
The company says its extensive technical knowledge, innovative gage products, and dedicated field service and support earn customers' loyalty. Control Gaging supplies its products to customers in the automotive, heavy truck, construction vehicle, bearing, medical and aerospace industries. "Our customers can expect products from us that work, are durable and easy to use," Hayes notes.
Over the past couple of years, Control Gaging has developed new post process and inner diameter grinder gages. The automated post-process gage systems require fast retooling for multiple part configurations. Once machining is completed, the automated systems provide accurate measurements of the finished part to compensate the machine tool and prevent bad parts from entering the product stream.
The center-less grinder TFX In-line Diameter Gage offers precise size control of small parts and spools at production rates. "The TFX provides the accuracy and throughput, as well as the flexibility for changeover, that manufacturers of these parts have been looking for," the company says.
Control Gaging's Post Process Shaft Gage offers a flexible fixture design that makes purchasing a post-gage for in-feed center-less shaft grinding simple and affordable. When mounted adjacent to the grinding machine, the fixture receives work pieces from a gantry or robot loader.
The gage sends size readings to a D500 controller that monitors size trends and feeds appropriate compensation signals to the machine to maintain tight tolerances.
The fifth-generation WG2 Dual Finger Gage was developed by Control Gaging with design advancements, including the bearing structure, corrosion resistance, coolant seals, setup and retract mechanism reliability, crash-resistance, easily accessible adjustable features and is easier to repair. WG2 offers repeatability of less than .0005mm, sets up in less than 30 seconds and comes with a two-year warranty.
Control Gaging will be featuring its new systems in May at EASTEC, 2015. "The most important benefit with trade shows is to stay in touch with the current trends and technology, and find new customers," Hayes says. "For us it's also a way to keep existing relationships established and communications going by spending more time talking to our customers about existing equipment and new opportunities."
Moving forward, Control Gaging has prepared for further growth by relocating to a new building in Ann Arbor that increased its manufacturing space by 5,000 square feet. The company expects further growth because of the mass relocation and re-shoring of manufacturing companies to the United States, Hayes says. Control Gaging also plans to stay true to its roots by continuing to develop innovative automated gage systems and remain an industry leader.