Coppice explains the environmental benefits of its aluminum packaging
In Blackmill, Wales, there's a workforce of more than 220 skilled employees manufacturing the highest quality containers and aluminum packaging for the food industry. They work for Coppice, an esteemed manufacturer that has grown to be the leading provider of its kind in Europe.
Originally founded in 1972, the company operates from a 15,000-square-meter, purpose-built facility with a variety of modern presses (the most in the UK) and banks of efficient, advanced, and high-output tools. As a single-site setup, Coppice maintains full control over all aspects of its production process – from raw material sourcing, all the way through to finished goods.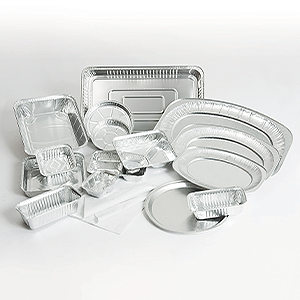 Coupled with short delivery times, this has earned the Welsh company an unmatched reputation for its manufacturing agility and first-class service. Euro Packaging Group (EP Group), an international manufacturing conglomerate whose global expertise is chosen by 17 of the world's 20 largest retailers, noticed this and subsequently acquired Coppice in 2015.
As Leon Elston, Managing Director at Coppice, informs us, this move motivated the company to acquire Nicholl Food Packaging in 2019, make further market rationalizations, and rebrand Coppice's corporate presence last year.
The new look and shortened name (previously, Coppice Alupack), contends Leon, reflects Coppice's commitment to continual innovation and its search for enhanced solutions that meet the needs of its customers.
Indeed, despite the new look, Coppice's focus has always been on manufacturing the highest quality containers for the food, processing, and bakery industries, while also working within the wholesaler, institutional catering, and non-food markets.
Versatile range
Fast, reliable, and cost-effective. This precise yet varied approach offers Coppice a discernible advantage in an otherwise highly competitive field.
"We're a leading European supplier of foil containers and we service customers across all major continents," Leon details. "We produce a range of high-end smoothwall containers used in the retail and foodservice marketplace by all the major food processors. As a result, our products can be found in every supermarket!"
Suitable for film lidding and offering items an extended shelf life, smoothwall containers provide unrivalled flexibility for consumers: they can be placed directly in the oven, grill, or microwave for cooking.
"Our smoothwall containers can be supplied with both external and internal colours," Leon says. "On top of that, customizable lacquers allow customers to sell a wide range of different food products. These can be modified to display a company logo or branding, creating greater consumer awareness."
Coppice also produces a wide range of wrinklewall aluminium containers in a variety of shapes, sizes, styles, and designs. These are used in the retail, foodservice, wholesale, and on-the-go market niche.
"Many leading UK food producers choose our wrinklewall containers to package and sell their products," reveals Leon. "Our versatile product range is then complemented by board lids that match all our container profiles."
Innovative investments
Talking of versatility, Coppice also boasts a world-class repackaging facility, meaning it can supply any of its retail packs to customers and then combine them with a number of items, applying a premium label towards the end of the process to enhance product aesthetics.
Leon's keen to point out another key differentiator for the business. "We're also diversifying our product offering across e-commerce channels, where we can supply directly to the end user in the products and volumes they require," he explains.
"Our in-house product design team can support and facilitate all New Product Development (NPD) requirements for our customers, offering a bespoke solution from initial idea generation to final market entry."
This has not gone unnoticed. In 2021, Coppice received the Queen's Award for Enterprise in the International Trade category.
Leon reflects: "We were thrilled and honored to be recognized in such a way for our rapid growth in international sales. The team continuously strives to support the needs of its customers, and the award is a testament to those efforts.
"As we continue to expand our international presence, the Queen's Award serves as validation of our operational excellence, and provides us with worldwide recognition while also enhancing our international commercial value."
Coppice shows no sign of halting its progress or internal investments. For instance, it recently developed a state-of-the-art defect detection system, ensuring that faults as small as a hairline are found and ejected with no impact on the production operator or runtime of the machine. This update not only saves time, energy, and material, but also guarantees the quality Coppice's customers have come to expect.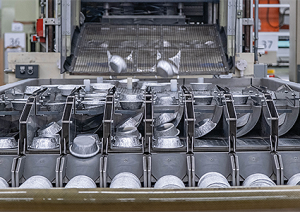 In Leon's words: "The system demonstrates our ongoing drive to use innovation to combat waste and enhance efficiencies. These innovative investments are crucial in our mission to improve the sustainability of our production processes and build on the natural sustainability advantages of aluminum.
"Indeed, the production of recycled aluminum requires a mere five percent of the energy needed to produce new metal from raw bauxite ore, resulting in a commensurate reduction in carbon emissions.
"Additionally, given the high value per ton of aluminum, many commercial operations find it economically viable to collect and recycle this material, making it one of the most widely recycled packaging materials across Europe.
"The benefits of recycling aluminum extend beyond its reduced energy requirements and carbon footprint. In fact, as a material, aluminum is endlessly recyclable, with no loss of its inherent properties through the recycling loop – 75 percent of all aluminum ever produced is still in use today in one form or another!"
Aluminum packaging, moreover, offers unparalleled protection against external factors such as moisture, light, and oxygen, thus ensuring that the quality, safety, and aroma of food products are preserved.
As such, by sourcing products from Coppice, businesses can rest assured that their products will retain their freshness and integrity, while also reducing the environmental impact of their operations.
As it looks towards the rest of 2023 and beyond, product innovation, diversified sectors, and potential new acquisitions are expected to further strengthen Coppice's business position as a leading provider of sustainable packaging mediums.
"We're well positioned for growth, with a strong business mission and vision, and we're backed by a very stable, knowledgeable work force," Leon concludes. "Indeed, without a doubt, we aim to be at the forefront of new developments and ideas within the industry for years to come."