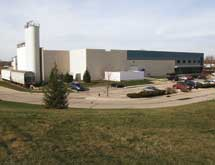 In Europe, it long has been common practice for companies to make, sell and service/clean dunnage – which are reusable plastic transport items, such as pallets, top frames and divider sheets. To meet this need in the United States, Orbis Corp. and the German company Cartonplast GmbH founded Corbi Plastics.
"We started because Anheuser-Busch (AB) saw what Cartonplast was doing for them in the United King­dom, and AB wanted that very same system in the United States," Dir­ector of Pooling Roy Hasenfratz says. "We started shipping the material from Europe and pooling it for companies who made glass bottles for Anheuser-Busch. We later decided to start manufacturing here."
Today, Wisconsin-based Corbi Plastics is the only North American company that makes and sells transport packaging materials. President Jack Graham explains that most container companies own their own dunnage, but this new system attracted United States' glass container makers – Anchor Glass, Longhorn Glass, Saint Gobain and O-I.
Corbi supports 35 container plants supplying 200 filler companies in the United States. Corbi manages more than 10 million sheets in service and more than 75 million sheet trips per year. Graham says 80 percent of Corbi's manufactured products are sold, and 20 percent are for its own use in serving the reusable plastic packaging pool. "There's a big capital outlay to buy all that dunnage, and it's a fairly long payback," he remarks.
"Our manufacturing plant is here in Wisconsin, and our reach is all over the United States and Canada," Graham continues. "We also serve sev­eral plants in Mexico, South Amer­­ica, Cen­tral America, Asia and Eur­ope." The company has worldwide sales; for instance, one of its clients is Amcor Glass in Australia, which makes wine bottles for Yellow Tail wine.
Working Together
When laying out plans for success, it's safe to assume many companies are leery of working with competitors. Corbi Plastics, however, sees tremendous benefit to collaboration and is working to change that mindset.
"We pool customers' products together in a package pool so they benefit from the eco­nomy of moving the products around, clean­ing and inspecting them together," Hasenfratz explains.
This move is a cost-efficient meth­od for all parties involved. Graham ex­plains that pooling also allows clients to save on fixed costs, such as the people and equipment necessary to track shipments and storage costs.
"If you have a can manufacturer in North Carolina shipping cans all over the United States, they can have pallets of product that go to Canada, North Dakota, California and so on," Graham explains.
"Ultimately, those pallets would have to be shipped back to North Carolina. But with the pooling method, the pallets get returned to the nearest manufacturer. The company ends up saving quite a bit on freight because they don't have to be shipped back to the original manufacturing plant.
"We go in from the back end, as a third-party provider to our clients," he continues. "They're trying to find ways to save costs, and we have a mo­del that uniquely allows them to do so."
Clean Containers
A major recent change in the cont­ainer industry is the shift toward more stringent cleanliness stand­ards, but Hasenfratz says Corbi Plas­tics has emphasized that since its be­ginning. "We have extensive experience in the cleaning of reusable packaging," he states. "Our European parent developed technologies that are in the sixth and seventh generation, so we brought that expertise to the United States to clean packaging to food-safety standards. We are the only company that has applied that technology here."
The company recently demons­t­ra­ted its cleaning expertise when client Clorox had an issue with a conta­minant from cardboard. "That contaminant was removed by swi­tching to plastic and making sure it's cleaned every time," Hasenfratz explains.
Corbi uses industrial machinery to perform wet and dry washing of packaging, depending on products ship­ped and potential contaminants. These processes meet Hazard Anal­y­sis & Critical Control Points (HACCP) standards for food safety.
"Both wet and dry processes ad­here to cleanliness specifications for secondary packaging used in food and beverage application," Corbi states. "The cleaning procedure in­cor­p­orates the use of proprietary equipment and is continuously controlled in line with HACCP processes to ensure product safety and quality. The ability to employ top-of-the-line cleaning processes for layer pads to food and beverage standards distinguishes Corbi Plastics from all others.
"The wet cleaning process offers commercial sterilization and is the most effective against a broad spectrum of impurities," it continues. "Sheets become industrially sterile and are cleaner than the product placed on them. Our process qualifies that sheets are free from yeast and mold, mesophile and E. coli bacteria."
Corbi also uses a pallet and top-frame/tote washer to ensure every piece is cleaned and dried consis­t­ently. The washer uses three stages to clean each piece of all poten­tial contaminants.
"We are providing ser­vices for numerous customers and materials," the company says. "Ther­mo­formed tote tops and bottoms are the latest material to be successfully processed through Corbi's system."
Complete Package
In addition to manufacturing, selling, pooling and cleaning materials, Corbi Plastics also offers service and re­pairs for clients. The company has ser­vice centers across the country that can provide full inspection, acq­uisition of required repair parts and assembly. "We repair quantities ranging from a few items to thousands," the company says. "All repairs ad­here to manufacturer-recommended pro­cesses. With the help of Corbi Plastics, [cli­ents] can see [their] assets re­turned to a structurally sound condition and back in service."
The total system is made even more efficient when combined with Corbi Plastics' proprietary software it developed to track dunnage across the United States. It enables Corbi to strategically manage performance, damage and loss rates by location. Being able to effectively manage the packaging increases asset utilization and efficiencies.
"I think a good way to describe us is that we are a one-stop shop for re­usable transport packaging materials, and not everyone does that," Hasenfratz states.