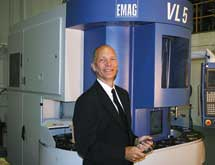 EMAG LLC is a company that likes to stay ahead of the competition when it comes to solving difficult machining problems, CEO Peter Loetzner says. "We work very closely with a lot of leading manufacturers," he says. "They often come to us [for] solutions that others cannot provide."
Based in Farmington Hills, Mich., the firm is a subsidiary of EMAG Holding GmbH, which is a manufacturer of turning and grinding machines, gear cutting and deep-hole boring machines, tubes and coupling sleeve machining centers, and laser-welding machines.
In addition, the EMAG Group provides customers with spare parts, training courses, and engineering and planning services. The firm started its operations in Bautzen, Germany, in 1867 as both an iron foundry and engineering works company.
EMAG Group was later re-established in 1952 in Esslingen, Baden-Württemberg, Germany, as a man­ufacturer of lathes and special purpose machines. In 1969, the company moved to its group headquarters in Salach, Germany, and in 1980, founded its U.S. subsidiary.
Flexible Service
Today, EMAG LLC "occupies a central location in the American 'Auto Belt,'" EMAG Group says. It explains that the company carries out the task of customizing mach­i­nes that are destined for North Ame­rica. In addition, the company has earned a strong reputation for its work, Loetzner declares.
"There's a lot of flexibility in our machines," Loetzner says.
Another key element, Loetzner says, is EMAG Group's ability to hire the right people to build the machines. "We pride ourselves [on] being able to hire and retain good people that match our requirements," he says, noting that the company currently has a staff of 1,800 worldwide and an apprenticeship program in Europe.
EMAG Group also serves a broad customer base. "We are successful in the energy sector, [as well as the] agricultural, recreational, earthmoving and automotive [markets]," Loetzner says.
Clients include John Deere, Harley-Davidson, General Motors, Chrysler and BMW. "You name them, we are everywhere," he says.
The Right Mix
Loetzner joined EMAG Group two years ago and has worked in the machine tools industry for 30 years. "I started working in crankshaft manufacturing and later [moved on to] engine blocks," he recalls.
He says he has enjoyed working at EMAG LLC.
"It's an outstanding group of individuals," he says, noting that the company also has a strong product mix and a variety of cultures within its work environment.
For instance, "Our engineering manager is from India, our purchasing manager is from Germany [and] our manufacturing manager is from the United States," he says. "We just have a good mix."
Loetzner says EMAG LLC has felt the impacts of the recession, and this will continue for the near future. "I'm expecting that the machine tooling industry as a whole will have nine months to a year until it sees the signs of the rebound," Loetzner says, noting that the company nevertheless is coping well.
"Since we are diversified in [several] industries, there is actually always opportunity out there," he adds that agriculture and automotive are currently strong markets for the company.  Also, "There's a lot of service and spare parts business when you have products in the field," he says.
Product Power
EMAG Group's turning machine lines include the VL 5i, which distinguishes itself with high output levels, accuracy, operational reliability and operator friendliness, the company says. "Short travels and the compact design lead to very short loading and cycle times," EMAG Group says.
"The standard equipment of the VL 5i also includes a MINERALIT machine base and a compound slide of the same material," the company says. "Another plus is the very short delivery time of the machine."
Another turning machine is the VSC 250, which can be configured for individual production requirements, the company says. "The patented construction of the VSC 250 guarantees shortest travels between pick-up stations and machining areas, reducing idle times to a minimum," the company says.
"The machine base and compound slide in MINERALIT and the twin-wall construction have an excellent vibration-damping effect and offer outstanding thermal stability," the company continues.
Additionally, "A large selection of technology modules ensures that the VSC 250 can be configured to suit customer-specific production req­uire­ments," the company says. "And the availability of a selection of automation components makes it safe to integrate the machine into production lines."
A third product is the VLC 250, which was designed for the application of different manufacturing technologies, EMAG Group says. "A high degree of flexibility and powerful technology modules ensure that a large variety of work pieces can be manufactured cost-effectively," the company states. "Depending on the machining requirement, the VLC 250 can be equipped with turning, milling, drilling, grinding or multi-technology modules – the later complete with tool changer. Case by case, the final choice will always represent the best technology for the machining of the work piece involved."
Loetzner says he sees continued growth for EMAG LLC after the recession with more product introductions. In addition, "[We are] focusing now on processes, energy savings [and] on green," he says, noting that the company is again ahead of its competitors.