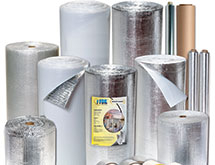 Twenty-five years ago, Covertech was a simple cut-and-sew operation, producing large plastic covers for pools, golf courses and other similar uses. But as the company expanded its capabilities, a diverse customer base followed. Today, Covertech is the parent company of Covertech Fabricating Inc. and Covertech Flex, which both operate in a 107,000-square-foot facility.
"We've grown into a full-blown manufacturer of film extrusion," part-owner and Vice President John Starr says. "We make our own films, take them and convert them into different products for consumer and industrial use."
In fact, the only thing the companies don't do is make their own resin. Covertech Fabricating Inc. manufactures extruded film – both co-ex and monolayer – and is an industry leader in the manufacturing and distribution of reflective insulation and protective packaging products. Covertech Flex began two years ago to serve mainly the consumer side. The company creates food-grade packaging, such as stand-up pouches and woven bags. It also serves the pharmaceutical, agricultural and other industries. Although the companies have two distinct focuses, the level of investment by their parent company shows no favoritism.
Between Covertech Fabricating and Covertech Flex, the company employs 100 people and operates 12 film lines, two printing presses and 13 bag-making machines – including slitters, pouches and laminators.
"We probably spend $1 million-plus a year on equipment," Starr says. "We just put in a new film line – our third co-ex line – last year. We are always spending on equipment. As a manufacturer, we are always upgrading, trying to get the biggest and best."
Strong Growth
Covertech's investment to push the quality of its products and increase its capabilities has paid off. The company has been growing at 20 percent year over year, even during the downturn, and has attracted customers via proprietary designs and processes. The company holds a number of U.S. patents and recently received a new patent for its Covertech/rFOIL insulation products. The bubble and radiant barrier products utilize reflective technology made from metalized film and air bubbles that require an airspace facing one foil side of the product to work as designed. When installed properly, rFOIL helps to ensure that homes stay comfortable and energy-efficient year-round. rFOIL's unique construction is specially designed to reduce radiant heat gain or loss in residential, commercial and HVAC applications. The bubble core and the metalized film outer layer provide the perfect combination of heat reflection and thickness that outperforms other materials that rely on mass or thickness for their thermal values and performance.
Covertech's newest product using this proprietary technology and design is the BIG-8, which it introduced to the market in January at the Chicago AHR 2015 show. Starr says the product meets the R-value needs of increasingly stringent codes.
"R-values on ductwork have increased over the last 10 years from R-4 to R-8," Starr says. "Having patents on our work is important because it sets us apart from competitors in the insulation business, such as the fiberglass guys and other players. Many don't like fiberglass because of the itch-factor associated with fiberglass. People like our product because it's cleaner to work with, user-friendly, environmentally friendly and provides theR-value you need at a very cost-effective solution."
Covertech's innovation isn't limited to its fabrication division. Its flexible packaging division works with clients to customize designs. Its bag-making features include re-sealable zippers, tear notches for easy opening, side and bottom gussets, vent valves and aeration holes, reinforced handles, spigots, valves and wickets. Through its narrow and wide web flexographic printing operations, Covertech can produce a wide range of high-quality printed coextruded polyethylene film and bags. The company offers high-definition graphics capabilities with high-quality, eight-color flexographic printing for the fresh, frozen and dry food markets.
Proprietary People
Despite Covertech's strength in design, its patents and its continuous investment in technology and equipment, Starr explains that the company would be ineffective without the right people. The company looks for experienced veterans that give Covertech an added edge against its competition.
"This is a small industry so it's hard to bring someone brand new into the industry," Starr says. "Running a printing press is very complicated. They are very large and expensive pieces. Having time on certain presses means everything. We try to find out who's in the marketplace and get the most talented ones out there to run our presses. It takes years to learn the ins and outs of running a press and co-ex line. We get the latest, greatest equipment and it does gives us some efficiencies. But we also rely heavily on people who can make those machines run to their optimal capacity."