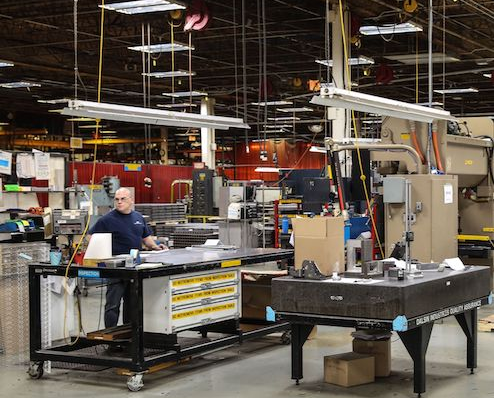 When it comes to sheet metal, Dalsin Industries knows its elements. The Bloomington, Minn.-based company has been manufacturing precision sheet metal products for clients since its inception in 1945.
"The thing that sets us apart is that we invest heavily in technology and design," says Keith S. Diekmann, vice president of technical operations. "When our customers come to us they don't always know how to optimize the design of their product. Our engineers have a wealth of knowledge on DFM (design for manufacture) so that the customer gets the highest value."
On average, Dalsin invests roughly $2 million annually in new technology to stay ahead of the curve – and its competitors. The company's services combine collaborative design assistance, design-for-manufacture optimization, high-velocity manufacturing, precise planning and production control and supply chain management. "We serve a multitude of business categories," Diekmann says.
Technology and Capabilities
Dalsin is also known for precision sheet metal punching technology. Its metal fabrication facilities are equipped with automated machinery from global leaders that include Trumpf, Salvagnini, Mitsubishi and Cincinnati. It allows for high precision and tight tolerances, scratch-free and flexible processing, highly formed parts, edge deburring and maximizes productivity through flexibility, accuracy and speed. "Other companies do it but not to the level that we have achieved," Diekmann says. "We can set up the machines to run 24/7. Our skilled employees ensure that the equipment runs even when they are not at work."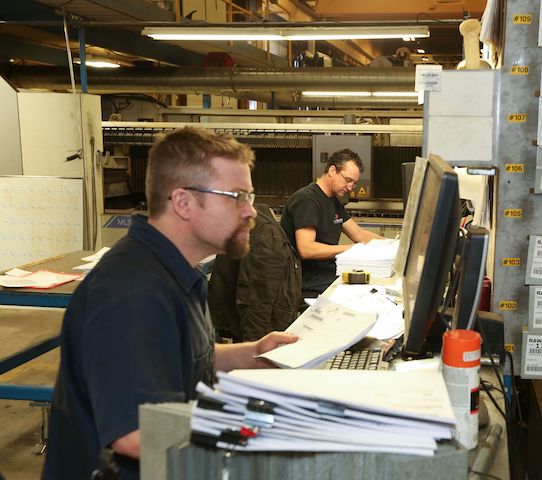 Dalsin has a 135,000-square-foot manufacturing facility in Minnesota and a 75,000-square-foot plant in Arizona. All Dalsin facilities are certified to American Weld Society (AWS) and American Institute of Steel Construction (AISC) welding standards and procedures, with AWS Certified Weld Inspectors (CWI) on staff.
Opening Doors
A large chunk of the company's business revolves around the transportation industry, specifically the manufacturing of RV and bus components. That includes manufacturing and assembling medium- to high-volume quantities of
commercial and industrial drawers, doors, panels, shroudings and skins. Dalsin claims to produce these items more effectively using unique and differentiating design configurations versus manual or robotic press brake forming methods used by many of its competitors.
Its Salvagnini P4 Panel Bending technology can produce unique and precise forms, geometry and configurations not achievable with manual or robotic press brake forming. Dalsin states that its Salvagnini panel-bending technology offers its customers the best cost solution for producing and delivering drawer, door, panel and shroud requirements.
Tracking the Sun
Dalsin is also known for delivering high-velocity and high-volume production of precision metal weldments and assemblies to the energy utility market, including stainless steel racks. It supplies manual and robotic weldments to various industries that deal in renewable and solar energy.
Dalsin prides itself on having the latest in robotic welding equipment and technologies, offering its customers speed, efficiency and control for welded manufacturing processes. Robotic welding is a key component to controlling costs, Diekmann says.
Benefits of robotics include reduced set-up times, increased capacity and velocity, consistency and reduced or eliminated need for hand finishing and grinding of welds. Dalsin has the ability to weld large, complex weldments, up to 40 feet in length with the use of an RTU (robotic transfer unit) equipped system. "It's unique manufacturing," Diekmann says.
3-D Printing
Dalsin has a long history of investing in new production technologies. One of its more recent investments is in 3-D thermoplastic printing that uses fused deposition modeling technology. "Sooner or later that technology will be at the forefront," Diekmann says. "We are currently using it, not to produce parts for clients, but for quality checks and inspections. We can print out fixtures or we can also use it to print part replicas. It's a way to quickly get your hands on a physical sample before using metal."
In a nutshell, this additive manufacturing process creates solid, three-dimensional objects from a digital CAD file. It is accomplished without special tooling and can create products with highly complex geometries. Dalsin is now offering these services to its business-to-business and OEM customers.
The technology can be used for a variety of purposes and applications. That includes end-product or sub-component parts development and inspections for production welding, assembly tooling and manufacturing process fixtures.
A Green Model
When it comes to eco-friendly methods and practices, Dalsin is leading the way – especially at its Arizona manufacturing facility. This year, the facility was recognized as the state's first recipient of United States Green Business Council Zero Waste Certification.
The certification recognizes companies that conserve water and energy and and reduce greenhouse gas emissions. "We are at roughly 93 percent diversion from landfill," Diekmann says. "Only 7 percent will end up in a landfill."
The certification requires that more than 90 percent of waste be diverted from landfills and incinerators by being recycled, reclaimed, resold or composted. "Phoenix is recognized as a center of innovation and new directions in research and development," stated Christine Mackay, director of the City of Phoenix Community and Economic Development Department, in a press release. "What Dalsin has accomplished with its Zero Waste Certification provides a model for other industries and businesses to increase sustainability efforts."
As of June, only six manufacturing facilities in the nation had received certification. In 2016, there were only four recipients. In July, the company was also recognized as a city of Phoenix Green Business Leader. "It proves that ethical and sustainable practices are achievable in manufacturing," Diekmann says.
Plus, it turns out that reducing waste also means less revenue wasted. The company reports total recycled commodities yielded a savings of $44,683 between April 2016 and April 2017.